As per Zomato, the super quick delivery of food will ride on its network of finishing stations that will be set up in proximity to high-demand customer neighbourhoods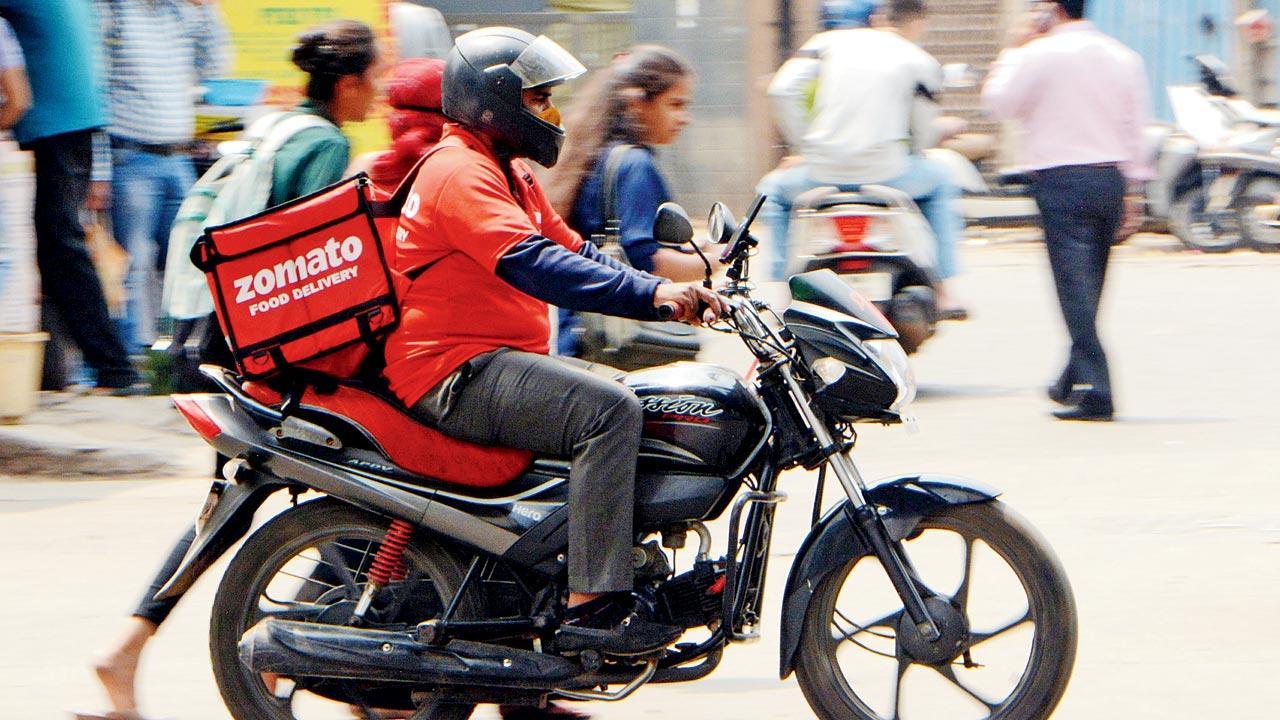 A Zomato delivery boy going for delivery. Pic/Satej Shinde
The 10-minute delivery plan teased by Zomato may have triggered fierce debates and memes, but for its army of delivery boys, they are more worried about their daily struggles. While many are still unaware of Zomato Instant, which will be piloted in Gurugram next month, others say it's not impossible considering that the company has a clear strategy for it. Fix our woes first, was their common refrain though.
As per Zomato, the super quick delivery of food will ride on its network of finishing stations that will be set up in proximity to high-demand customer neighbourhoods. Each of these delivery stations will have 20-30 of the company's bestseller items from various restaurants based on demand predictability and hyperlocal preferences.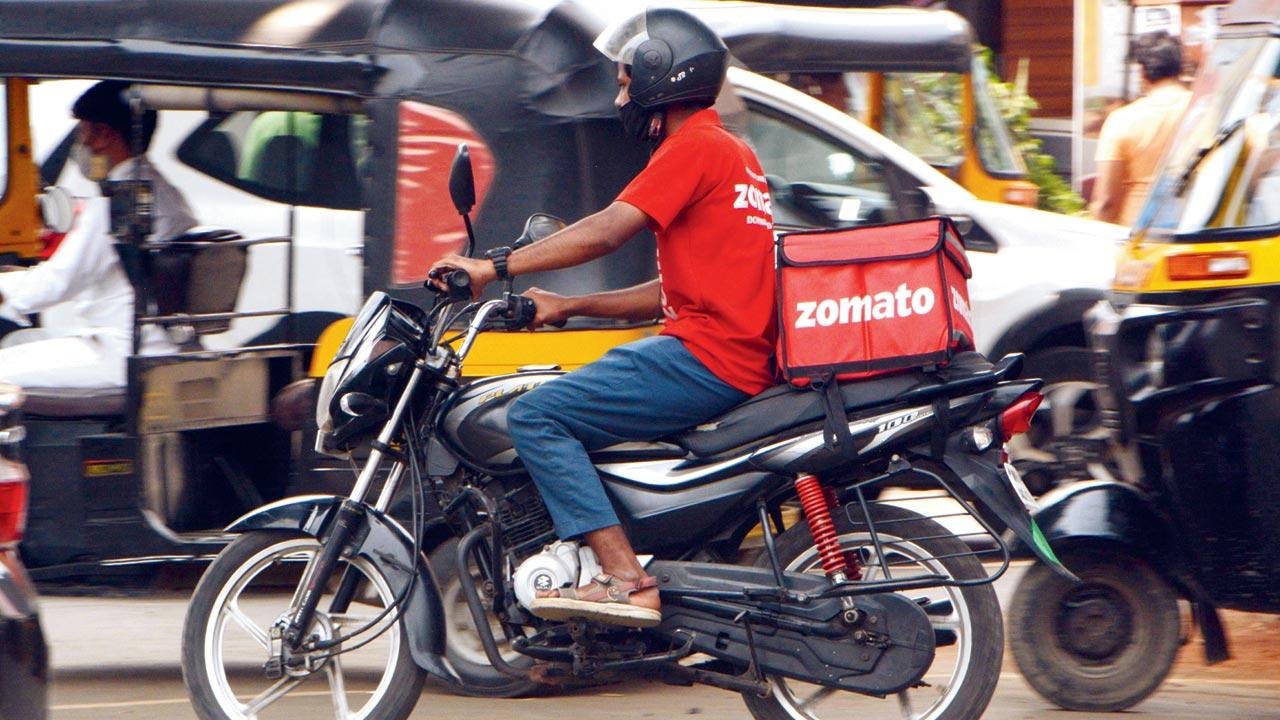 A Zomato delivery boy at Malad on Wednesday. Pic/Satej Shinde
The announcement triggered a lot of backlash on Twitter, with citizens raising concerns over the safety of the delivery boys. At the same time, jokes and memes centred around '10 minutes' popped up in large numbers.
For the foot soldiers of the food-tech company, rising fuel costs, traffic jams, inconsistency in incentives, and less money in hand are among the challenges they encounter every day. 
Another deliver partner at work at Churchgate. Pic/Bipin Kokate
"Even restaurants won't be able to prepare the meal so soon," said Sarvesh Jadhav, a delivery boy who had no idea about the plan his company founder Deepinder Goyal has in mind.
Zomato's 10-minute delivery plan possible, but don't punish, say delivery boys
Goyal took to Twitter on Tuesday to share more details. He wrote, "Zomato Instant will only be for items that are popular, standardised, and can therefore be dispatched within two minutes." The instant delivery will also be limited to nearby specific locations, he said.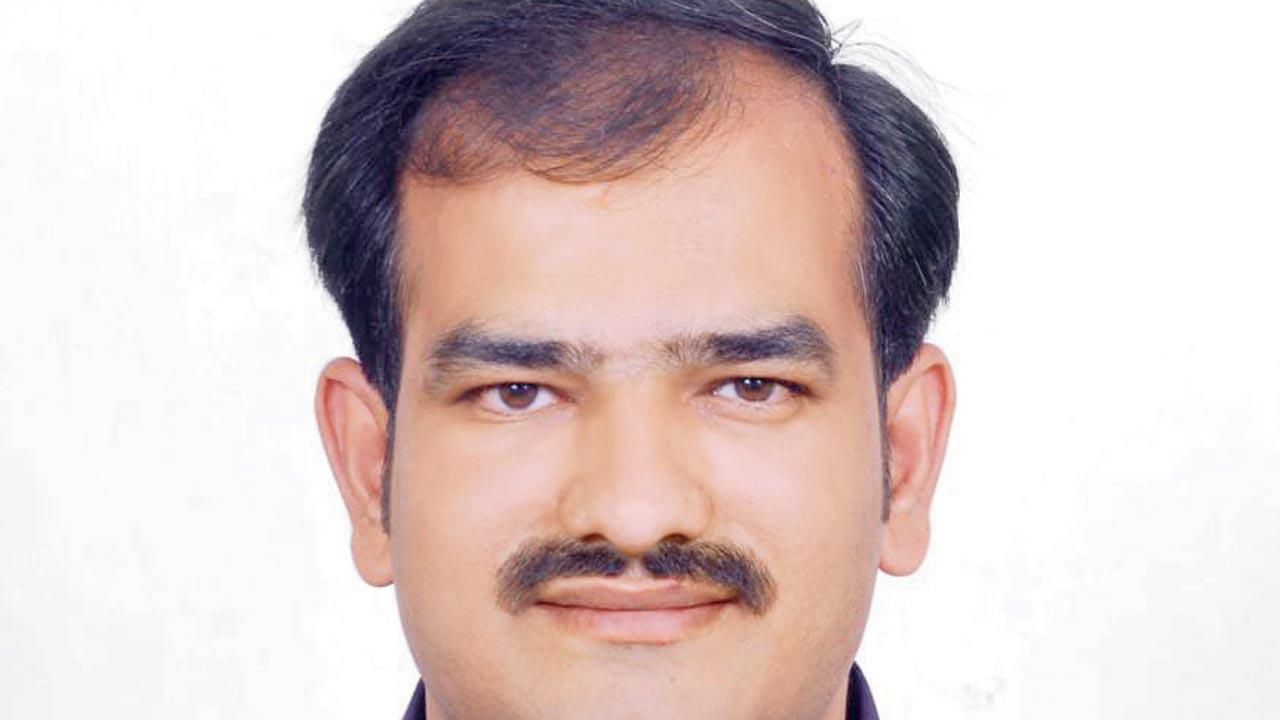 Shaik Salauddin, Indian Federation of App-based Transport Workers
"To fulfil our quick delivery promise, we do not put any pressure on delivery partners to deliver food faster. Nor do we penalise delivery partners for late deliveries. The delivery partners are not informed of the promised time of delivery. Time optimisation does not happen on the road, and does not put any lives at risk," added Vaidika Parashar from the communications team at Zomato.
But Sandesh Pachve, a delivery boy at Bandra, has a counter. "If we go late for a delivery, our payment won't be cut, but our performance would say we have delivered late. We would get a poor rating." 
Delivery boys said they have no option but to hurry in case of multiple orders. Kamlesh Kumar, a delivery boy at BKC, said, "Earlier the delivery radius would just be around 2.5 km. Now, with it being 5 km and more, it becomes difficult." He admitted to coming from Juhu to BKC on an electric bike to deliver food. 
Sometimes, Pachve said, even though the order is ready, if the restaurant is in a mall they face difficulties in terms of entry. However, most believe that if the delivery radius is of the same area, it is possible to have food delivered in 10 minutes, provided the meal prep time is not included.
'Arousing customer fantasy'
Despite a shorter area of delivery under the 10-minute plan, delivery boys are fearful of flouting traffic rules as the fine would have to be borne by them, and not Zomato. Shaik Salauddin, national general secretary of the Indian Federation of App-based Transport Workers (IFAT), said that companies like Zomato, Swiggy, Blinkit, Instamart are "arousing fantasy of instant delivery" amongst the customer. "But at the same time, these platforms wash of their hands by concealing the way they structure the work to portray as if delivery workers are independently engaging in traffic violations and hazardous driving conditions and risking themselves and the other pedestrians on the road," he said.
The company should focus more on the working condition of the delivery boys, said Salauddin. "Zomato should provide their delivery workers with access to washroom facilities, resting areas with parking, charging stations and Wi-Fi." 
Good food in 10 mins?
Pankaj Gupta, founder of popular restaurant Oye Kake, is not impressed at all. He said, "I think this is bizarre and ridiculous. It is not practical at all; India does not have the infrastructure for that. It is risking the lives of the delivery guys. This is developing a habit in the customer that is difficult in the long run. The market would move towards quantity instead of quality-oriented. I would not be up for something if I was asked by Zomato. Good food doesn't come to you in 10 minutes."
April
Month when Zomato Instant will be piloted in Gurugram
'Performance gets hit'
Sandesh Pachve, delivery boy 
'If we go late for a delivery, our payment won't be cut, but our performance would say we have delivered late. We would get a poor rating'
Kamlesh Kumar, delivery partner
'Earlier the delivery radius would just be around 2.5 km. Now, with it being 5 km and more, it becomes difficult'
Shaik Salauddin, Indian Federation of App-based Transport Workers 
'These platforms wash of their hands by concealing the way they structure the work to portray as if delivery workers are independently engaging in traffic violations'
Pankaj Gupta, founder of Oye Kake 
'The market would move towards quantity instead of quality-oriented. I would not be up for something if I was asked by Zomato. Good food doesn't come to you in 10 minutes'