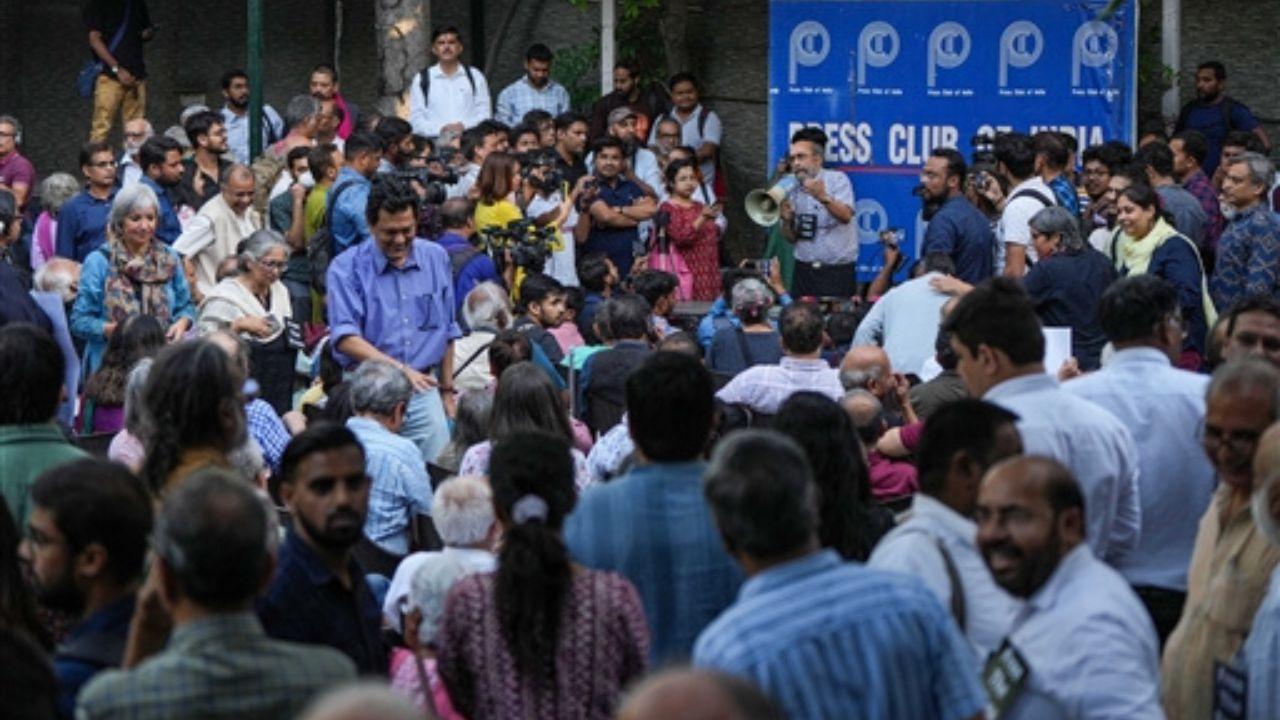 Protests were held in Delhi today/PTI
Updated
2 months 1 day 20 hours 2 minutes ago
09:53 PM
Mumbai News LIVE Updates: Mumbai journalist organisations to hold candlelight vigil over NewsClick case at Press Club
Various media organizations in Mumbai have called for a candlelight vigil in solidarity with NewsClick journalists facing wrongful arrest and detention in Delhi. The vigil is scheduled to take place on Thursday, October 5, at 7 pm within the premises of the Press Club.
Updated
2 months 1 day 20 hours 29 minutes ago
09:26 PM
Mumbai News LIVE Updates: GRP busts two gangs of chain snatchers who target Mumbai local train commuters; 8 held
The Government Railway Police (GRP) has busted two gangs hailing from West Bengal involved in committing chain snatchings on suburban trains in Mumbai and arrested eight persons, an official said on Wednesday. Police recovered gold chains worth Rs 5.19 lakh from the members of the gangs. The gangs used to operate in groups of four, the official said. (PTI)
Updated
2 months 1 day 21 hours 15 minutes ago
08:40 PM
Mumbai News LIVE Updates: AAP to stage protests against Sanjay Singh`s arrest outside ED office in Mumbai
The Mumbai unit of the Aam Aadmi Party will be staging a protest outside the Enforcement Directorate office in Ballard Pier. The protests have been called after AAP MP Sanjay Singh`s arrest on Wednesday in the Delhi Excise Policy scam case by the federal agency. He was arrested after the agency sleuths conducted raids at his residence.
Updated
2 months 1 day 21 hours 41 minutes ago
08:14 PM
Mumbai News LIVE Updates: Half the deadline set before Maharashtra govt for Maratha quota implementation is over, says Jarange

Maratha quota stir activist Manoj Jarange on Wednesday reminded the Maharashtra government that of the 40-day deadline he set before the Eknath Shinde-led dispensation for the implementation of the reservation to the Maratha community, half the period was over.