The Congress President accused the BJP of dividing the people in the name of caste and religion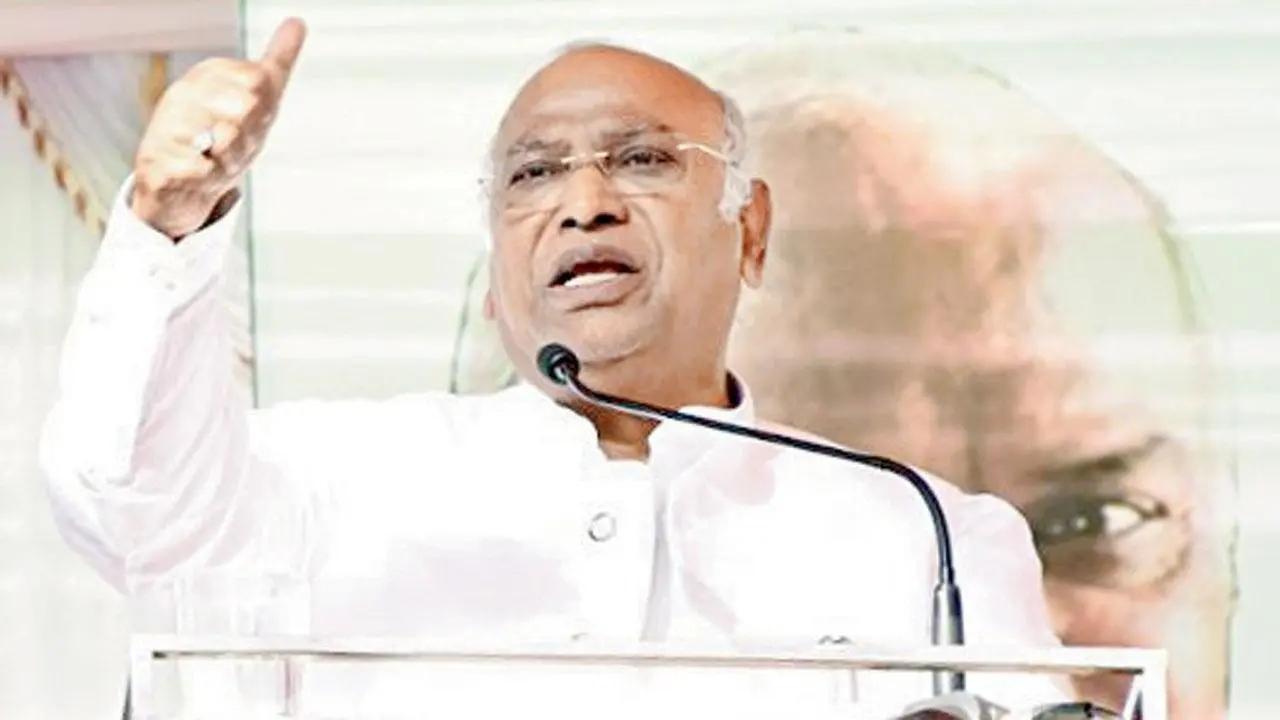 Mallikarjun Kharge. File Pic/PTI
Congress President Mallikarjun Kharge on Sunday attacked Bharatiya Janata Party over the 30 lakh government jobs lying vacant.
He said the SCs and STs were being deprived of government jobs and higher education under a conspiracy.
ADVERTISEMENT
"30 lakh government posts are vacant, but Modi Ji is not filling them. Out of them, 15 lakh jobs are reserved for SC-STs, and if the poor get their benefits, they (BJP government) will be thrown away. That's why the vacant posts aren't being filled," Kharge said while criticizing BJP for anti-poor policies.
Addressing a rally in Chitradurga, Kharge said, "Lakhs of people are gathering in the Bharat Jodo Yatra, because of rising inflation, unemployment and other issues."
The Congress President accused the BJP of "dividing" the people in the name of caste and religion.
"Karnataka, Tamil Nadu, and Maharastra are intelligent states which build the nation. What is happening here in Karnataka? BJP and CM Bommai have ruined our state by dividing us in the name of caste and religion," he said.
He further took a jibe at PM Modi and said that he is a 'Kannadigas', so people should vote for them.
"Everywhere in Gujarat, PM Modi said that people should choose him, as he is a Gujarati. Now, I am saying that I am a Kannadigas, and we all are Kannadigas. So, people must choose us," he further said.
Also Read: Ex-Army chief Deepak Kapoor joins Rahul Gandhi in Congress' Bharat Jodo Yatra
Kharge alleged that the "dictatorship" needs to go away.
"The BJP members call Modi a God and treat him as God. It is nothing but dictatorship, and it needs to go away," he added.
Kharge on Thursday lashed out at Prime Minister Narendra Modi and said that BJP has made no contribution to the freedom struggle of the country and none of its workers ever went to jail.
"PM Modi always asks what Congress did in the last 70 years. I want to tell him that Congress saved Constitution and that's why a person like him could become PM and a poor person's son like me could become AICC President," the Congress Chief said after flagging off the 'Bharat Jodo Yatra' in Banka district of Bihar.
"BJP didn't give freedom to the country, none of their workers went to jail. Congress granted independence to India and contributed to its development," Kharge said.
He also attacked the BJP saying that the ruling party is working to divide society in the name of religion and crush the poor.
Bharat Jodo Yatra, led by former Congress President and MP Rahul Gandhi, entered Haryana on Thursday after completing its Uttar Pradesh leg.
The yatra which re-entered Haryana on Thursday will pass through four districts of the state between January 5 and 10.
This story has been sourced from a third party syndicated feed, agencies. Mid-day accepts no responsibility or liability for its dependability, trustworthiness, reliability and data of the text. Mid-day management/mid-day.com reserves the sole right to alter, delete or remove (without notice) the content in its absolute discretion for any reason whatsoever Do you think Mumbai`s air quality is worsening by the day?