Thirty one passengers from West Bengal who were on board the Coromandel Express train that was involved in Odisha train accident are still missing, the state's chief minister Mamata Banerjee said on Tuesday. The death toll in the accident has mounted to 288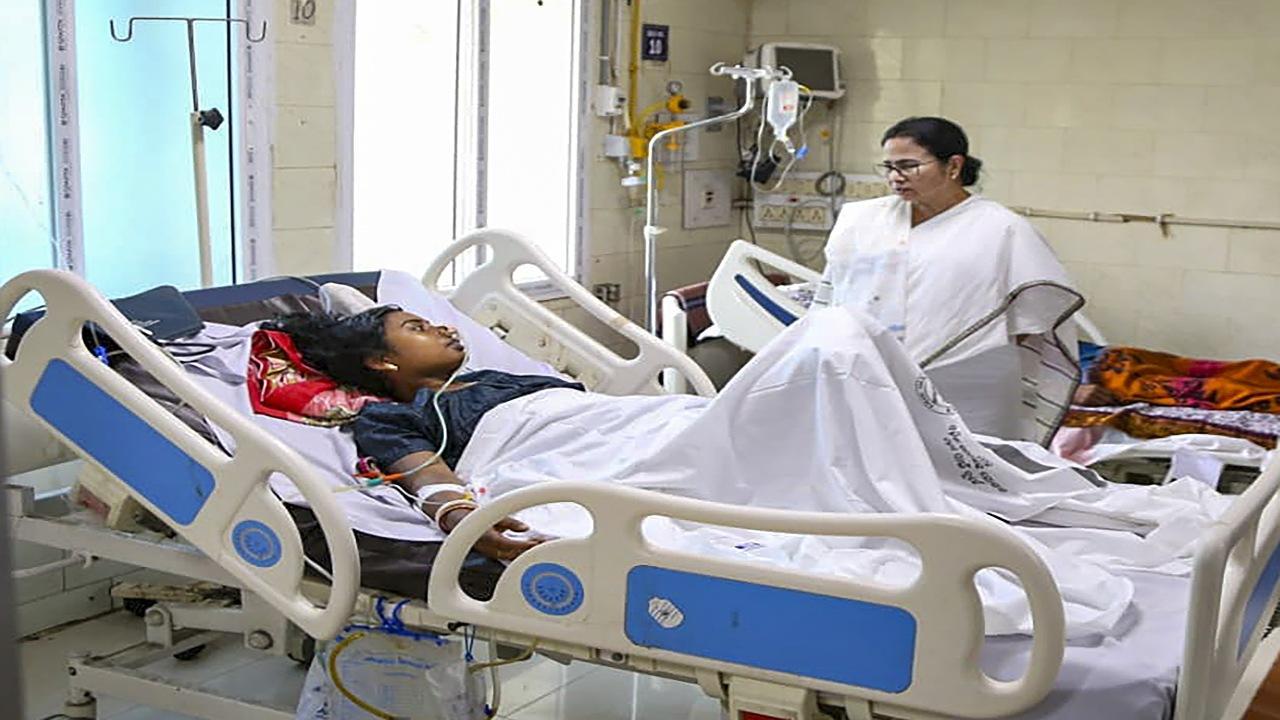 West Bengal Chief Minister Mamata Banerjee meets a passenger injured in the triple-train accident, at a hospital in Cuttack, Tuesday, June 6, 2023. PTI Photo
Thirty one passengers from West Bengal who were on board the Coromandel Express train that was involved in Odisha train accident are still missing, the state's chief minister Mamata Banerjee said on Tuesday. The death toll in the accident has mounted to 288, media reports said.
"Odisha and West Bengal governments are working together. They are providing free treatment. A total of 103 bodies belonging to West Bengal have been identified and 97 people are under treatment and 31 are missing," Banerjee told reporters in Cuttack where she is on a visit to meet injured persons currently admitted in different hospitals.
ADVERTISEMENT
The triple train accident involved the Bengaluru-Howrah Superfast Express, the Coromandel Express and the goods train on three separate tracks at Bahanaga Bazar station in Odisha's Balasore district on June 2. The devastating incident left over 1000 people injured.
Demanding a probe into the horrific accident, she said, "So many people have died, the truth must come out."
The Bengal Chief Minister also visited the eye and surgery department of SCB Medical College and Hospital and interacted with the patients.
A day after the incident, Banerjee, on Saturday reached the accident site in Balasore to take stock of rescue operations and questioned why the Centre's, anti-collision system, 'Kavach' was missing from the track of the collision.
Also read: Odisha train accident: Mamata meets injured passengers in Cuttack
Notably, the Central Bureau of Investigation (CBI) has registered a case into the matter.
In the statement, CBI said, "On the request of the Ministry of Railways, consent of the Odisha Government and further orders from DoPT(Govt. of India) relating to the train accident involving Coromandel Express, Yashwantpur-Howrah Express and a Goods train at Bahanaga Bazar in the State of Odisha on June 2, 2023."
"CBI has taken over the investigation of the case earlier registered at Balasore GRPS, District Cuttack (Odisha) vide GRPS Case No.64 dated June 3 regarding the said accident," the statement further said.
The tragic train accident killed 278 people and injured nearly 1,100 in what was the worst accident suffered by the public transporter since 1995. (With inputs from agencies) Do you like to interpret your dreams?