We tend to believe that bad things happen to others. Bad things like assault, rape, murder. Till it happens to someone we know, or know of, or admire, or hold in high esteem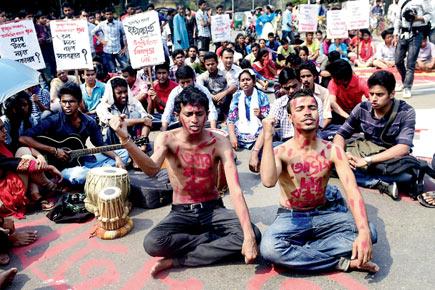 Remembering Avijit Roy: Hundreds of Bangladeshis gathered to protest against the killing of writer Avijit Roy, who was hacked to death by unidentified assailants in Dhaka on February 26. Pic/AFP
We tend to believe that bad things happen to others. Bad things like assault, rape, murder. Till it happens to someone we know, or know of, or admire, or hold in high esteem. Reality then knocks on our door; the knocking resembles the drumbeat of unshod hooves of beasts of prey galloping furiously towards you.
So it was with me Thursday night, when I was alerted by a sobbing friend in Dhaka about writer Avijit Roy being hacked to death by Islamists, most likely Jamaatis, at Dhaka University. His wife, Rafida Ahmed Bonya, barely escaped with her life after putting up a brave struggle to save him.
ADVERTISEMENT
It is a tragedy of our times that few would have heard of Avijit Roy beyond those who follow Bangladeshi politics and are on the Bengali bloggers circuit. Yet many of us had heard of Charlie Hebdo though few, if any among us, either follow French politics or read French.
In news reports about his gruesome killing (he was literally hacked with machetes and his head was split open) Avijit has been described as a 'blogger'. That description is at once simplistic and profoundly misleading. He was a lot more, like all bravehearts are.

Remembering Avijit Roy: Hundreds of Bangladeshis gathered to protest against the killing of writer Avijit Roy,  who was hacked to death by unidentified assailants in Dhaka on February 26.  Pic/AFP
Avijit Roy was neither a writer nor a blogger by profession. He was an engineer who had settled in the US where he could have pursued the American dream. But he did not allow his American citizenship to inure him to the rapidly crumbling secular fabric of Bangladesh. He kept on returning to Dhaka, his family and his friends.
An atheist, he founded the hugely popular blog 'Mukto-Mona' (Free-Minded) and wrote books against blind faith, among them his much acclaimed Biswaser Virus (Virus of Faith). He did not demand acceptance of his views, nor did he shun those who disagreed. Mukto-Mona in the past has both hosted my views and lashed them severely.
On Thursday night when he was set upon by thugs, he was returning home from Amar Ekushey Book Fair. The irony of it does not merit elaboration. Ekushey commemorates the memory of Bengalis who died in the protest against the imposition of Urdu on what was then East Pakistan. It would seem February 21, 1952 is now a faded memory in Bangladesh.
While we obsess over Pakistan's descent into torrid Islamism and the reign of terror by jihadis, we tend to ignore the bushfire of Islamism spreading through Bangladesh on our East. As in Pakistan, in Bangladesh, too, cynical power politics fuels Islamist bigotry.
Contrary to popular opinion, Prime Minister Sheikh Hasina and her Awami League Government, even while prosecuting the Razakars of 1971, have been less than harshly punitive in dealing with fanatics. There's more than a whiff of 'soft' Islamism in its actions.
At the other end of the political spectrum there is Khaleda Zia and her BNP that sustains, and is sustained in return, by the rancid Jamaat-e-Islami. Zia's widow may not live by the tenets of hardline Islamism and Salafi 'virtues', but she knows the brute power of bigotry can squash liberal opposition to everything her politics stands for.
And thereby hangs the tragic tale of Bangladesh, trapped in a battle for power between two begums while mullahs run riot and ride roughshod over free speech and enlightened values. Writers and intellectuals have long been targeted in Bangladesh. Avijit Roy is not the first, nor will he be the last.
Sheikh Mujibur Rehman forced poet Daud Haider into exile. There were no fanatics calling for death to writers then. Later Taslima Nasreen had to flee Bangladesh — neither of the two women who seek and wield power chose to stand by her.
Well-known writer Humayun Azad was hacked to death in a similar manner, also while returning from Amar Ekushey Book Fair, a decade ago. During the Shahbag protest of 2013 against Jamaatis and Islamist fanatics, blogger Ahmed Rajib Haider was murdered.
Booksellers were warned by Islamists not to sell Avijit Roy's books. They meekly complied. But Avijit Roy was defiant. As was Rafida. They could have sought safety in America. And lived in exile. They chose to be in Dhaka, unsafe and insecure.
I wish more of us were equally brave in confronting those who deny freedom of speech and thought. Sadly, as the adage goes, if wishes were horses beggars would fly.
Avijit Roy will be fondly remembered by his many friends, admirers and fans. As for his killers, they will be praised by those who celebrate hate and worship at the altar of bigotry. Their hollow world is bleak, dark and joyless. They are beasts of darkness whose unshod hooves you hear in the distance. Pray it is not your door they come knocking on.
"Exciting news! Mid-day is now on WhatsApp Channels

Subscribe today by clicking the link and stay updated with the latest news!"
Click here!