Experts hail the tiger's 125-km journey from Panna to Bandhavgarh, empahsize need to protect wildlife corridors connecting national parks and tiger reserves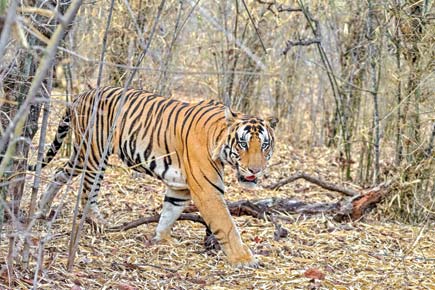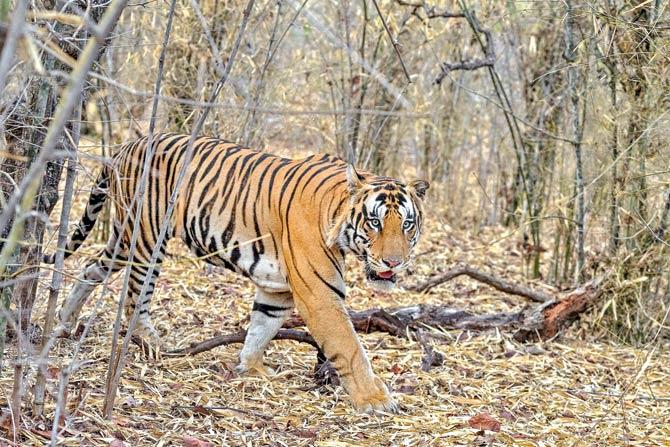 Pc Courtesy/ Wildlife Photographer Sandeep Dutta at Bandavgarh Tiger Reserve
At the Bandhavgarh Tiger Reserve, all eyes are on Bahubali 2. A three-year-old tiger earned the moniker after walking a heroic distance of 125 km. Why name him after the sequel? Because park officials had already seen Bahubali 1 — the name given to another tiger a few years ago.
ADVERTISEMENT
Bahubali 2 captured the park officials' imagination when he was first sighted in the buffer zone of Bandhavgarh Tiger Reserve a few months ago, and was named T-71.
Also read: Tiger cub born in Odisha's Nandankanan Zoological Park named 'Baahubali'
The pictures of the big cat were also uploaded on social networking sites, after which he was identified as a migrant tiger from Panna Tiger Reserve, where his name was P213(21). It was concluded that the tiger had walked 125 km from Panna, which is in Madhya Pradesh, to Bandhavgarh, which is adjacent to the border between Maharashtra and Madhya Pradesh. While the exact details about the path taken by the tiger are not known, it is said that the tiger might have taken 3-5 months to reach Bandhavgarh. For this feat, he is now being called Bahubali 2 by the wildlife community.
Bahubali part 1
Incidentally, the original Bahubali too was a migrant tiger from Panna (P212), who had wandered out in February 2014. He was found in Rewa and was released in Sanjay Tiger Reserve a month later. While Bahubali 2 was so named for his strength, the first tiger got his name from his humongous size. In July 2015, Bahubali died at the age of 4-5 years, reportedly because of territorial clashes with another tiger.
Migrant tale
Bahubali 2's journey is being held up as an example of successful wildlife migration, with activists emphasising on the need to maintain and protect wildlife corridors connecting national parks and tiger reserves.
The discovery that Bahubali 2 was in fact a migrant was made by wildlife photographers and R Sreenivasa Murthy, the former field director of Panna, who is now the Assistant Principal Chief Conservator of Forest (APCCF) and also member secretary of the Madhya Pradesh State Biodiversity Board (MPSBB). They identified the tiger by tallying its unique stripe pattern from photographs. In order to support his claim, Murthy also prepared a detailed report, 'Identification Report of Bandhavgarh's Tiger-71 (June 2017)'.
Murthy said, "The forest department records at Panna also mention that the birth date of the male tiger is May 2014. At the end of 2016, the same tiger started its migration and reached Bandhavgarh some time this year. This also proves that forest department can help the conservation of tigers with proper monitoring."
mid-day tried to contact the forest department officials at Panna but they were not available for comment.
Activistspeak
Wildlife photographer and owner of a resort near Panna, Abhinav Pande said, "This is an interesting case study that highlights how important it is to protect the wildlife corridors linking national parks and tiger reserves, as it will also help in creating a diverse gene pool in the tiger population."
125km Distance covered by the tiger over four months
"Exciting news! Mid-day is now on WhatsApp Channels

Subscribe today by clicking the link and stay updated with the latest news!"
Click here!