During the first rescue operation, the leopard climbed the ladder released into the well; it managed to escape the rescuers, only to fall into another well in the vicinity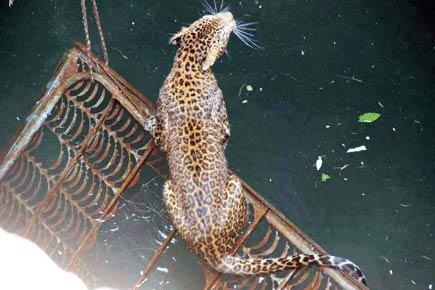 While the Thane forest department plans to construct safety walls around the wells in its jurisdiction so that wild animals don't fall inside them, the incidents of leopards falling into wells don't seem to end in Ahmednagar district.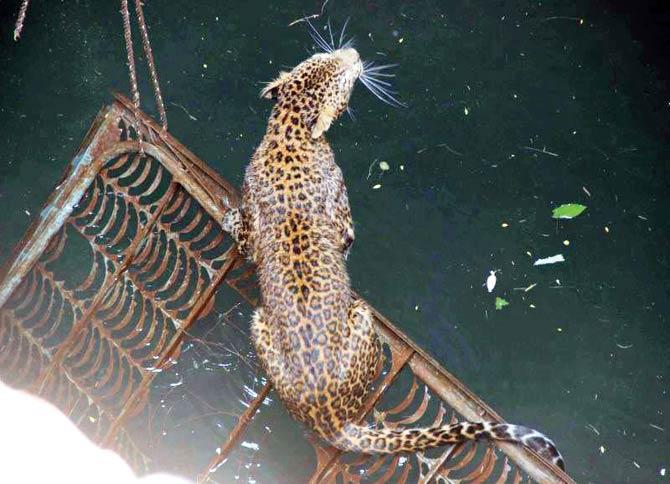 The leopard was first hoisted using a frame, before it could be trapped in a cage
On Saturday, a leopard fell into a well while chasing a hen. During the rescue operation, the leopard climbed the ladder that was released into the well, but it fled.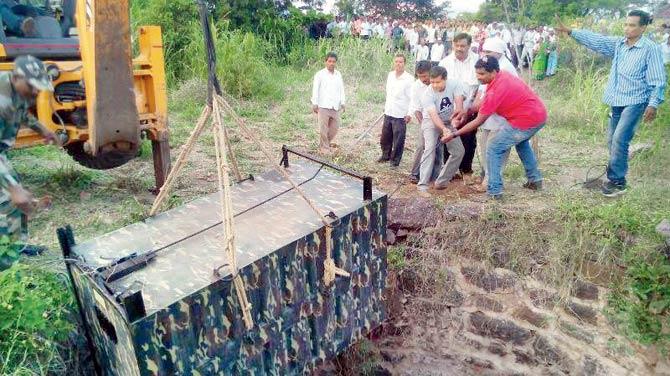 The cage with the trapped leopard was hauled up using a JCB
Later, the leopard fell into another well in the vicinity. The Parner forest department, along with NGO Wildlife SOS, rescued the animal after a two-hour operation. The incident took place on Saturday afternoon near Alephata village on the boundary of Ahmednagar and Pune districts.
A local villager said, "We informed the forest department who sent a team to the spot. They released a ladder inside the well so that the leopard could climb and enter the cage that was kept near the edge of the well. The leopard was so smart that it climbed the ladder, but rather than enter the cage, it escaped. A forest official was injured," said a local villager.
There were more than 200 people that had gathered to witness the rescue operation. Some people allegedly chased the leopard and out of fear, the animal is said to have fallen into another well that was a few hundred metres away.
The second well into which the leopard fell was more than 50 feet deep and it did not have a safety wall. In order to safely rescue the animal, the Junnar taluka's Manikdoh Leopard Rescue Centre was immediately informed, after which the team, led by veterinarian Dr Ajay Deshmukh from Wildlife SOS, reached the spot.
"We reached the spot around 5.30 pm on Saturday and started our rescue operation. We wanted to remove the animal safely without causing any stress or injury to it and, so, with the help of a JCB we released the trap cage along with a frame, inside the well. The leopard first came onto the frame and later entered the cage. By 6.15 pm, we had safely rescued the animal," said Dr Deshmukh.
The leopard that was rescued is said to be a female around 2-2.5 years old, and her medical examination proved that she was completely fit for release. The animal will be released in a couple of days.