On the face of it, Three Billboards Outside Ebbing Missouri, an Oscar contender tonight, (and playing in Mumbai right now) is a highly plotted story of one woman's quest for justice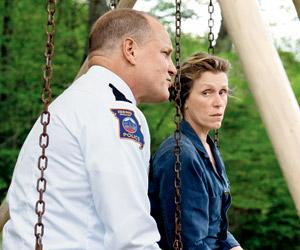 A still from the film

On the face of it, Three Billboards Outside Ebbing Missouri, an Oscar contender tonight, (and playing in Mumbai right now) is a highly plotted story of one woman's quest for justice for the unsolved crime of her daughter's violent rape and murder and some closure for her grief.
Recent times have seen an industrial scale growth of character-driven stories and personal essays as the chosen form to create empathy — an identification with someone else's feelings as a way to propel a better society. Three Billboards is unusual in this context, choosing a style of some detachment.
The film begins with Mildred Hayes, played with riveting, compacted ferocity by Frances McDormand putting up three billboards demanding that the town's police chief Willoughby, a breezy and charming Woody Harrelson, explain why her daughter's murder remains unsolved. Willoughby comes to reason with Mildred. "There's one more thing," he says, "I've got cancer". "I know," replies Mildred, "not much use doing this after you're dead." We find ourselves laughing at the insouciance of a scene which, in many other films, would mark an emotional complication. It is our cue to bring an unsentimental, but not uncaring eye to the film.
The film's structure is like a Rubik's cube, where a side begins to cohere, but everything changes with the shift of a tile. Everyone reveals an unlikeable quality. We love Mildred — she's kick-a**, funny with the insults, pushes back hard against unfairness or bigotry and we see her pain often — but she sets fire to the police station in a blind rage, and is quite mean to a little person who helps her out but manipulates her into a date. Others are casually racist and homophobic, yet each reveals some vulnerability and pain. We laugh at someone, then see something wrenching about them. With a form that constantly plays with these perspectives of empathy and distance, the film manages to hold both, the political realities of identity, and the personal truths of emotional experience in one place, without insisting one is more important or truer than the other.
At one point Willoughby tells Mildred — "sometimes there is no reason a crime does not get solved. It just doesn't." Similarly, no character is handed any narrative redemption. It is up to them to break out of their own cycle of pain and anger, to let go of the past and give themselves the chance to move forward.
There is a risk involved in making such a film in these very literal minded times — where to depict a racist character is to be called racist. But, by letting us take on a gaze where we are detached but kind in how we see the characters the film poses a question — is it possible that to be humane means not so much to identify with another, as to accept that the victim is capable of cruelty and the oppressor capable of pain? Is it possible that for a better world, we need not just a discourse about rights, justice and political purity but also about love and compassion — being able to open one's heart to those we are used to hating — even if only for the span of a film? The film does not answer this. Art's power lies in raising questions about life, not laying down fixed meanings of what is right.
Paromita Vohra is an award-winning Mumbai-based filmmaker, writer and curator working with fiction and non-fiction. Reach her at www.parodevipictures.com
Catch up on all the latest Mumbai news, crime news, current affairs, and also a complete guide on Mumbai from food to things to do and events across the city here. Also download the new mid-day Android and iOS apps to get latest updates