There is more to St. Xavier's College than Malhar and a reputation as one of Mumbai's top colleges. Photographer David de Souza and journalist Shabnam Minwalla reveal its hidden treasures, explore its every nook and cranny, and take us through the institution's 140-year history in a rich, coffee table book that will make you fall in love with the college all over again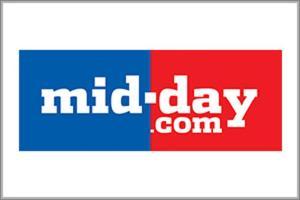 There is more to St. Xavier's College than Malhar and a reputation as one of Mumbai's top colleges. Photographer David de Souza and journalist Shabnam Minwalla reveal its hidden treasures, explore its every nook and cranny, and take us through the institution's 140-year history in a rich, coffee table book that will make you fall in love with the college all over again

Boy magician Harry Potter would have loved to study at St. Xavier's College. No less fascinating in architecture and alumni, this 140 year-old institution has turrets that look like witches' lairs and gargoyles that resemble Potter's alma mater: Hogwarts School of Witchcraft and Wizardry.u00a0




In the words of Dr Father Frazer Mascarenhas, principal of the college: Its alumni talk endlessly about canteen capers and moonlit college socials, while others discuss Malhar. But this landmark is much more than its canteen and college festival. It is about the great and eccentric individuals who built it; the eloquent teachers and generations of students and, of course, the many adventures which yielded camel skeletons and elaborate productions of Shakespeare.u00a0

Ironically, this knowledge has remained largely underground, until now. At its grand finale alumni dinner at the
heritage quadrangle tomorrow, the college will launch St. Xavier's College: Celebrating Diversity since 1869. Designed by David de Souza and written by journalist Shabnam Minwalla, this 200-page coffee table book opens locked cupboards to discover mysterious bones and the invaluable pressings of now extinct plants.

And it finds breathtaking beauty, not only in the serene chapel and spacious library, but also amidst acrid laboratories and dusty department shelves. Even Xavierites who have spent years on campus will discover new aspects and anecdotes.u00a0

Himself an alumnus, and now a visiting faculty, de Souza came on board when he met alumnus Roger CB Pereira, founder and former CEO, and MD, R&PM Edelman Burson-Marsteller, at a party. "Roger saw my latest book titled Itinerants, and wanted to know if it was possible to capture the treasures of St. Xavier's in a book. The moment I said yes, he phoned Fr Mascarenhas - at 10 pm - and got the go-ahead!" he says from his apartment in South Mumbai.

He spent the next four months - with intermittent breaks - photographing its gothic fau00e7ade, wealth of
artifacts, gung-ho students and famous alumni as varied as Reliance Industries Chairman Mukesh Ambani and theatre personality Gerson da Cunha.

Alumnus and journalist Minwalla became a Xavierite again while researchingu00a0 the book: "Here, education goes beyond university-prescribed syllabi. It is about trips to Kaziranga to observe wildlife, Jabalpur to understand rocks and Bhutan to encounter alternate family structures. It is about learning the Can-Can, listening to an impassioned lecture by an American eco-warrior during a "free period", and signing up for an extra photography class. It is about a clattering, chattering canteen and a library that bustles even at 4 pm on a Saturday."
Minwalla used the postal stamp issued in 1985 to celebrate 125 years of the institution to indicate "postcards from the past". There are excerpts from the college magazine - nuggets, essays and poems by ex-students; filmmaker Tanuja Chandra wrote an ode to gargoyles in her student days. Another one written in 1989 by journalist Naresh Fernandes goes:
Puff the magic dragon, breathes
Out fumes of red and green,
But then they fined him ten bucks
For smoking outside the canteen.

Campus assembled like Lego bricks
This lovely campus is not the creation of careful blueprints and architectural brainstorming. Instead, it has been assembled over a century in much the same way a little boy plays with his Lego - a building here, a shed there, a small plot annexed. As the students multiplied, the Jesuit priests had to bargain for every extra square foot, and squirrel away every extra rupee for their building fund. The transition from a scattered group of structures to a cohesive campus was brought about by visionary college Principal, artist-architect-designer, Father Gonzalo Palacios. It is told that he was so involved in the construction that the office clerks had to scramble up the bamboo scaffolding to get his signature as he diligently chipped away at a gargoyle, or directed the curve of a curlicue.

Alumni > Famous faces that walked through these corridors
>Roger CB Pereira, founder and former CEO and MD, R&PM Edelman Burson-Marsteller
>Mukesh Ambani, chairman and managing director, Reliance Industries
>Charles Correia, architect
>Rajdeep Sardesai, editor-in-chief, IBN 18 Network; President, Editors Guild of India
>Adi Godrej, chairman, The Godrej Group
>Shabana Azmi, film and theatre actor
>Alyque Padamsee, adman and playwright
>Soli Sorabjee, senior advocate, Supreme Court of India; former Attorney General of India
>Goolam Vahanvati, Attorney General for India
>Vidya Balan, actress

Blatter Herbarium
Father Ethelbert Blatter arrived in 1903, and even before he had his first bout of Bombay belly, was crawling about the hills of Khandala, amassing ferns and
publishing papers on a dizzying variety of subjects: the Mangrove of the Bombay Presidency and its biology, the praying mantis, caterpillars as ant's pets, and a brown and white crow, to name just a few.
This Jesuit of great girth and even greater energy set up the college herbarium to collect, identify and classify plants for future reference. Today, the atmospheric Blatter Herbarium has 20,000 samples of pressed plants, some of which are now extinct. It's the only one in India, and scholars from around the world use this herbarium, which specialises in plants of the Western Ghats.
Father H Santapau made a dangerous journey from England to India in the middle of WWII. As soon as he landed, he started tending the herbarium and building up a collection of pods and seeds that are today stored in the Santapau Carpology Centre, which truly looks like a sorcerer's chamber.

To order a copy of St. Xavier's College: Celebrating Diversity since 1869, visitu00a0 http://www.redboxrewards.com/newredbox/xaviers/
The book is priced at Rs 2,500, if booked before January 3, and then at Rs 3,000.
A personalised copy is available for Rs 5,000.