Addressing the 60th National Indian Association of Physiotherapists Conference through video conferencing, the PM said the spirit of physiotherapy has important messages for the people and the country, including consistency, be it in exercising or in policies to herald development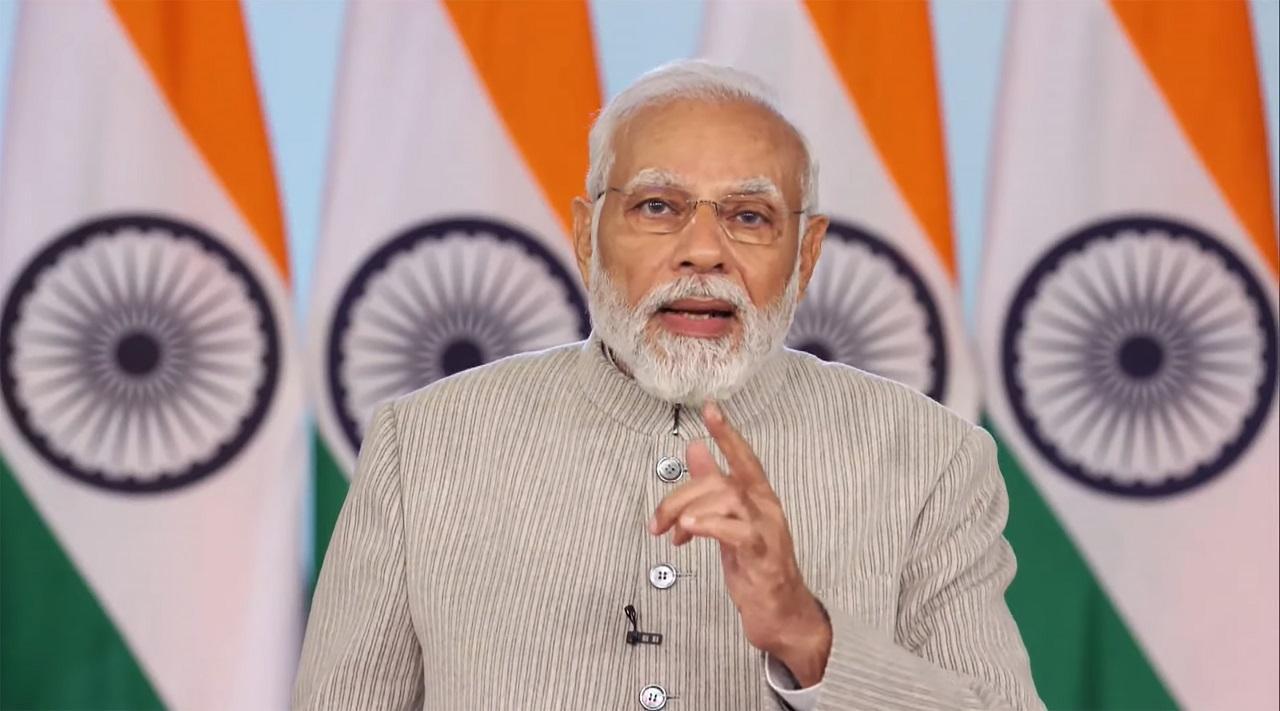 Prime Minister Narendra Modi. Pic/PTI
Prime Minister Narendra Modi on Saturday said continuity and conviction were necessary, just as in physiotherapy, for the country's development.
Addressing the 60th National Indian Association of Physiotherapists Conference through video conferencing, the PM said the spirit of physiotherapy has important messages for the people and the country, including consistency, be it in exercising or in policies to herald development.
ADVERTISEMENT
"The first condition of physiotherapy is consistency. Generally, people exercise for two to four days out of enthusiasm, but then it wears off. But a physiotherapist knows that without consistence, you won't get results," he said.
"You have to ensure important exercises are done without a gap. Similarly, as in physiotherapy, continuity and conviction are necessary for the country's development. There should be consistency in our policies", he said.
Underlining the importance of consistency in policies, PM Modi said only this aspect will help the country to "rise and proceed on a long journey".
The PM said he too needed the help of physiotherapists sometimes, but suggested one combine this with Yoga, as knowing the two would lead to "growth in professional power".
"It is my experience that when the expertise of Yoga is added to physiotherapy, then its power increases manifold. Yoga and asanas have solutions to common problems of the body that require physiotherapy," the PM asserted.
Also Read: PM Modi to inaugurate first section of Delhi-Mumbai expressway tomorrow
Physiotherapists should educate people on right exercise, right posture and right things for fitness, the PM said.
He said he is inspired by physiotherapy, as governance contains a message that physiotherapists have learnt, which is "your inner strength is stronger than challenges".
"With a little bit of encouragement and support, people can win over the toughest of challenges," the prime minister asserted.
Citing the massive earthquake in Turkiye that has killed more than 20,000, the PM asked physiotherapists to devise ways to consult via telemedicine.
"After such a disaster, physiotherapists are required in large numbers. In such a situation, you all can provide help in different ways through mobile phones. The physiotherapists association should think about this," he told the IAP participants.
He said the best physiotherapist is one who is not needed regularly by the patient, which in turn teaches one "self reliance".
"One can say your goal is to make people self-resilient. Therefore, when India is moving towards self-reliance, physiotherapists can easily understand why this is important for the country," Modi said.
He said physiotherapists know best results are had when they work together with doctors, and so would understand the government's efforts to make development a mass movement in the country.
Modi said his government had supported citizens by opening bank accounts, toilets, tap water supply and carrying out several such campaigns, including the Ayushman Bharat health scheme, all of which have created a strong social security net.
"The results are for all to see. Today, the poor and middle class have gained strength to dream big and fulfil their dreams. They are showing the world they are capable of touching new heights," he said.
The prime minister said his government had gifted physiotherapy with the recognition as a profession, something they were waiting for since Independence.
He said National Commission for Allied and Healthcare Professions recognises physiotherapists as healthcare professionals, which has helped them to work abroad as well.
Connecting physiotherapists with a digital national mission has helped them reach patients easily, the PM added.
He urged physiotherapists to document the challenging and costly care of the elderly, whose numbers are rising.
The experience shared through academic papers and presentations is going to be of great value for the entire world and bring forward the skill of Indian physiotherapists, the prime minister said.
The two-day 60th National IAP conference is being held in Gujarat after a gap of 16 years and will see experts from India and abroad discussing and debating advancements in the field.
A highlight of the conference is the the first time ever 'scientific presentations (paper and poster presentations) for clinicians.
This story has been sourced from a third party syndicated feed, agencies. Mid-day accepts no responsibility or liability for its dependability, trustworthiness, reliability and data of the text. Mid-day management/mid-day.com reserves the sole right to alter, delete or remove (without notice) the content in its absolute discretion for any reason whatsoever.