SDRF personnel conducted the inspection on Monday morning to ensure no human life was left trapped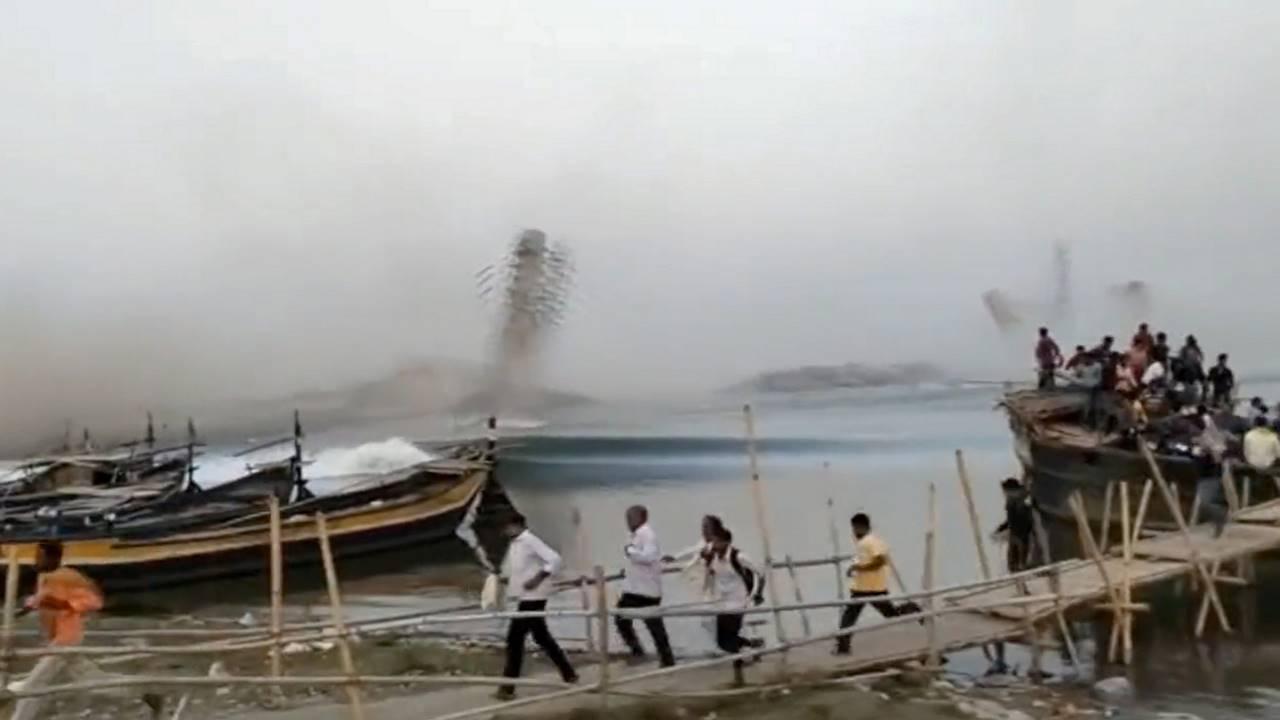 Bhagalpur: An under-construction Aguwani-Sultanganj Ganga bridge collapsed, in Bihar's Bhagalpur district, Sunday, June 4, 2023. Pic/PTI
Teams of SDRF personnel on boats conducted an inspection of the river Ganga after a Aguwani-Sultanganj underconstruction bridge built over it collapsed in Bhagalpur district, informed SDRF Sub-Inspector Birendra Kumar, reported ANI.
According to ANI, the SDRF personnel conducted the inspection on Monday morning to ensure no human life was left trapped,, he added. However, a woman claimed that one of her family members was working as a guard at the site at the time of the incident and since then he is missing. He was on duty under pillar number 10, the woman said.
ADVERTISEMENT
Following the same, large numbers of locals gathered at the site demanding administration to recover him safely. The missing person is identified as Vikash Kumar.
" Four boats of SDRF are here...two on one side and two on the other, all boats are conducting an inspection to ensure that no one is left trapped here. Three pillars got damaged from the Sultanganj's side which comes under Bhagalpur district. Earlier also damage had happened at the same location. For now, no injuries or casualties are reported," ANI quoted Birendra Kumar, Sub Inspector, SDRF, Sultanganj, as saying.
Responding to the missing complaint Chandan Kumar, CO Parbatta, Khagaria said, "After the bridge collapse, a person working as a guard with SP Singla Company is said to be missing. His body has not been recovered yet. Search by SDRF & NDRF teams is underway to trace him."
Meanwhile, some of the eyewitnesses, present at the site told ANI, "Initially we thought it was a blast...later we understood that the bridge had collapsed...this shows the corruption in the government...this is not the first time...this state government is corrupt, there should be a probe to ascertain the lapses behind the incident."
Another eye witness named Pramod Kumar, said " I am not sure what kind of material is being provided for the bridge construction...not sure if public will ever be able to use this bridge even in future."
Following the bridge collapse, Leader of Opposition in Bihar Vijay Kumar Sinha said that the under-construction Aguwani-Sultanganj bridge which collapsed in Bhagalpur is a consequence of Chief Minister's Nitish Kumar mentality of political instability which has resulted in administrative anarchy and corruption in the state.
While speaking to ANI, Leader of Opposition in Bihar Vijay Kumar Sinha slammed Chief Minister Nitish Kumar's governance over the bridge collapse and said, "There is a tradition of seeking commission (bribe) in this government. It is a consequence of Bihar CM Nitish Kumar mentality of political instability that there's administrative anarchy and corruption. System is collapsing but they are talking about Opposition unity."
He further stated that there should be an immediate enquiry into the incident. "There needs to be accountability in this incident. Those involved in corruption in the government have fixed their commissions. Where is your zero tolerance on the corruption?" he added.
Soon after the collapse of the bridge, CM Nitish Kumar ordered a probe into the collapse of an under-construction bridge in Bhagalpur and has asked the officials to identify those responsible for the incident.
(With ANI inputs) Do you practice ecotourism?