Answering a question on the possibility of reaching out to his cousin and BJP MP Varun Gandhi, he said their ideologies do not match.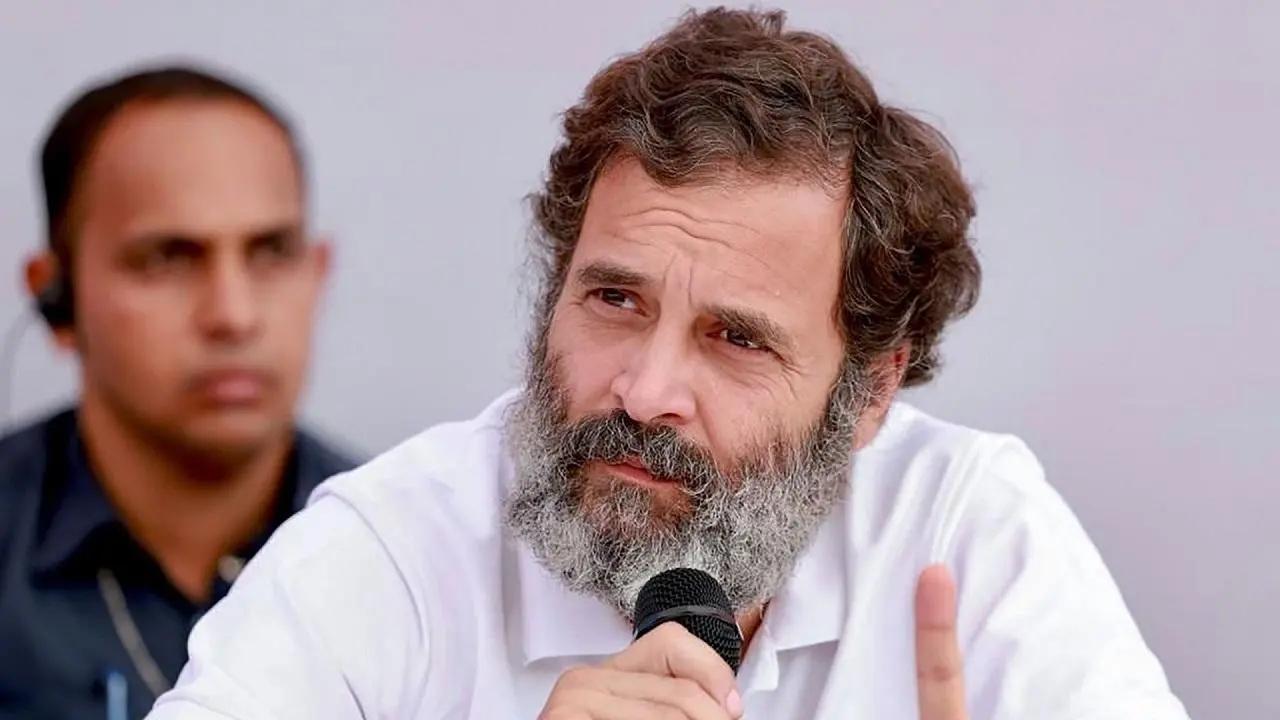 File Photo/PTI
Congress leader Rahul Gandhi Tuesday accused the Bharatiya Janata Party and the Rashtriya Swayamsevak Sangh of capturing institutions and putting pressure on the EC and the judiciary, and also declared that he will not visit an RSS office even if someone slits his throat.
Answering a question on the possibility of reaching out to his cousin and BJP MP Varun Gandhi, he said their ideologies do not match.
ADVERTISEMENT
I can never go to an RSS office. You can slit my throat, but I will not go. My family has an ideology, it has a thought system," he said at a press conference here on the sidelines of his Bharat Jodo Yatra.
Also read: Man attempts to hug Rahul Gandhi during Bhart Jodo Yatra in Punjab's Hoshiarpur
"I can meet him, hug him. But I cannot accept that ideology, that is impossible, he said.
He accused the RSS and the BJP of controlling institutions.
"There is a pressure on all the institutions. There is a pressure on the press, there is a pressure on bureaucracy, there is a pressure on the Election Commission, they put pressure on the judiciary," he charged.
This is not a fight between one political party and another political party. It is now a fight between the institutions which were captured by them and the opposition. Out of which one factor is EVM, he said to a question on Electronic Voting Machines.
Normal democratic processes in the country are now "missing", he claimed.
He also asserted that it is abundantly clear that economic distress, unemployment and price rise will deal a "severe blow" to the BJP.
His remarks on Varun Gandhi come amid speculation that the BJP MP, who often has been critical of his own party, might be joining the Congress.
To a question, the Congress leader said Varun is in the BJP and if he walks into the yatra, he will face a problem, implying that the saffron party might object.
Gandhi, whose foot march is passing through Punjab, also took a swipe at the ruling AAP government in the state, saying Punjab should be run from Punjab only, not from Delhi.
"It is a historical fact. If it is run from Delhi, then people of Punjab will not accept it. It is not political but it is a fact,¿ he further said.
Gandhi on Monday had said that Chief Minister Bhagwant Mann should not be remote controlled and should run the state independently.
On the Shiromani Akali Dal raising questions on his visit and seeking his apology for Operation Bluestar and the 1984 anti-Sikh riots, Gandhi said the former prime minister Manmohan Singh had made his position and that of the Congress very clear.
Former Congress president Sonia Gandhi has also done that and "I fully endorse what (former) Prime Minister Singh ji and Sonia Gandhi ji said. I have also made my stance abundantly clear in the past," he said.
Gandhi said there was no security lapse in the march on Tuesday after a man came rushing to meet him and tried to hug him.
I do not know why you are calling that a lapse. I think the person was checked by the security people, he was a bit overexcited. There is quite a lot of enthusiasm to the Yatra. Many people get overexcited and that was the case where he was a bit extra charged up, so there is no problem in that. It has happened many times before. I wouldn't call that a security lapse, said Gandhi.
The man rushed towards Gandhi to hug him during the yatra but was stopped by Punjab Congress chief Amrinder Singh Raja Warring.
Inspector General of Police G S Dhillon said there was no security breach.
The march, which started from Kanyakumari in Tamil Nadu on September 7, will conclude in Srinagar by January 30, with Gandhi hoisting the national flag in the summer capital of Jammu and Kashmir.
It has so far covered Tamil Nadu, Kerala, Karnataka, Andhra Pradesh, Telangana, Maharashtra, Madhya Pradesh, Rajasthan, Delhi, Uttar Pradesh and Haryana.
This story has been sourced from a third party syndicated feed, agencies. Mid-day accepts no responsibility or liability for its dependability, trustworthiness, reliability and data of the text. Mid-day management/mid-day.com reserves the sole right to alter, delete or remove (without notice) the content in its absolute discretion for any reason whatsoever.