In Haryana, many farmers' leaders were detained inside their homes early on Sunday.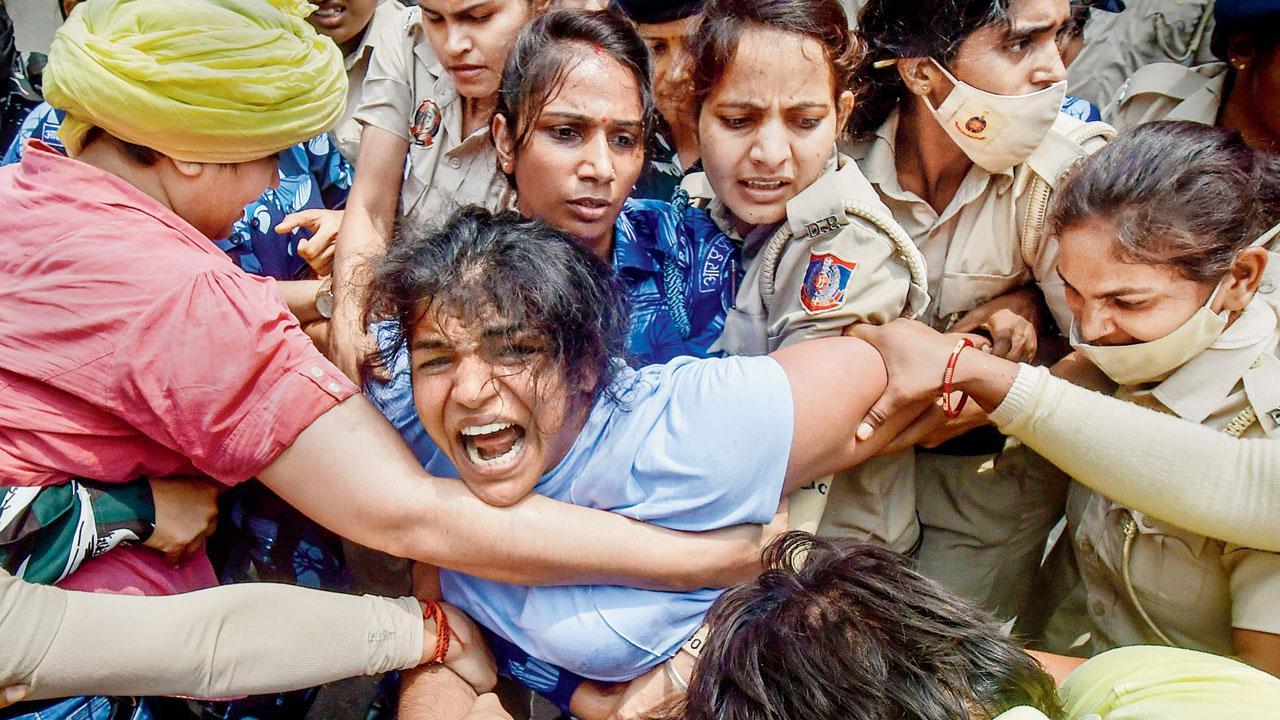 Cops detain Sakshi Malik. Pics/PTI
In what could bring about a forceful end to the wrestlers' protest at Jantar Mantar, the Delhi police on Sunday detained Vinesh Phogat, Sakshi Malik and Bajrang Punia for "violation of law and order" after they tried to move towards the new Parliament building for a planned women's 'Mahapanchayat'.
Immediately after the wrestlers were pushed into buses and taken to different unknown locations, cops began clearing the protest site by removing the cots, mattresses, coolers, fans, the tarpaulin ceiling and their other belongingsand saying they will not be allowed to continue their sit-in. Several farmers' leaders in Haryana were also detained when they tried to proceed towards Delhi with a large number of supporters for the 'Mahila Mahapanchayat', peasants' outfit BKU (Charuni) claimed. In Haryana, many farmers' leaders were detained inside their homes early on Sunday.
ADVERTISEMENT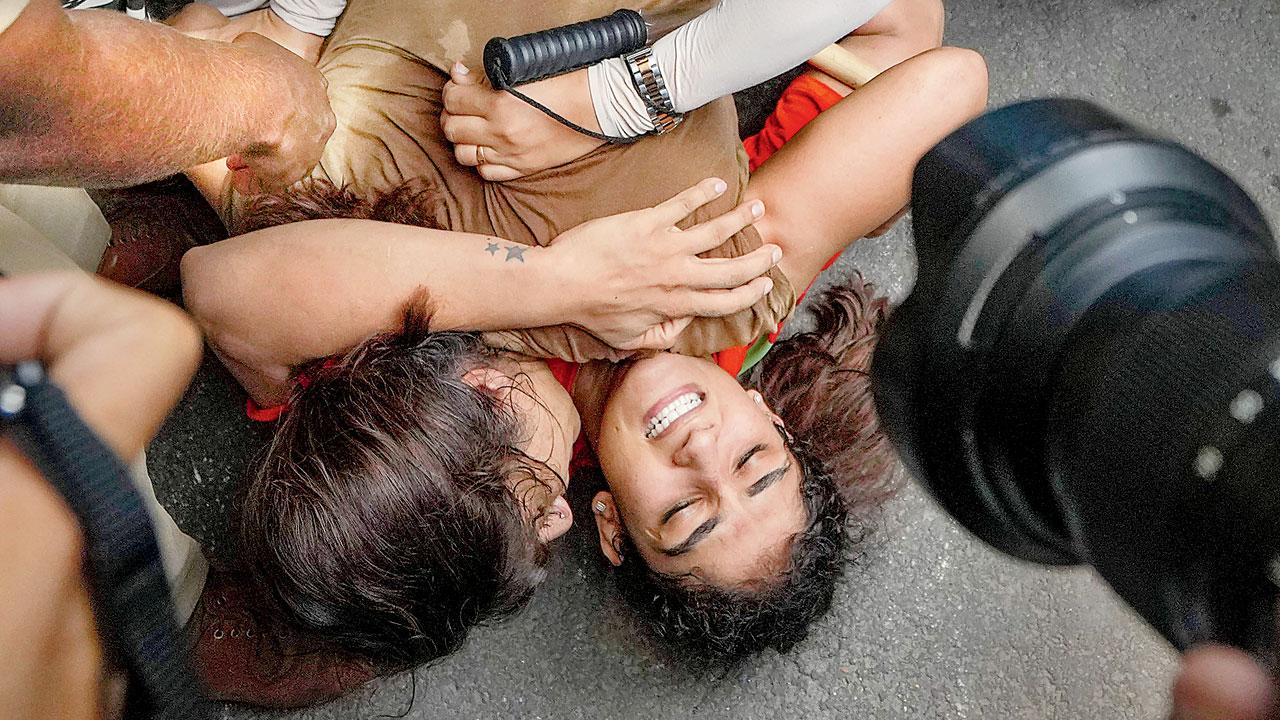 Security personnel pin down wrestlers Vinesh Phogat and Sangeeta Phogat before detaining them, during wrestlers' protest march towards new Parliament building, in New Delhi, on Sunday
The champion wrestlers had resumed their agitation against former Wresting Federation of India chief Brij Bhushan Sharan Singh on April 23, demanding his arrest for alleged sexual harassment of seven women grapplers, including a minor. Police dragged Sakshi Malik, Vinesh Phogat and her cousin Sangeeta Phogat as they tried to breach the barricades, and lifted them into buses along with many other wrestlers and their supporters, barely 3 km from where the PM inaugurated the new Parliament.
A teary-eyed Vinesh later said from a bus that they are being punished for demanding justice. "The accused is roaming free, he is being given shelter by the government and we athletes who won medals for the country are now being put in jail for demanding justice for country's daughters." Ironically, Bajrang Punia and Vinesh were detained just metres away from Brij Bhushan's official residence. Women detainees were released later in the evening.
For peace and law: Police
"They have been detained for violating law and order. We will take legal action after inquiry in due course of time," said Dependra Pathak, Special CP, Law and Order. "The bottom line is peace and tranquility in all situation will be maintained. We will ensure professional steps to see to it that nothing goes wrong," he added.
Tweet talk
Mamata Banerjee, chief minister, West Bengal@MamataOfficial
It's shameful our champions are treated in this manner. Democracy lies in tolerance but autocratic forces thrive on intolerance and quelling of dissent. I stand by them
Clyde Crasto, national spokesperson, NCP@Clyde_Crasto
Our wrestlers, they shed their blood, sweat and tears with pride for our country. Today, they are shedding the same with pain because @BJP4India wants to protect their MP. BJP must hang its head in shame