Movie Reviews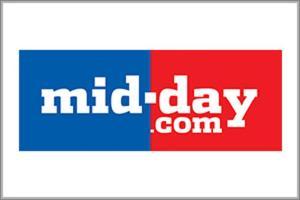 When dreams become nightmares
Film: Mere Khwabon Mein Jo Aaye (Hindi)
cast: Randeep Hooda, Raima Sen, Arbaaz Khan
Direction: Madhureeta Anand
Verdict: **


What's it about: Mere Khwabon Mein Jo Aaye (MKMJA) deserves two stars for just one reason-Randeep Hooda. This movie is about life, music and a person's choice to be happy. But director Madhureeta does justice to neither khwab (dreams) nor haqeeqat (reality). The sluggish plot and a martyred Raima Sen are sure to drive you nuts. This is definitely not a good re-launch vehicle for Hunk Hooda.

Maya (Raima Sen) and Vikram Singh (Arbaaz Khan) are a not-so-happily married couple, who live with their daughter Priya in Delhi. Vikram is a chauvinist and a flirt. Maya, who is gifted with a good voice, is forced to stop singing after her marriage. But she rediscovers her passion after Jai (Randeep) comes into her life. The rest of the drama is about how he turns her into a swingin' singer!

What's hot: Randeep Hooda with his killer looks.

What's not: Arbaaz Khan has to try real hard to be taken seriously as an actor.u00a0 Raima is wasted an as a doormat and the script does no justice to her intelligence or yours.

Verdict:u00a0 Stay away. Sometimes, your real problems are better than your imaginary ones.

Jab dil hi toot gaya

Film: Dev D (Hindi)
cast: Abhay Deol, Mahi Gill, Kalki Koechlin
Direction: Anurag Kashyap
Theatre: Inox, Fame, Innovative Multiplex, PVR, Fun
Rating: ****


Review: Like all films made on Devdas, this one too begins when Devender Singh Dhillon returns from London to meet his Paro (Mahi Gill) in Punjab. He comes racing back, after she agrees to send her nude photograph on his request! Dev and Paro's tempestuous, passionate longing for each other culminates with only a quick hug and quickly ruptures as our hero is unable to handle her sexuality, giving heed to an inane rumour. He spurns her wild sexual adventurism and scoffs at her for cycling to the fields in the wee hours of dawn, with a mattress rolled up on her cycle carrier. Smart Paro doesn't give in to his 'emosanal atyachaar'. She moves on and marries a much older man, Bhuvan, a father of two.

After being spurned by Paro, Dev leaves Punjab and relocates to Delhi's Daryaganj. His days are filled with vodka and his nights are spent in the boudoirs of assorted women. He's soon hurtling into the arms of Chanda (Kalki Koechlin), a student by day andu00a0 hooker by night. A victim of an MMS scandal in Chandigarh, she runs away from home after changing her name from Lenny to Chanda with help from Chunni babu, a pimp.
u00a0
What's hot: Kashyap brilliantly reads the psyche of the youth. Their struggle to juggle the contradictions of a liberal education and a conservative home is captured well.

What's not: The wine and women bit is a bit overdone.

Verdict: Must-watch, especially because of its earthy appeal.

Gimmicks don't sell

Film: Birugali (Kannada)
Cast: Chetan, Sithara Vaidya, Tara and Kishore
DirectION: Harsha A
TheatreS: Santosh, Uma, Fun and PVR
Rating: **


What's it about: Hacchi (Chetan), who was abandoned as a baby, is brought up by a destitute. Anju (Sithara Vaidya) is Hacchi's childhood friend. She loves him, but he is blissfully unaware of her silent adoration. He grows up and moves to Bangalore, where he gets entangled with dubious sorts. Does he have to pay for his follies?
What's Hot: Two songs are excellent with Arjun's solid music as well as fantastic choreography.u00a0 Sithara Vaidya has done a noteworthy job and Kishore's unique style of acting wins whistles.

What's Not: Harsha's story has no depth. Some sequences are clichu00e9d. Chetan is a disappointment.

Verdict: Watch at your own risk.

Mind games, anyone?

Film: Naan Kadavul (Tamil)
Cast: Arya, Pooja, Rajendran, Azhagam Thamizhmani
Director: Bala
Theatres: PVR, Inox, Fame
Rating:u00a0 ***


What's it about: Bala is a director who is passionate about his craft. Naan Kaduval, his fourth film that took three years in the making, spotlights an unconventional subject-the beggar mafia-with u00e9lan. He thumbs his nose at star power and chooses to shoot with 'real' people.


What's hot: Arya, who acts as Agori, and Pooja, who plays a blind beggar, are simply marvellous. I wouldn't be surprised if they bag national awards. Ilaiyaraja's background score is haunting and it forms the backdrop of every shot. The music creates the mystical world of the film. Arthur Wilson's cinematography is wonderful. In fact, it is a lesson for students of the craft. Pooja is superb in an author-backed role. Rajendran, a stunt artiste, plays the role of the beggar mafia don like a seasoned actor. Keerthana is good as the eunuch.

Verdict: Be warned, this is not a time-pass film. It's for those who care about good cinema.

Almost good
Film: Junglee (Kannada)
Cast: Vijay, Aindritha Ray, Rangayana Raghu, Adi Lokesh, Kashi
Direction: Suri
Theatres: PVR Cinemas, Inox, Adarsh, Aparna, Navrang
Rating: **


Review: Junglee Prabhakar (Vijay) comes to Bangalore with dreams of making it big in films. His pal Gudde Narasimha (Rangayana Raghu) helps him network. Then, our hero has a chance encounter with Vasantha (Adi Lokesh), the son of an underworld don, whose life he saves. Weeping tears of gratitude, gangster Guruswamy, Vasantha's dad, adopts Prabhakar and anoints him junior don.

What's hot: The first half is racy. Bolstered by good music and decent performances, it encourages you to expect magic from Suri. Vijay has worked hard on his physique, body language and style. Harikrishna has moved up a notch with another hit album. The songs, Hale Seesa, Hale Paperu2026 and Neenandare Nannolage, are hum-worthy pieces. The telling sepia tones and the play of light and darkness of the fight scenes reveal Sathya Hegde's prowess as cinematographer.

What's not: The downslide begins in the second half of the film. The narration begins to totter, with gore getting gorier and murders getting maniacal. A shoddy script and loose characterization turn it into a damn squib.

Verdict: This flick may go down well with the frontbenchers, but there is nothing exciting for movie buff.