Former Congress chief and senior leader Rahul Gandhi on Sunday slammed the Centre over the detention of protesting wrestlers by the police saying that with the "coronation" over, the "arrogant king is crushing the voice of the people" on the streets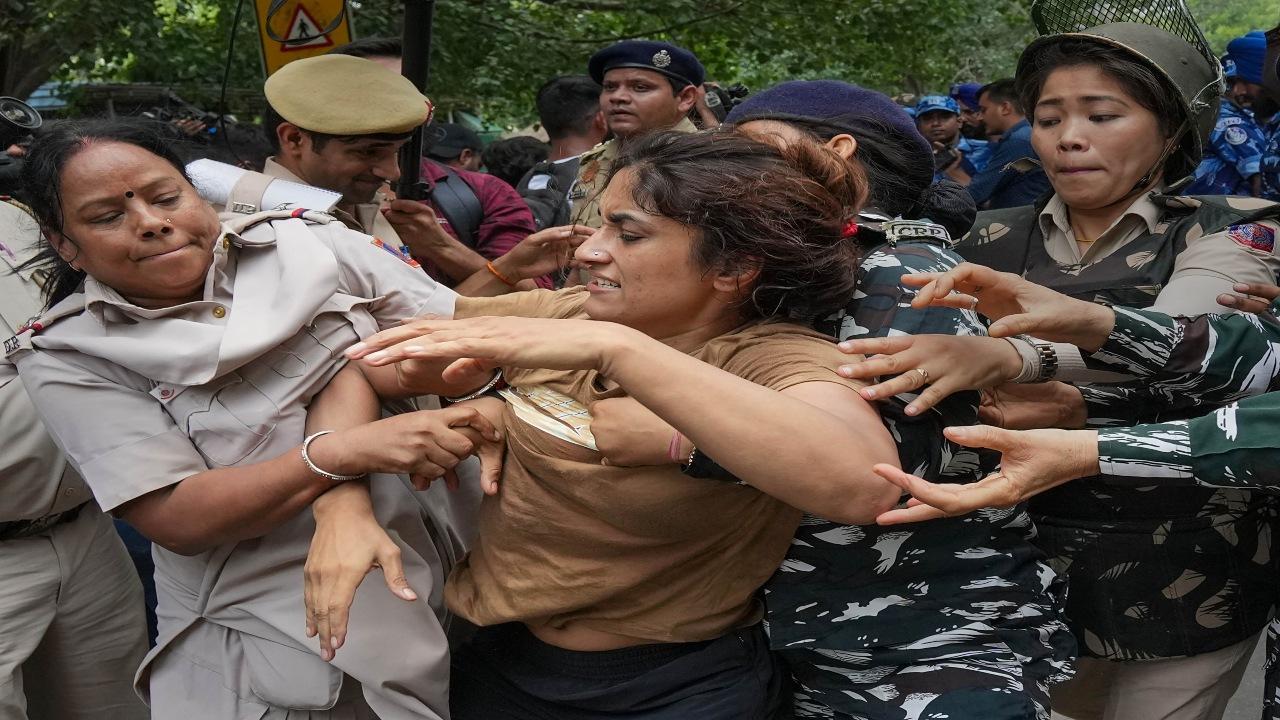 Security personnel detain wrestler Vinesh Phogat during wrestlers' protest march towards new Parliament building, in New Delhi, Sunday, May 28, 2023. PTI Photo
Former Congress chief and senior leader Rahul Gandhi on Sunday slammed the Centre over the detention of protesting wrestlers by the police saying that with the "coronation" over, the "arrogant king is crushing the voice of the people" on the streets.
The general secretary of the party, Priyanka Gandhi Vadra also lashed out at the government, saying that the "arrogance" of the BJP government has increased so much that it is "mercilessly trampling" upon the voices of our women sportspersons under its boots.
ADVERTISEMENT
The strong attack by the opposition party leaders came after the Delhi Police detained ace wrestlers Vinesh Phogat, Sakshi Malik and Bajrang Punia for violation of law and order after they breached the security cordon while trying to move towards the new Parliament building for a planned women's 'Mahapanchayat'.
Chaotic scenes were witnessed at Jantar Mantar as wrestlers and police officers shoved and pushed each other when Vinesh Phogat, her cousin sister Sangeeta Phogat and Sakshi tried to breach the barricades.
The champion wrestlers had resumed their agitation against former Wrestling Federation of India (WFI) chief Brij Bhushan Sharan Singh on April 23, demanding his arrest for alleged sexual harassment of several women grapplers, including a minor.
Rahul Gandhi said in a tweet in Hindi, "The coronation is over -- the arrogant king is crushing the voice of the public on the streets!". The tweet was in apparent reference to the inauguration of new parliament building. Gandhi also tagged a video montage of the police detaining the champion wresters.
Also read: In Photos: Protesting wrestlers detained, Police clears protest site at Jantar Mantar
Slamming the Modi government, Congress general secretary, communications, Jairam Ramesh said, "Today, when the Prime Minister was inaugurating the new Parliament house and giving a discourse on democracy, the daughters who brought laurels to the country by winning medals were being detained just a short distance away from Parliament." "This is shameful and shows the real face of Modi government," Ramesh said in a tweet in Hindi.
Congress' media and publicity department head Pawan Khera said that when they celebrated the sceptre on Saturday, "we should have known they were celebrating the beginning of "protest-mukt-democracy". (With inputs from PTI) Do you think there has been a recent rise in cold-blooded murders?