To be a Muslim, one has to first testify that there is no god but God (Allah), and Muhammad is his (final) prophet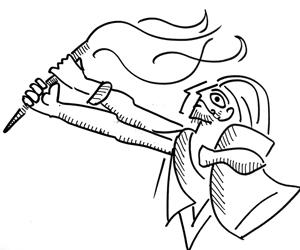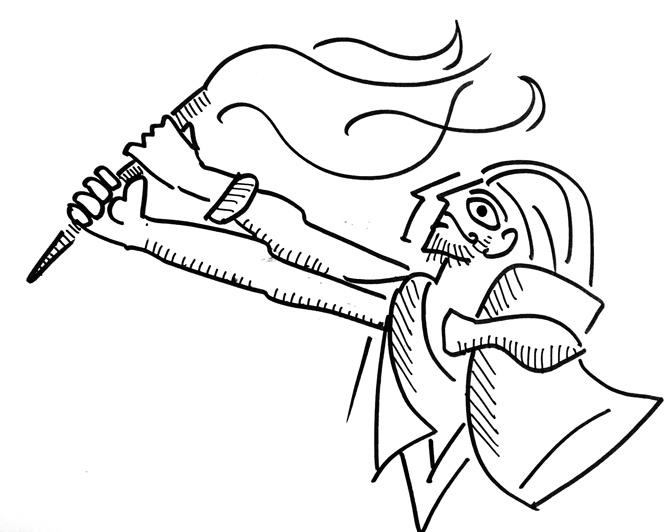 Illustration/Devdutt Pattanaik

To be a Muslim, one has to first testify that there is no god but God (Allah), and Muhammad is his (final) prophet. This is the shahada or the testimony. And the one who chooses to die, rather than retract this testimony, is the martyr, the shaheed. And the martyr is the witness of God, the shaahid, who from highest paradise, witnesses the testimonies and martyrdom of those who live on earth. And since God is visualised as the Ultimate Judge, we realise the entire vocabulary of Islamic mythology is embedded in a rather judicial vocabulary: full of judges, and witnesses, and testimonies, and martyrs. The words shahada, shaheed and shaahid - all telescope into each other, making one realise how core it is to the faith. Incidentally, the first martyr in Islamic lore was a woman who was killed for embracing Islam in the Prophet's lifetime. Not many remember her today.
ADVERTISEMENT
This idea is found in different degrees in other faiths based on Abrahamic mythology. In Jewish lore, Jewish people have never sought martyrdom but martyrdom has come to Jewish people, because of widespread anti-Semitism in Europe, Middle East and America over the centuries. Jewish law forbids people from seeking martyrdom, and advocates choosing life over death. In Christian lore, it was a key concept during the days of the Early Church. Martyrs became saints and their lives were retold to inspire new members of the faith who faced great persecution at the hands of the Romans. Christ was seen as the first martyr. The word martyr comes from the Greek word for witness.
At the heart of martyrdom is the idea of clinging. And this is why it is not a central theme in mythologies based on karma, where liberation (moksha) follows only when you let go! But, nowadays, one does hear of martyrdom everywhere. Soldiers become martyrs on battlefields. Revolutionaries become martyrs when they stand up against state oppression. Wherever there is a cause, there seems to be a martyr. It reveals the impact of Abrahamic mythology in global discourse.  Sikhism was one of the earliest non-Abrahamic faiths to be influenced by the concept of martyr. Many Sikh gurus and their followers suffered at the hands of Mughals, as they clung to their faith. They were venerated as martyrs, who died rather than give up their faith. Martyrdom (shahadat) was equated with love (ibadat) in Sikhism and Sufism.
The nation-state mythology, that became popular in the 20th century, after the collapse of empires, nourishes the idea of martyrs and witnesses. To prove patriotism, many nationalists demand people declare their faith, through testimonies like 'Bharat Mata ki Jai' and 'Jai Hind'. Soldiers killed defending borders or fighting terrorists are honoured as martyrs. In ancient times, brave warriors who died in battle were not martyrs; they were venerated as hero-gods, with vira stones erected in their honour on the edge of villages.
 Those who died demanding Mumbai be made part of the Maharashtra state in 1960 were also declared martyrs, but they were not called shaheed. They were called 'hutatma', an uncommon Sanskrit word which means 'sacrificing (huta) soul (atma)'. The creation of this new word for martyrdom reveals a shift from the Hindu discourse of letting go to the increasingly popular Hindutva discourse of clinging on.
The author writes and lectures on the relevance of mythology in modern times. Reach him at devdutt@devdutt.com
"Exciting news! Mid-day is now on WhatsApp Channels

Subscribe today by clicking the link and stay updated with the latest news!"
Click here!