Policemen in riot gear forced their way in to the hostel where Rohith Vemula ended his life and shifted his body to the nearest hospital for autopsy; security was beefed up after Dalit and Leftist student groups called for varsity shutdown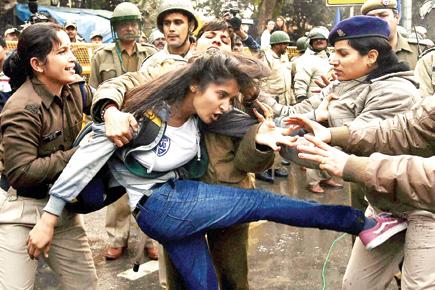 A student kicks a police official, who was trying to detain her, while protesting against the Ministry of Human Resource Development in New Delhi yesterday over the suicide of a PhD scholar Rohith Vemula at University of Hyderabad
Hyderabad: Tension prevailed in the University of Hyderabad yesterday over the suicide of one of the five Dalit research scholars following their expulsion from the hostel.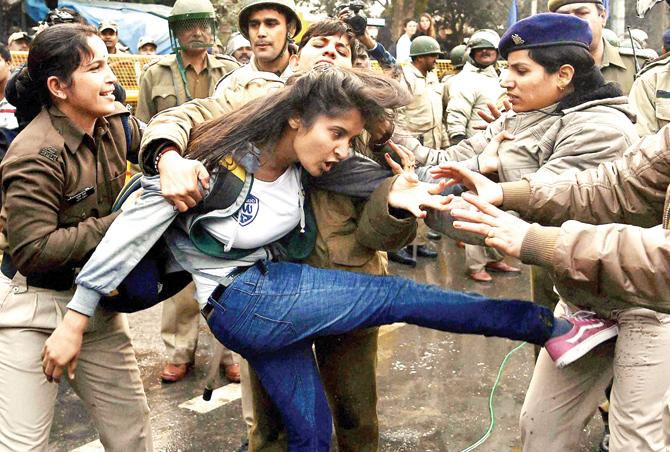 Take that: A student kicks a police official, who was trying to detain her, while protesting against the Ministry of Human Resource Development in New Delhi yesterday over the suicide of a PhD scholar Rohith Vemula at University of Hyderabad. Pic/PTI
Police intervened to shift Rohith Vemula's body from the campus to the hospital for autopsy as students resisted their attempts, demanding justice for the student's family. They also accused university authorities and a central minister for the suicide.
Students had locked the body in the hostel room, where Vemula allegedly hanged himself on Sunday evening, and were preventing the police from shifting the body. A scuffle broke out between the police and the students who were raising slogans of 'police go back'. Policemen in riot gear used force to enter the hostel and shifted the body to the nearest hospital for autopsy.
Large number of policemen were deployed on the campus to prevent violence after Dalit and Leftist student groups called for the university shutdown.
The student groups are demanding resignation of Vice Chancellor P Appa Rao and Union Minister of State for Labour (independent charge) Bandaru Dattatreya, who allegedly got the five students from the Ambedkar Students Association (ASA) sacked.  
The Joint Action Committee (JAC) of various student groups said Rohith was highly depressed due to suspension and expulsion from the hostel. JAC said the student was hurt due to the social boycott as well. A second year research scholar of science, technology and society studies department, Rohith, was found hanging in a room in New Research Scholars' hostel. He used the blue banner of ASA for hanging. In a five-page suicide note recovered from the room, he mentioned how he always looked at the stars and dreamt of being a writer and an established academic.