The daily positivity was recorded at 1.56 per cent while the weekly positivity was pegged at 1.29 per cent. The Covid case tally was recorded at 4.47 crore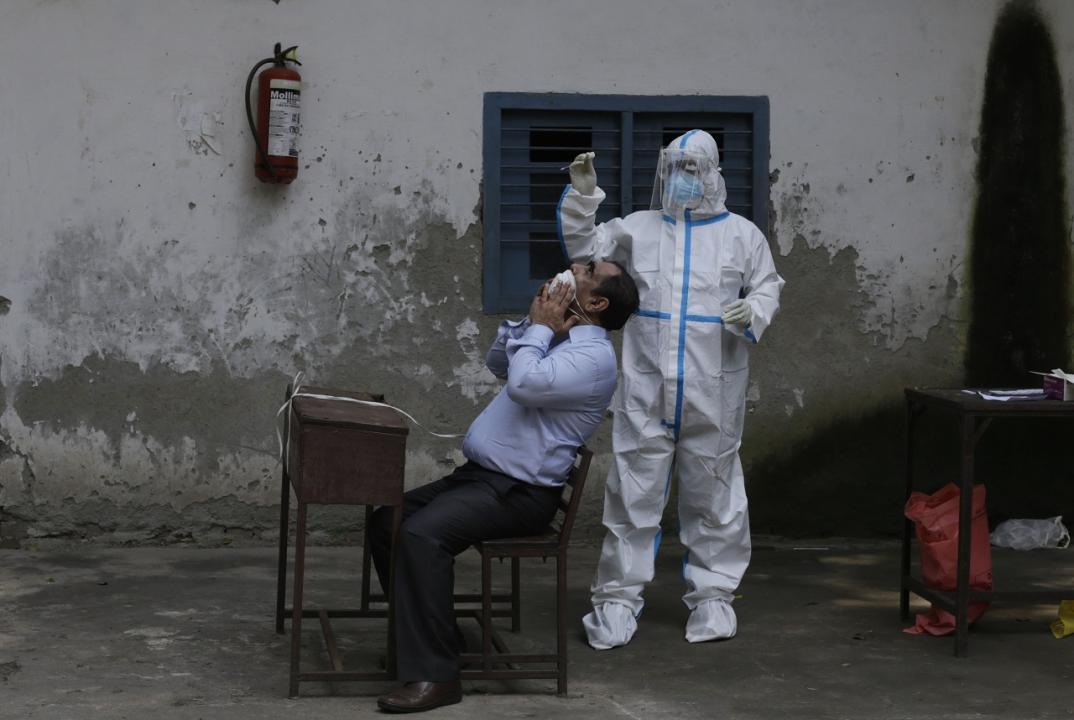 A health worker collects a swab sample for Covid-19 test. File Pic
India logged 1,890 new coronavirus cases, the highest in 149 days, while the active cases increased to 9,433, according to the Union Health Ministry data updated on Sunday.
According to news agency PTI, the country had recorded 2,208 cases in a single day on October 28 last year. The death toll has increased to 5,30,831 with seven deaths. While two deaths each were reported by Maharashtra and Gujarat in a span of 24 hours, three were reconciled by Kerala.
ADVERTISEMENT
The daily positivity was recorded at 1.56 per cent while the weekly positivity was pegged at 1.29 per cent. The Covid case tally was recorded at 4.47 crore (4,47,04,147).
The active cases now comprises 0.02 per cent of the total infections, while the national Covid-19 recovery rate has been recorded at 98.79 per cent, the ministry said.
Also Read: Mumbai: 105 new Covid-19 cases reported on Saturday
The number of people who have recuperated from the disease surged to 4,41,63,883, while the case fatality rate was recorded at 1.19 per cent.
According to the ministry's website, 220.65 crore doses of Covid vaccine have been administered in the country so far under the nationwide vaccination drive.
Meanwhile, Maharashtra on Saturday recorded 437 new coronavirus cases, 94 more than the previous day, the health department said in a bulletin.
The state also recorded two coronavirus-related deaths. Maharashtra's Covid-19 case tally rose to 81,41,457, and death toll to 1,48,435.
One fatality each was recorded in Aurangabad and Kolhapur districts. The case fatality rate in the state stands at 1.82 per cent.
As many as 242 patients recovered from coronavirus infection since previous evening, taking the total of recoveries to 79,91,066. The recovery rate in the state is 98.15 per cent.
A total of 6,122 tests were conducted in the state since previous evening, taking the total of tests to 77,795.
A separate bulletin on influenza said so far 306 people have been infected with H3N2 virus and 427 by H1NI virus in Maharashtra this year. Three fatalities have been reported due to H1N1 and one by H3N2 virus during this period, it said.
(With inputs from PTI)