State government has decided to distribute the coarse grains only in those areas where they are available in surplus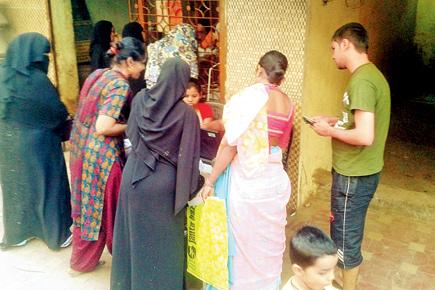 Being secure: Consumers enrolling for food security at a ration shop. Representation pic
The National Food Security Act stated that beneficiaries in the priority and non-priority categories were entitled to receive rice, wheat and jowar or bajra at discounted rates. However, the prerogative of setting up the guidelines to implement the scheme has been granted to the various state governments. The Maharashtra government has decided to rule out jowar, bajra as the assured foodgrains from its list, citing availability issues. The ambitious Act will be implemented from February 1.
Speaking to MiD DAY, state food and supply minister, Anil Deshmukh, said that beneficiaries of those districts where the availability of jowar is plentiful would receive the additional coarse cereals apart from rice and wheat. The beneficiaries in Pune division, which include five district of Pune, Satara, Sangli, Solapur, and Kolhapur, will only get rice and wheat. The division authority, however, assured that jowar and bajra would be provided on demand.
Recipients are to get rice at Rs 3/kg, wheat at Rs 2/kg and jowar or bajra at Rs 1/kg. Accordingly, the state government has decided to skip distributing jowar or bajra in a majority of districts where its production is scarce.
"We are distributing rice and wheat. Jowar or bajra are optional. "There are very few districts where the production of jowar is remarkable and we will provide the additional coarse cereals there. However, in other districts, we can only provide wheat apart from rice," said Deshmukh.
Delay in plans
The high level committee appointed for distributing the foodgrains at subsidised rates were to set the parameters for this scheme by the October end last year. However, no such efforts were made and the deadline was missed. Later the state government had announced that the act would come in to force from December 2013, which was further delayed, and is now gaining pace with alterations like skipping the coarse grains from the distribution.
The Pune division is all set to roll out the act from February 1. They are in the last phase of the process of the putting of the seal of the head of the family in the ration cards. The numbers of beneficiaries have also been finalised.
Grain storage
"The construction of godowns located in Talegaon Dhamdhere will be completed in a week's time. Besides there are ten more godowns in which the foodgrains could be stored," said Assistant Commissioner of Food and Supply (Pune division), Prakash Kadam. He added that transporting the foodgrains for distribution among the beneficiaries has already started in Satara, Sangli and Solapur.