The Indian Army on Monday said that 22 miscreants have been arrested after being caught in the act of burning houses in Sanasabi, Gwaltabi and Shabunkhol Khunao villages in the hilly region of YKPI in Imphal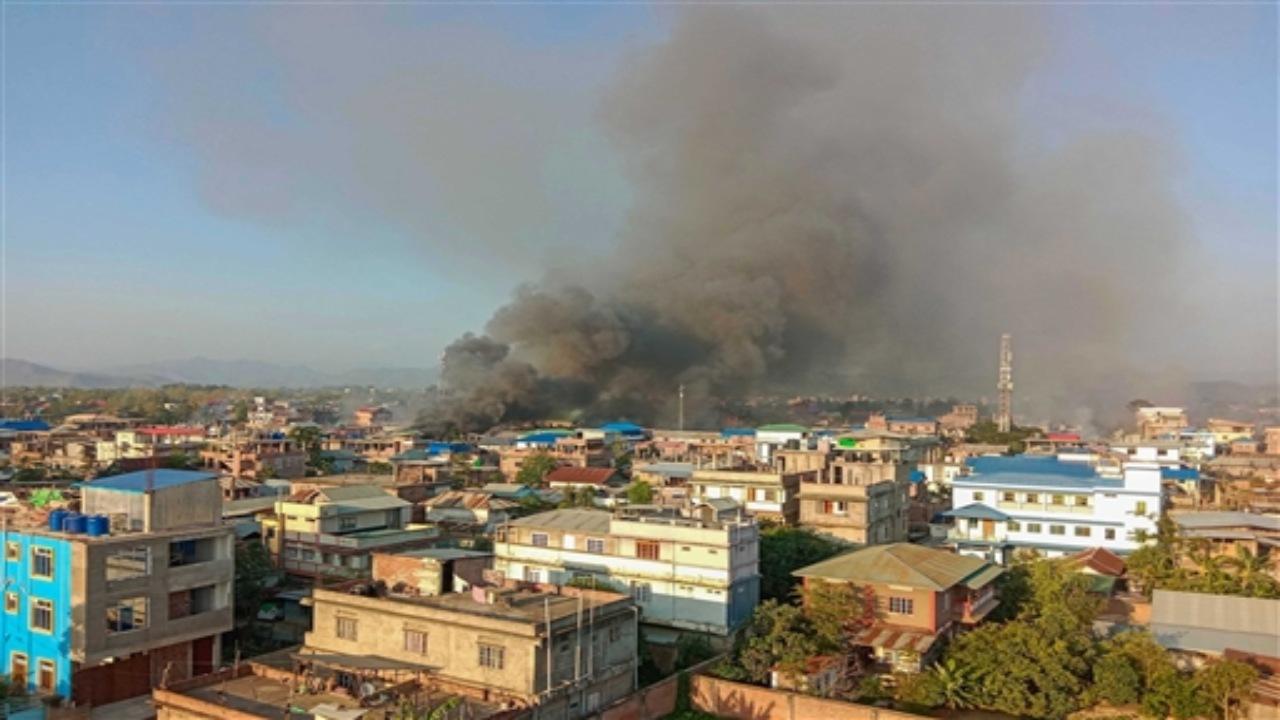 Smoke billows from a fire that broke out amid clashes between armed groups and security forces, in Manipur, Sunday, May 28, 2023. PTI Photo
The Indian Army on Monday said that 22 miscreants have been arrested after being caught in the act of burning houses in Sanasabi, Gwaltabi and Shabunkhol Khunao villages in the hilly region of YKPI in Imphal. The arrests have come a day after clashes were reported from several areas in Manipur.
"Responding to specific intelligence about armed miscreants venturing out for burning of houses in Sanasabi, Gwaltabi and Shabunkhol Khunao in YKPI Bowl in the hilly region of Imphal East District of Manipur, Army mobilised columns on 28 May to establish multiple Mobile Vehicle Check Posts (MVCP) and undertake search operations in the area," the Indian Army said in a statement. The Army columns were fired upon from automatic weapon by miscreants who were trying to burn the houses while operating in the area, it said.
ADVERTISEMENT
The Indian Army further said that five 12-bore double-barrel and three single-barrel rifles, local weapons and war-like stores were recovered.
Earlier on Sunday, clashes were reported from several areas in Manipur including at Sugnu in Kakching, Kangvi in Churachandpur, Kangchup in Imphal West, Sagolmang in Imphal East, Nungoipokpi in Bishenpur, Khurkhul in Imphal West and YKPI in Kangpokpi.
Five persons, including a Manipur Police Officer, were killed and a Bharatiya Janata Party MLA's house was allegedly vandalised and over 1,000 arms and ammunition were reportedly looted by a mob from armouries of Manipur Rifles and IRB on Sunday while combined Central and state security forces gunned down more than 30 suspected Kuki terrorists in the state in last 48 hours.
Also read: Maharashtra CM Eknath Shinde directs officials to form disaster response teams at divisional, civic levels
However, Manipur Chief Minister N Biren Singh on Sunday said that as many as 40 "terrorists" have been killed so far by security forces during their operations to check violent incidents and attacks on civilians and restoring 'peace' in the state.
"We have taken strict action. Till now we have reports that around 40 terrorists have been eliminated," he said while addressing the media at the Darbar Hall of the Chief Minister's Secretariat.
There are also reports of mob looting all arms and ammunition from the armouries of 7 Manipur Rifles at Khabeisoi, 2nd Manipur Rifles at Deulahane and 3rd India Reserve Battalion at Thoubal.
As per security forces, fierce encounters are on between suspected Kuki militants and security personnel at the Kadangband and nearby Singda areas in the Imphal West district. Apart from attacking civilians in several foothills of Manipur, the militants also torched over 200 houses in three villages near Sugnu in the Kakching district late Saturday night.
Manipur faced violence on May 3 during a rally organised by the All Tribals Students Union (ATSU) to protest the demand for the inclusion of Meitei/Meetei in the Scheduled Tribe (ST) category. The march was organised in protest against the demand for inclusion of the state's Meitei community in the ST category, following an April 19 Manipur High Court directive. (With inputs from ANI) Do you participate in rescuing animals in Mumbai?