CPI leader questioned why N Biren Singh should remain the chief minister of Manipur after all that has happened in the state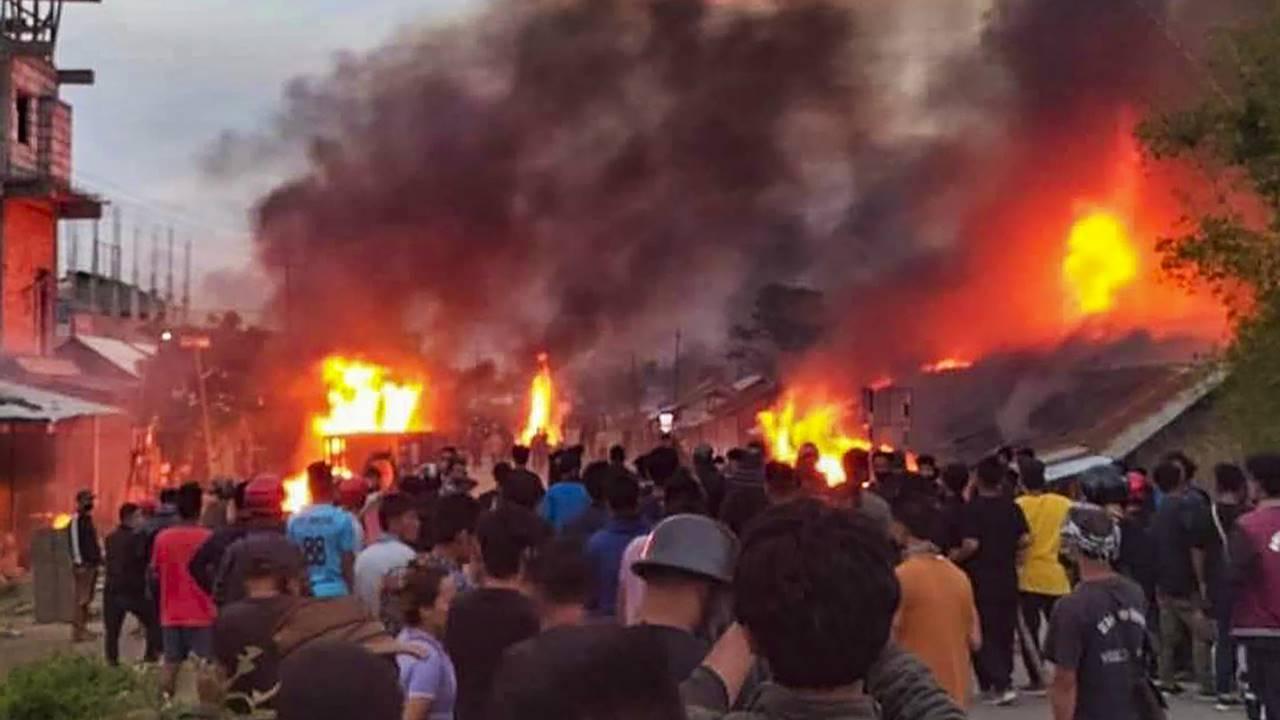 Manipur violence. Pic/PTI
Listen to this article
Manipur violence part of BJP's planned strategy, says Communist Party of India
x
Communist Party of India (CPI) national general secretary Atul Kumar Anjaan has alleged that the Manipur ethnic strife was part of a well-planned strategy of the BJP, reported PTI.
The saffron party, while dismissing the allegation, said the Left must look in its own backyard of Kerala, where political murders are taking place, before preaching democracy to others.
ADVERTISEMENT
Anjaan, who was in Ranchi to attend the state executive meeting of the party, told reporters, "While Manipur was burning, BJP leaders were busy seeking votes in Karnataka."
He said lakhs have been displaced in Manipur which has a population of only 31 lakh.
He questioned why N Biren Singh should remain the chief minister of Manipur after all that has happened in the state. The CPI leader said that Prime Minister Narendra Modi, who tweets even if two people die due to floods, have kept mum for 86 days while Manipur is burning since May 3.
Responding to his allegations, state BJP spokesperson Pratul Shahdeo said, "The Left parties that are involved in political killings in Kerala are preaching democracy to others. This is ridiculous."
The Manipur violence is shocking and the Centre is ready for a serious discussion on it in Parliament but the opposition is running away from it, he claimed.
"Interestingly, two meetings of opposition bloc INDIA have been held so far but not a single resolution on Manipur violence was passed," he said. "I want to ask the CPI leader why his party is silent on rape, assault and murder of tribals in Jharkhand," he added.
More than 160 people lost their lives and several hundreds were injured since ethnic clashes broke out in Manipur on May 3, after a 'Tribal Solidarity March' was organised in the hill districts to protest against the Meitei community's demand for Scheduled Tribe (ST) status.
Meiteis account for about 53 per cent of Manipur's population and live mostly in the Imphal Valley. Tribals -- Nagas and Kukis -- constitute little over 40 per cent and reside in the hill districts.
(PTI)
"Exciting news! Mid-day is now on WhatsApp Channels

Subscribe today by clicking the link and stay updated with the latest news!"
Click here! Does spending time in nature help you manage stress?