Bilateral relations were hit by sanctions, but it's now time for India to cement its ties with Iran and, in turn, its position in the Middle East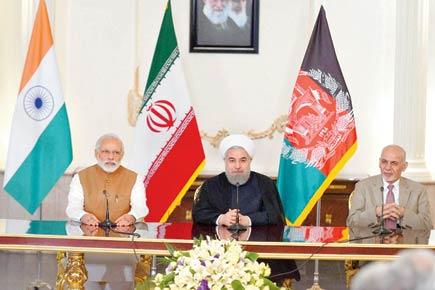 Prime Minister Narendra Modi's visit to Iran is part of India's complex West Asian initiative that seeks to balance ties between a quadrilateral of four poles — UAE, Saudi Arabia, Iran and Israel. Given mutual antipathies and subterranean divides, India has to step carefully to ensure maximum gain for itself, even while avoiding the numerous political minefields there.
But the payoffs are many. Sixty per cent of India's oil needs are fulfilled by this region and this will only increase in the coming decades. A significant percentage of our liquified natural gas also comes from here, mainly from Qatar.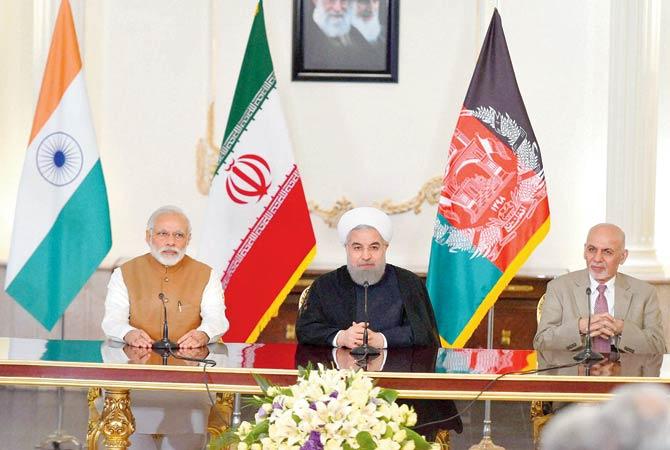 PM Narendra Modi with Iranian President Hassan Rouhani and President of Afghanistan Ashraf Ghani, during a trilateral meeting in Tehran yesterday. Pic/PTI
The oil-rich states of the region have created vast sovereign wealth funds and are keen to shift their economies away from dependence on oil. India is looking for investments to develop its own infrastructure and manufacturing industries, and its companies are also looking for business opportunities of the kind that may be available in the region.
India is well-positioned to take advantage of this in terms of proximity and by virtue of the Indian diaspora, 7 million strong, which is already positioned in the region and which comprises businessmen, entrepreneurs and professionals, as well as workers.
Given the complex security needs of the region, India also has the potential of upgrading its ties with regional states to form security coalitions and partnerships, both, with a view of stabilising the region and protecting its important sea lines of communications. Another aspect of this is the partnership with Israel in the area of agriculture, Information Technology and military technology.
Iran, where Modi has gone, offers a vast range of geopolitical and economic opportunities. Hit by US-led sanctions for the past decade, until they were lifted recently, Iran is looking for companies to invest in its development. The Tatas, Essar, Cipla, Hero, Bajaj and TVS are already brand names, but they have been on a waiting mode till the sanctions were withdrawn. Chinese companies have been around and, following the visit of Chinese President Xi Jinping in January, the two countries signed a wide range of agreements for development and connectivity under the One Belt One Road initiative of China. Earlier this year, the first train from China reached Tehran, cutting 14 days from the time taken to ship goods through a port.
India's most important venture is in the area of connectivity as well, one that will promote development in Iran's poorer south-eastern regions, as well as give a fillip to India's ability to link up with Afghanistan and Central Asia. This is the two-phase plan to develop Chah Bahar port and the railway lines radiating north to Zahedan and Mashad. This plan has been hanging fire since the 2000s and only now, after the Chinese put in their bid to develop Chah Bahar, did New Delhi get its act together.
Multimodal connectivity from Indian ports like Mumbai and Kandla with Iran through Chah Bahar and Iran's main port Bandar Abbas can connect to Russia's ambitious North-South Transport Corridor reaching up to Russia's Baltic ports. Of course, this will require much higher level of investment in upgrading the Iranian infrastructure leading from Bandar Abbas or Chah Bahar north towards Central Asia and Russia. Calculations are that multimodal transport can reduce the cost of moving a 40-foot container to $3000, as compared to $4,000 by the sea route that also takes twice the time. A lot of this presumes a sharp uptick in the economic growth of the entire hinterland of Iran and Russia.
In turn, access to Afghanistan and Central Asia — through Chah Bahar, bypassing Pakistan — can provide the necessary impetus to Islamabad to ease up on its blockade of Indian trade to Afghanistan. An unintended consequence of this could be closer South Asian integration.
There is another level of Indian participation in the Iranian economy — in its oil sector. Again, the Indians, in the form of ONGC Videsh have been around for a while, but have not been able to do much because of the sanctions. But now, the openings are there, provided the wily Iranians give the Indians viable options.
However, the bottom line here is project execution. The experience of India's other external connectivity project — the Kaladan multimodal scheme in Myanmar has not been a happy one. The key to this is to create a well-managed and viable project management organisation. Currently, the government intends to deal with this through a special purpose entity involving Bombay and Kandla Port Trusts, but this is not good enough. There is need for some apex management directly supervised by the Prime Minister's Office to ensure that the timelines are met. India may not be able to compete with China in the area of project investment, but it should ensure that what it chooses to do, it does well. A lot of time has been lost in Iran, and there is need to redouble our efforts to make up for it.
The writer is a Distinguished Fellow, Observer Research Foundation, New Delhi