As per reports, the rain caused massive traffic jams in various parts of Delhi leaving commuters stranded in long queues of cars at roads like ITO junction, Tularam flyover, Delhi-Noida Direct (DND) Flyway, among several others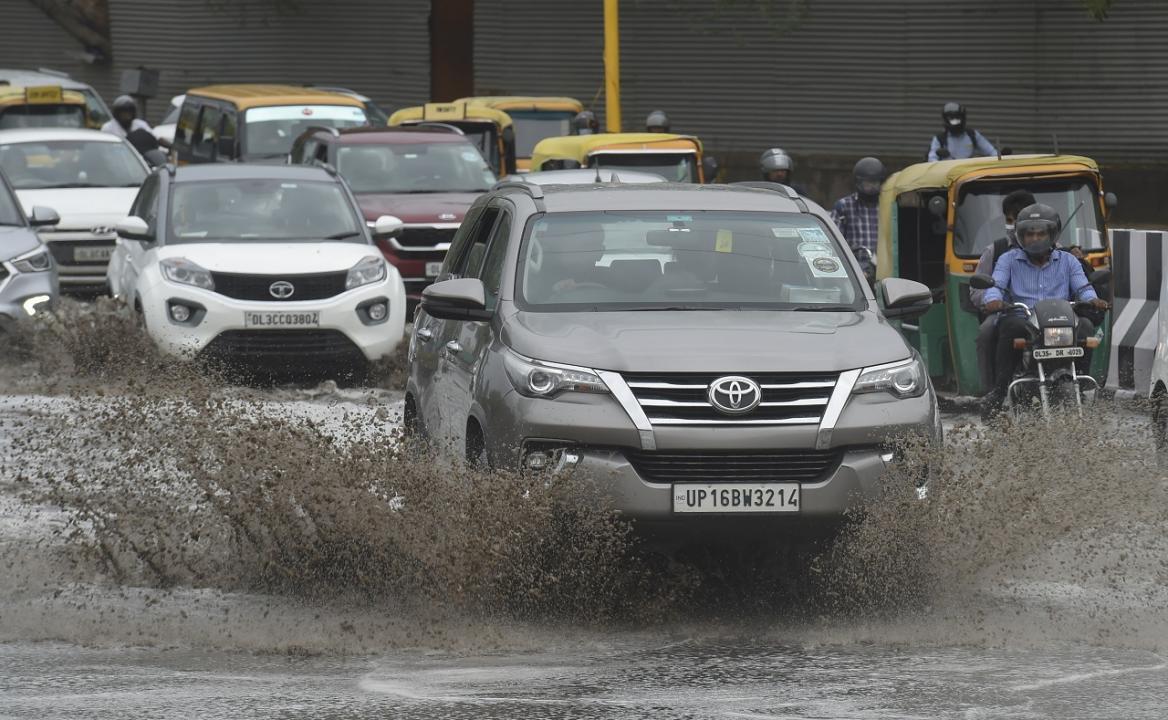 Vehicles move through a waterlogged area following heavy rain, at Lodhi Road in New Delhi. Pic/PTI
People living in Delhi-NCR got some relief from the scorching heat after heavy rain accompanied by thundershowers lashed parts of the national capital on Monday morning. 
The thunderstorms and rain brought down the temperature drastically in Delhi-NCR.
However, the change in weather disrupted the daily lives and commute routine. The flight operations at Delhi's Indira Gandhi International (IGI) Airport were affected due to the weather. 
As per reports, the rain caused massive traffic jams in various parts of Delhi leaving commuters stranded in long queues of cars at roads like ITO junction, Tularam flyover, Delhi-Noida Direct (DND) Flyway, among several others. Some trees were also uprooted due to the strong winds and thunderstorms in and around Delhi. 
Netizens took to Twitter to share how they felt about the weather. While some welcomed the showers, others were not so happy. Many took to social media to express their reactions as rains began to hit the national capital. Some also showcased their creativity by sharing memes.
"I woke up to this, super scary thunderstorm and the actual noise level is 100x #DelhiRains Seems like wind will sweep away everything including us…!!," one user said.
"#Delhi's weather is so scary right now, it seems like the wind will sweep away the huge buildings, humans or even the cars parked. Haven't seen anything like this before. Didn't have the courage to open my balcony," another user said.
#Delhi's weather is so scary right now, it seems like the wind will sweep away the huge buildings, humans or even the cars parked. Haven't seen anything like this before. Didn't have the courage to open my balcony. 🙄#DelhiRains pic.twitter.com/wa8GKIOSld

— Jyothi Jha (@jyothi_jha) May 23, 2022
#Delhi is behaving like that ex who realises your value just when you're about to leave it for #Bangalore! #DelhiRains #flightdelay pic.twitter.com/XhbEje0OCW

— Neera Bhardwaj (@Neerabha) May 23, 2022
Looking at the #DelhiRains & weather,

Delhiites be like 😅 pic.twitter.com/2XpYPWG5t9

— Kaagaz Apps (@KaagazS) May 23, 2022
Had Monday plans to go to office and attend meetings

Delhi rains#DelhiRains pic.twitter.com/VB3tn5IyOo

— Ramneek Kashyap 🚀🇮🇳🚀 (@RamneekKashyap1) May 23, 2022
#DelhiRains
Delhiites till Delhiites today
yesterday pic.twitter.com/ONunRdRbS4

— Kisslay Jha🇮🇳 (@TrollerBabua) May 23, 2022
Delhites' reaction to #DelhiRains

Girls Boys 🤣 pic.twitter.com/NnmfqF0tQE

— Sakshi (not Joshi) 🤦‍♀️ (@OhSakshiSakshi) May 23, 2022