The Congress leader says whole game of disqualification is aimed at distracting people from the Adani issue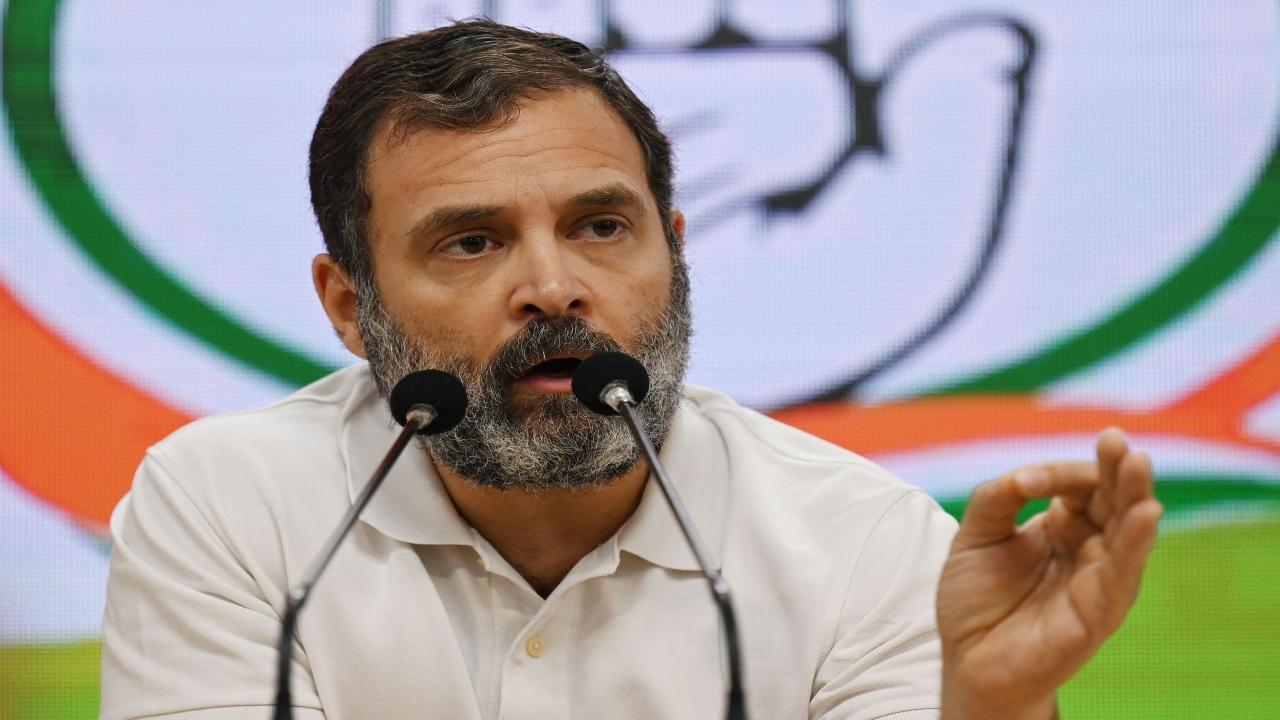 Congress party leader Rahul Gandhi gestures as he speaks during a press conference in New Delhi on March 25, 2023, after being disqualified as a member of parliament. Photo/AFP
Senior Congress leader Rahul Gandhi on Saturday castigated the ruling BJP-led central government and said that attacks were being made on the democracy in India. He said the examples of it keep manifesting from time to time.
Gandhi was disqualified from the Lok Sabha on Friday a day after a Gujarat court convicted him in a 2019 defamation case and sentenced him to two years in prison. The Lok Sabha notification came on a day when Opposition leaders led by the Congress had held a protest rally against Gandhi's conviction, marching to Rashtrapati Bhavan with posters saying, 'Democracy is in Danger'.
ADVERTISEMENT
Addressing a press conference in the national capital New Delhi, Gandhi said that the whole game of disqualification is aimed at distracting people from Adani issue. "I will keep asking questions on Adani issue, they cannot scare me by disqualification or putting me in jail. I won't back down," Gandhi said.
The former Congress president was flanked by Rajasthan Chief Minister Ashok Gehlot, Chhattisgarh Chief Minister Bhupesh Baghel and party general secretaries Jairam Ramesh and KC Venugopal.
He said the moot question remains who invested Rs 20,000 Cr in Adani shell firms. "I will keep asking the question." For this govt, country is Adani and Adani is country, Gandhi said.
Commenting on BJP's comments that he called for a foreign intervention in India, he said the minister's lied. "The ministers lied about me that I called for foreign intervention, I did not do so." On Friday Union Labour Minister and BJP's national general secretary Bhupender Yadav alleged that Gandhi terming an entire community 'thief' and said that it is a misuse of freedom of speech.
Also read: Babulnath Shivling: No cracks, but care required, recommends IIT Bombay report
Gandhi said he will continue to defend the democratic voice of the people of India and that he was not scared of anyone. "I have always talked about brotherhood," while commenting on the BJP's allegations that he insulted the Other Backward Class community.
Thanking the opposition parties for extending support to him, he said, "All of us will work together. Even if they permanently disqualify me, I will keep doing my job." He said the opposition will benefit the most from governments panic reaction.
Asked about the governments demand of an apology on his comments on Veer Savarkar, Gandhi said: "My name is not Savarkar, it is Gandhi and Gandhi never offers apology." Do you like to interpret your dreams?