Borivli woman recalls the accused contacting her after hacking ex-colleague's WhatsApp account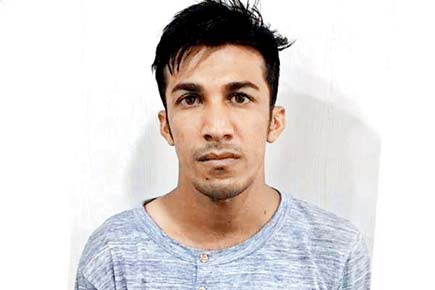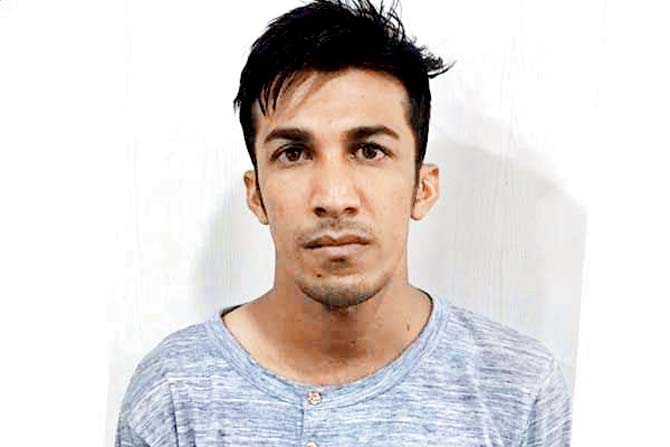 Accused Diptesh Salecha
A WhatsApp hacker who was arrested by the Nashik police last week, for allegedly hacking into people's WhatsApp accou­nts and sending obscene photos to th­o­se in their contact list, had che­ated many in the city too, the police have found. Diptesh Salecha, 20, a college student from Jasol in Barmer district, was picked up from Rajasthan for allegedly hacking 31 WhatsApp accounts.
The revelation of the spread of his con came after the kin of a Borivli resident, whose WhatsApp account had been hacked, saw the news of Salecha's arrest, and called her up to tell her it was the same guy who had gained entry into her account in January.
The January jolt
Recalling the fraud, the woman, Pragya Doshi, who used to work in the HR department of an Andheri firm, told mid-day, "On January 6, my husband and I were at the domestic airport, on our way to visit the Wagah Border, when an ex-colleague texted me on WhatsApp, asking for money through Paytm. I told her that neither I nor my husband used Paytm. She wasn't someone I was close to, so I couldn't understand her insistence that I somehow send her some money."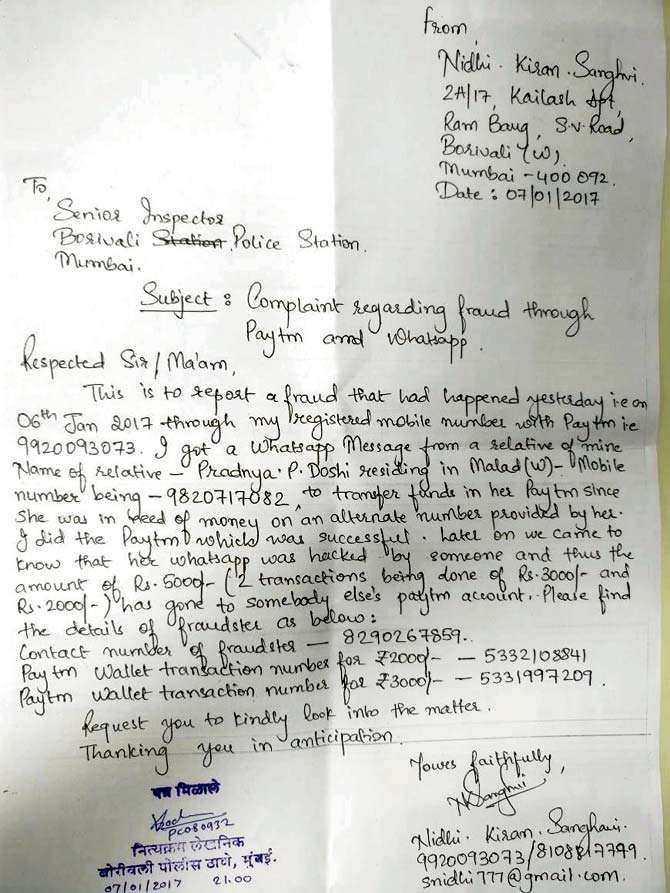 "When I said I couldn't help her, she said she had sent me a message and I should send the same message back to her. I wanted the conversation to be over, so I did and put the phone in my bag. We boarded the flight at 12.30 pm and landed in Amritsar at 2.30 pm, and then, took a cab to Wagah Border. I was excited about our trip, so I didn't check it," she added.
When Doshi came back around 6 pm that day, she started getting calls from her friends and relatives asking if she had received the money they had sent her via Paytm. She then checked her WhatsApp, but it wouldn't open.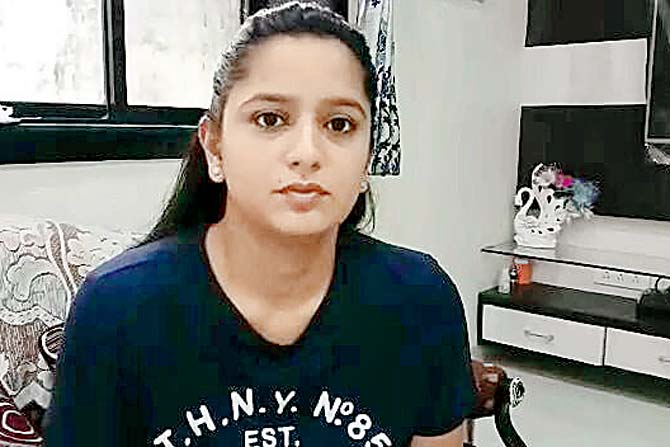 Victim Pragya Doshi and (above) the letter she sent to the police
She said four to five people had sent over R15,000 to the accused, who had been the one posing as her ex-colleague to extract money from her, and then, when she had said she couldn't help, had hacked into her WhatsApp account to con those on her contact list. She immediately called everyone up and asked them to not send any money to her, but by then, the damage had been done.
The true caller
After reaching Mumbai, Doshi lodged a complaint with the Borivli police against the unknown hacker.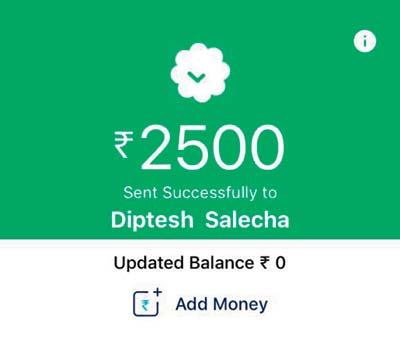 Screenshot of the fraudulent transaction
Doshi said, "Because the police were dragging their feet on my complaint, I had checked the Paytm number on Truecaller and found out the name (Diptesh Salecha) and location (Rajasthan)."
The cyber crime wing of the Nashik police had registered a case under section 66-C (identity theft) of the Information Technology Act on June 28 against an unknown person after receiving several complaints of hacking of WhatsApp accounts from the city.