Bharatiya Janata Party leader Shaymapada Mondal on Sunday made obscene comments about West Bengal Chief Minister Mamata Banerjee to the extent of calling her 'hijra' (eunuch)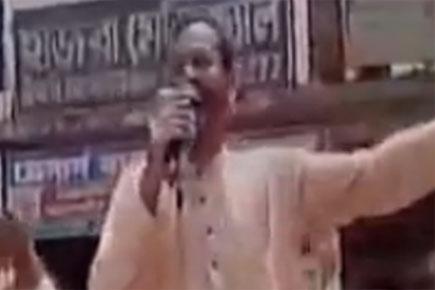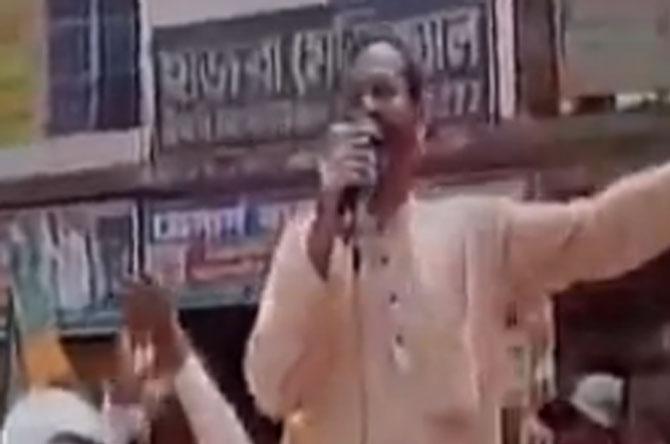 Screengrab of the video
Bharatiya Janata Party leader Shaymapada Mondal on Sunday made obscene comments about West Bengal Chief Minister Mamata Banerjee to the extent of calling her 'hijra' (eunuch).
Watch video here
Can't understand whether Mamata Banerjee is a man or woman. She has become a 'hijra' as you see in trains/buses says BJP's Shyamapada Mondal pic.twitter.com/s5hWu7FLoi

— ANI (@ANI_news) May 1, 2017
"Today you cannot understand whether Mamata Banerjee is a female or a male. Those who have been eunuchs in trains and buses, I will say our didi (as Banerjee is called) has become an eunuch," he said lambasting the Chief Minister for 'appeasing' Muslims.
Mondal then described the Trinamool Congress supremo as one with an 'unsound mind'. "I will says didi is of unsound mind. May be, after some time, didi will have to be taken to Ranchi (known for its mental asylum)," he said.
The street corner meeting was held at the end of a BJP rally in West Mdinapore district's Chanadrakona Road demanding arrest of the Trinamool leaders involved in Saradha chit fund scam and Narada sting footage video, in which around a dozen Trinamool leaders were purportedly seen accepting bundles of notes in lieu of a promise to help a fictitious company.
The comment drew flak from political opponents and civil society.