The opposition's attack came after Modi said the trust reposed in him by crores of people is his protective shield, which cannot be breached by abuse and allegations from his detractors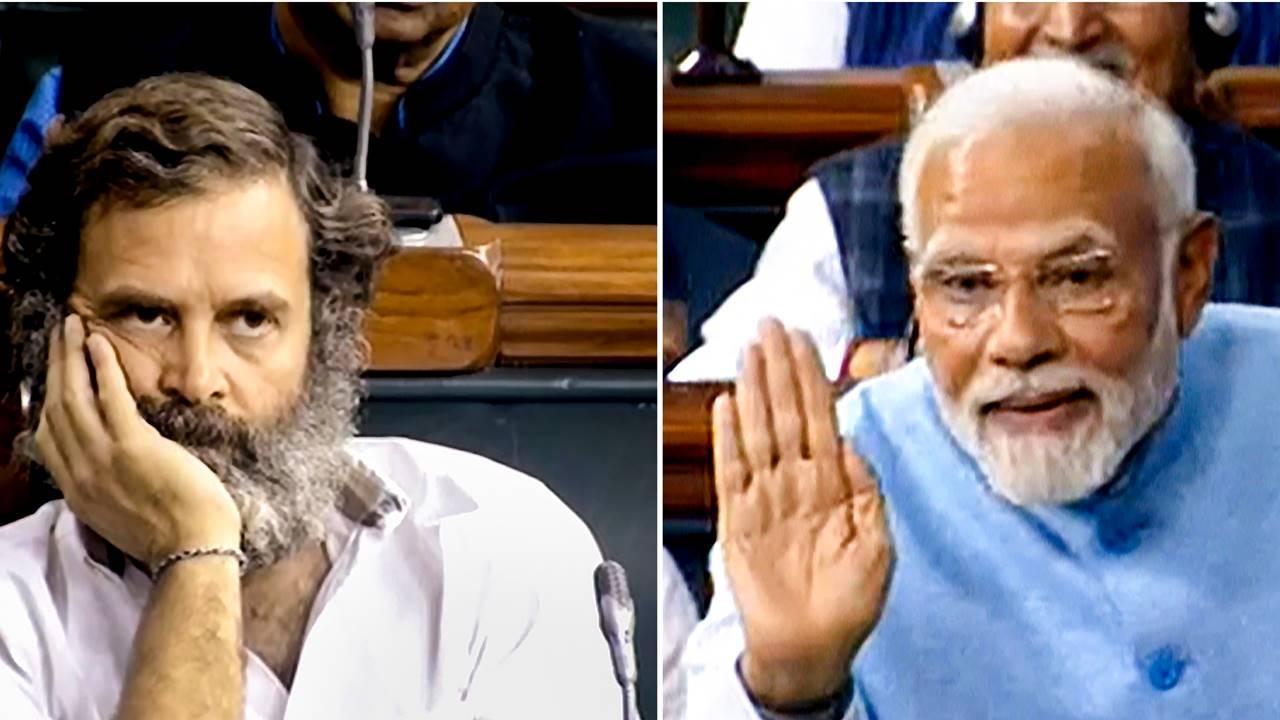 Prime Minister Narendra Modi replies to the Motion of Thanks on the President's Address as Congress MP Rahul Gandhi listens to him in the Lok Sabha during Budget Session of Parliament. Pic/PTI
The opposition hit out at Prime Minister Narendra Modi on Wednesday for not responding to allegations related to industrialist Gautam Adani, which they termed "the elephant in the room", with former Congress chief Rahul Gandhi accusing Modi of "protecting" the billionaire.
The opposition's attack came after Modi said the trust reposed in him by crores of people is his protective shield, which cannot be breached by abuse and allegations from his detractors.
Replying to the debate on the Motion of Thanks on the President's Address in the Lok Sabha, the prime minister said people know that he has come to their help in times of crisis and asked the opposition parties how would these same people agree with their abuses and allegations.
Congress general secretary Jairam Ramesh described the prime minister's reply in Parliament as diversionary and said there was not even a word on his "links" with his "favourite businessman".
Trinamool Congress's (TMC) leader in the Lok Sabha Sudip Bandyopadhyay said the prime minister should clearly make a statement assuring the depositors of the Life Insurance Corporation (LIC) and State Bank of India (SBI) that their money is in safe hands. "It is a fact that money has gone to Adani from them (LIC and SBI) and people were waiting for a reply to get an assurance from the prime minister but sadly, it did not come," Bandyopadhyay told reporters outside Parliament after Modi's address.
Referring to the Adani-Hindenburg issue, Shiromani Akali Dal's (SAD) Harsimrat Kaur Badal said "the elephant in the room" was not addressed by the government. "It is very obvious what is on the minds of people and every member of the House, but it was not addressed. Some issues were raised and the nation deserves a reply. It is people's money that is involved and we have to make sure that the people get the answers to the questions that are arising," she said.
Gandhi said it was clear that Modi was protecting Adani as he did not order an inquiry into the allegations levelled against the industrialist by US-based short-selling firm Hindenburg Research. Talking to reporters outside Parliament after Modi's address, the Congress leader said the prime minister did not answer the questions he had posed to him.
Also read: Adani row: France's TotalEnergies puts hydrogen partnership with Adani Group on hold
"I am not satisfied, but it reveals the truth. There was no talk of an inquiry. If he is not a friend (of Adani), he should have agreed to an inquiry. There was no probe into shell companies in the defence sector and benami money is changing hands, but the prime minister did not say anything on that." "It is clear that the prime minister is protecting him (Adani)," Gandhi said.
"He is surely trying to protect him and I understand this and there are reasons for it," he added.
Gandhi said it is an issue of national security and concerns the country's infrastructure and the prime minister should have said there will be a probe into the allegations levelled against the industrialist. Asked if he got the answers to his questions, the former Congress chief said, "I did not get any reply from the prime minister to my questions."
"The prime minister was shell-shocked. He was in shock and there was no answer. I have not asked any complicated question. I only asked how many times he (Adani) has gone (abroad) with you. How many times did he meet you. I posed simple questions but got no answers," he said. "I am not satisfied, but it reveals the truth," Gandhi said when asked if he was satisfied with the prime minister's reply.
In a tweet, Ramesh said: "Divert. Defame. Denigrate. Deny. The 4 Ds in PM's own style that Describe his so-called reply in Parliament." "Not a word -- direct or indirect -- on the prime minister's links with his favourite businessman, Adani, or his ghotalas (scam)," Ramesh said.
Sharing pictures of Samajwadi Party (SP) MP Jaya Bachchan in the Rajya Sabha and Modi in the Lok Sabha, Ramesh tweeted: "At 5:15 pm today. One of India's most famous actress on the right speaking in Rajya Sabha. India's most famous actor on the left speaking in the Lok Sabha."
Senior Congress leader Shashi Tharoor said the prime minister gave a good speech but did not answer a single question put forward by the opposition.
The opposition has been demanding a joint parliamentary committee probe or a Supreme Court-monitored investigation into the allegations of fraud and manipulation levelled by Hindenburg Research against Adani's companies, triggering an unprecedented stock crash. The business group has, however, denied the charges.
This story has been sourced from a third party syndicated feed, agencies. Mid-day accepts no responsibility or liability for its dependability, trustworthiness, reliability and data of the text. Mid-day management/mid-day.com reserves the sole right to alter, delete or remove (without notice) the content in its absolute discretion for any reason whatsoever. Should Joshimath subsidence be declared as a national disaster?