In 1995, I made a documentary about a credit co-operative called Annapurna. It had been founded in 1975 by a group of women including Prema Purao, Savitri bai and Parvati bai.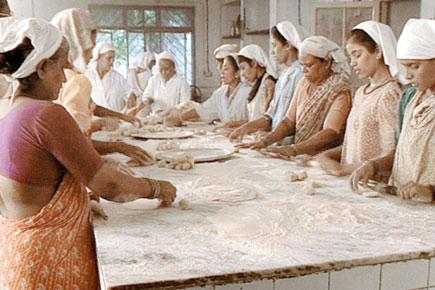 A still from Paromita Vohrau00c3u00a2u00c2u0080u00c2u0099s documentary, Annapurna

In 1995, I made a documentary about a credit co-operative called Annapurna. It had been founded in 1975 by a group of women including Prema Purao, Savitri bai and Parvati bai. By the 1990s, its members were women in various unorganised work sectors like vegetable vending, but its initial membership had been made up almost completely of khanawalwalis — women who made tiffins for migrant workers.
Prema Purao explained to me that things had been different earlier. "Many women also worked in the textile mills. But with the passage of labour laws, which mandated maternity leave, people either laid women workers off or stopped hiring them. That's how women workers became clustered in the unorganised sectors. Many began working as khanawalwalis out of their homes. They confronted many difficulties in their business though, including extortionist rates from moneylenders."

A still from Paromita Vohra's documentary, Annapurna
When Purao and her colleagues who worked in the textile unions brought up the issue of unorganised women workers in a union meeting, they met with an all too familiar response: 'Don't ask us to do something separately for women. We are a worker's organisation, not a women's organisation.'
So, they left the union and went on to form one of the country's most successful credit co-operatives for women in the unorganised sectors.
Forty years later though, we're still having that conversation. Last week, the Ministry of Women and Child Development announced that the Labour Ministry has met their request to amend the Maternity Benefit Act of 1961 such that maternity leave will extend from 12 to 26 weeks in the private sector. Apparently, the Labour Ministry had initially demurred, saying it would impact women's "employability".
While deifying motherhood, on one hand, and paying all kinds of lip service to gender equality systemically, an intrinsic part of womanhood is persistently presented as a handicap in "normal" workspaces.
What, according to workplaces is normal? Apparently it's a default structure which assumes employees not only don't bear children, but don't have responsibility or for that matter, attachment to domestic and personal life.
This double standard produces an exhausting double shift for many women, as exemplified by the masala ad in which everyone is being asked by everyone, from strangers in the elevator to family members lolling about at home, how she's going to make dinner interesting. What? Is this for real? Is domestic joy her responsibility alone? The subtext is not only that her work life must happen as if she has no home life, but that her home life must also function as if she has no other work life.
What's the way out of this bind? It has to start with structural acknowledgment that men too need to be, and in fact are, part of the family system. Which means serious paternity leave — not the two weeks some companies congratulate themselves for giving. Beyond that too, it will require a conscious organisational culture which does not look down on or subtly penalise a man who claims that paternity leave. Maybe paternity leave should be compulsory. Many men I know would want to have that time of love and wonder that a new baby produces. But it also means a whole new understanding of how we see time — so that every moment not given to producing profit or engaged in consumer citizen acts of leisure is considered 'waste.'
New years bring hope because they symbolise the possibility of new beginnings, a new life. But that's tough if we don't acknowledge how many old selves we bring along to the new time — and perhaps a new imagination of time itself to generate new worlds.
Paromita Vohra is an award-winning Mumbai-based filmmaker, writer and curator working with fiction and non-fiction. Reach her at www.parodevipictures.com