They're chosen 2 months before BJP broke its alliance with PDP in June 2018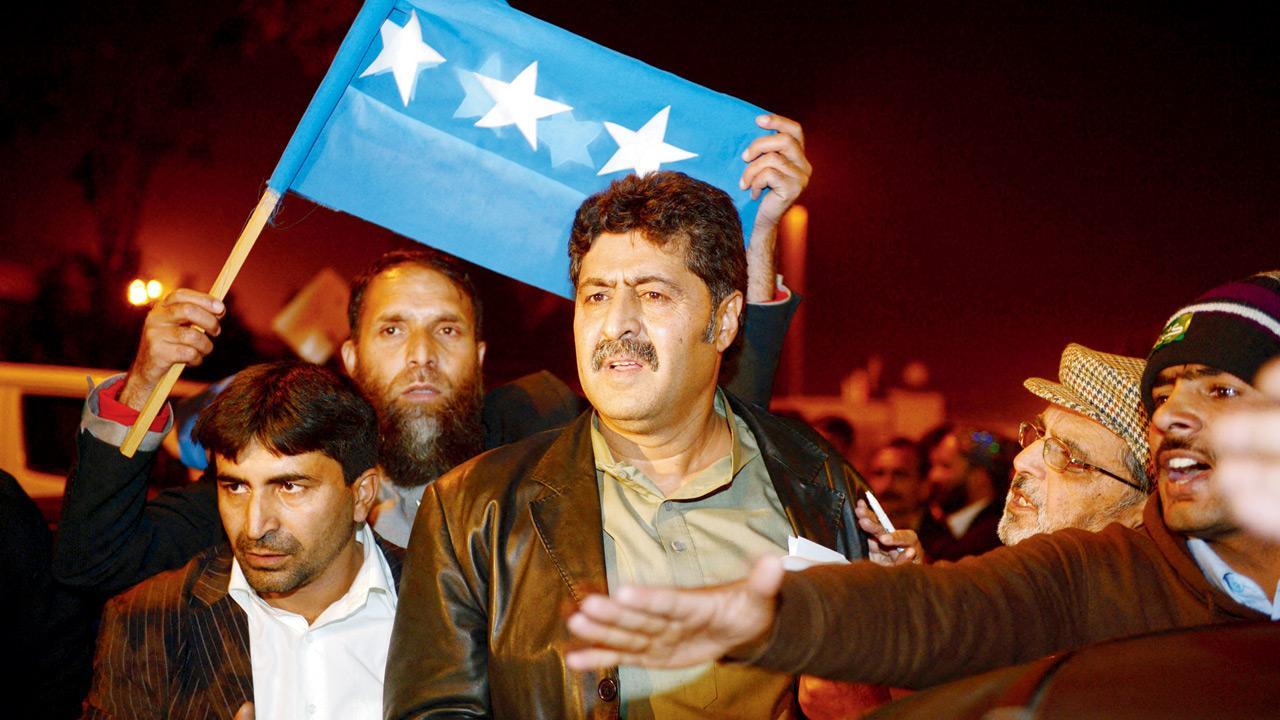 Separatist leader Bilal Lone (centre)
Phone numbers of more than 25 people from the Kashmir Valley and Kashmiri journalists and activists in Delhi were in the snoop list for surveillance using the Pegasus spyware, reported The Wire. The software, developed by the Israeli company NSO Group, was sold to an unidentified government client. Separatist leader Bilal Lone's phone was targeted in 2019, according to the forensic analysis of his phone, while Hurriyat conference leader Mirwaiz Umar Farooq was a potential target between 2017 and 2019.

Hurriyat Conference leader Mirwaiz Umar Farooq. Pics/AFP
ADVERTISEMENT
Lone'S phone data was examined by Amnesty International's Security Lab after his number appeared on the leaked list of more 50,000 phone numbers worldwide, including 300 in India. Lone told the news portal that he's no longer involved in political activities and now runs his bakery in Srinagar. At the time his number was targeted, he was active in politics. "I used to hear rumours about phone tapping. It never occurred to me that I also may be a target. But I am too small a person to do anything about it," The Wire quoted him as saying.
Two family members of People's Democratic party (PDP) chief Mehbooba Mufti were potential targets in 2018, when she was the chief minister of J&K. The numbers appeared on the list two months before the BJP severed its alliance with PDP in June 2018. 

At least four members of separatist leader Syed Ali Shah Geelani's family were on potential targets between 2017 and 2019. Pic/AFP
"People are used to having their thoughts, ideas not only intercepted but even being punished for them," Mufti was quoted as saying. Tariq Bukhari, brother of J&K Apni Party president Altaf Bukhari, appeared on the list between 2017 and 2019. Bukhari, a businessman, was interrogated by the NIA in the terror funding case in April 2019. Later, he backed the Centre's move to strip J&K of its autonomy in August 2019. A separatist leader Zaffar Akbar Bhat a cleric linked with Hurriyat was also on list.
Four members of prominent separatist leader Syed Ali Shah Geelani's family, including his son scientist Syed Naseem Geelani and son-in-law and journalist Iftikhar Gilani, were chosen for surveillance between 2017 and 2019.

Mehbooba Mufti, PDP chief
Among others on the list are human rights activist Waqar Bhatti, Kashmiri journalists — Muzamil Jaleel of the Indian Express, Aurangzeb Naqshbandi (formerly with Hindustan Times), Iftikhar Geelani (formerly with DNA), Sumir Kaul of PTI and another who wants to remain anonymous, and Shabir Hussain, a Kashmiri political commentator based out of Delhi. Some appear in the list in 2018 and some in 2019.
The phone number of a prominent critic of the BJP government's Kashmir policy, based out of Delhi, was found to be in list. Two businessmen, one from Kashmir and another Delhi, and a handicrafts businessman in Srinagar are also on the list. All their names have been protected by The Wire.
This story has been sourced from a third party syndicated feed, agencies. Mid-day accepts no responsibility or liability for its dependability, trustworthiness, reliability and data of the text. Mid-day management/mid-day.com reserves the sole right to alter, delete or remove (without notice) the content in its absolute discretion for any reason whatsoever