Released after a long incarceration of about 800 days, the journalist did not mince words: "Democracy and journalism are in dangerous situations," he said. Although Kappan secured bail in December last year, procedural delays deferred his release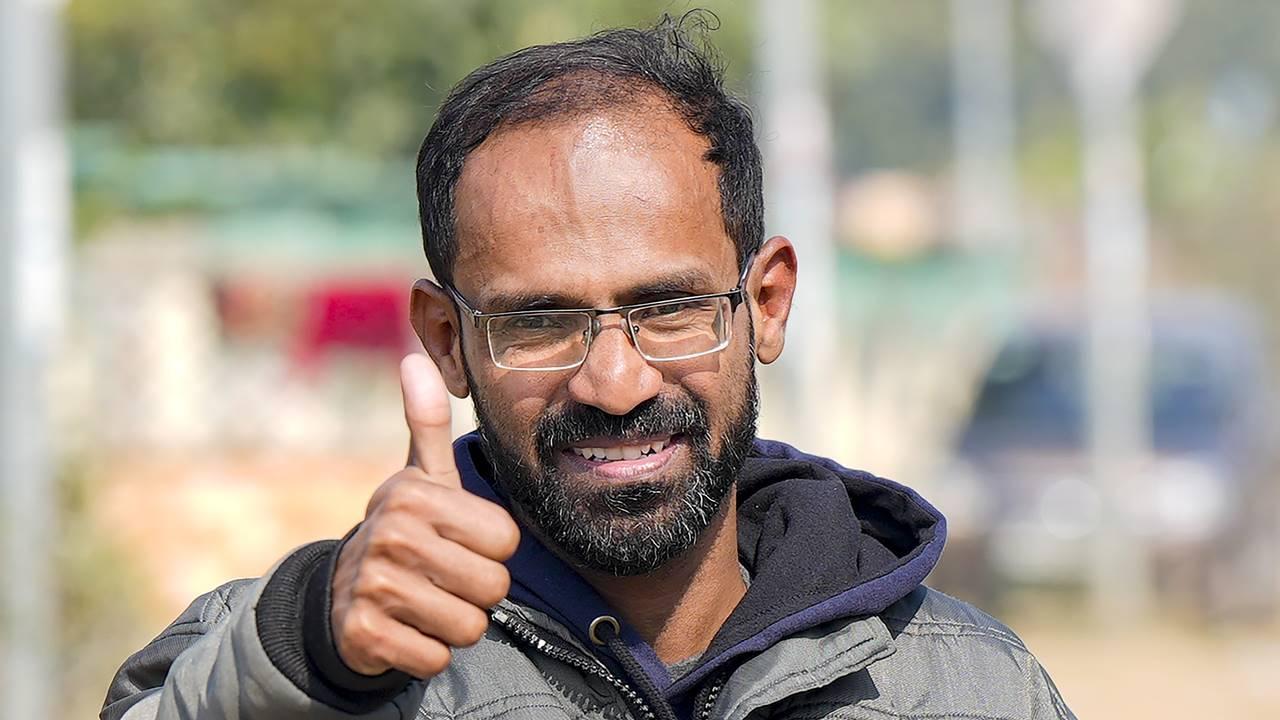 Siddique Kappan. Pic/PTI
Press freedom in the country is in a perilous state, journalist Siddique Kappan, who walked out of Lucknow jail in Uttar Pradesh on Thursday, said.
Released after a long incarceration of about 800 days, the journalist did not mince words: "Democracy and journalism are in dangerous situations," he said. Although Kappan secured bail in December last year, procedural delays deferred his release.
In an exclusive chat with mid-day, an ecstatic Kappan termed his release "half baked justice". He said 2-3 people are still in jail and he has to keep up the fight for their release.
Kappan, a Kerala-based journalist, was arrested in October 2020, along with three others, while they were on their way to Uttar Pradesh's Hathras to report on a gang rape and murder incident.
Also read: Threat call to blow up Ram Janmabhoomi complex in Ayodhya
A First Information Report filed against Kappan in Mathura charged him under sections 153A (promoting enmity between different groups on grounds of religion, etc), Section 124A (sedition) and 295A (deliberate and malicious acts, intended to outrage religious feelings of any class by insulting its religion or religious beliefs) of the Indian Penal Code (IPC) and the Information Technology Act and the Unlawful Activities (Prevention) Act (UAPA).
Terming UAPA a "draconian law", Kappan said that he will continue to fight against such laws. "Muslims, Dalits and many other people are in jails under the UAPA law. We will continue our fight against the UAPA and other draconian laws including AFSPA and National Security Act (NSA)," he said.
He said the UAPA, Enforcement Directorate and other central agencies are being used as "political tools" by the government against the opposition and journalists.
'Struggle in jail'
On his time inside the prison, Kappan said that his time in jail was a 'struggle'. "I struggled all through my time in the jail. It was really hard."
Kappan also contracted Covid-19 inside the jail. He said that neither the covid-19 protocols were followed nor was he provided with a proper treatment.
He alleged that he was also barred from reading certain literature. "The jail authorities did not allow me to read certain books. For example, he said, Aakar Patel's (former executive director of Amnesty International India) book was not allowed. Books on politics and contemporary political issues were also not allowed. Initially, he said, the jail authorities also did not allow a diary, pen, and other religious texts. However, the same was provided after a "lot of scrutiny".
'Want to visit mother's grave'
In June 2021, while Kappan was in the jail, his mother passed away. He said he cannot wait to pay obeisance at his mother's grave in Kerala, his home state. Kappan was allowed to visit his ailing mother briefly, in February 2021, after the Supreme Court granted him bail for five days.
According to the supreme court order, Kappan will have to stay in Delhi for six weeks. After that, he said, "I will pay a visit at my mother's grave."
Thanking his friends, activists and journalists for standing for him, Kappan said his family, including his children, had to struggle in his absence. "On social media, fascist groups harassed my children and family. Even my dead mother was abused," he said.
Kappan said he will continue to pursue his career in journalism.
"Freedom of the press is crucial," he said, "Journalists are not the Public Relation Officers of the government," he concluded.