Congress leader Rahul Gandhi Wednesday flagged issues of "record unemployment" and "back-breaking inflation" as he shared a video of his recent interaction with porters at the Anand Vihar railway station in Delhi during which they apprised him about their problems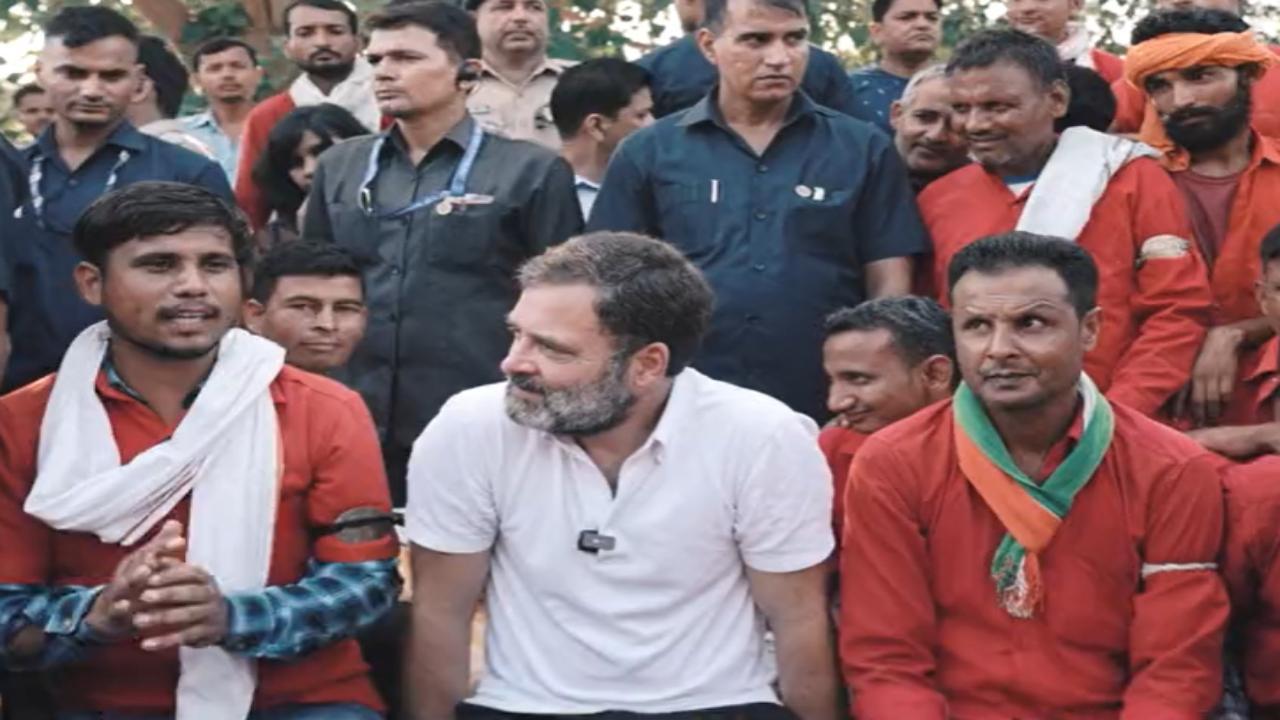 Screengrab/X
Listen to this article
Rahul shares video of interaction with porters, flags 'record unemployment', 'back-breaking' inflation
x
Congress leader Rahul Gandhi Wednesday flagged issues of "record unemployment" and "back-breaking inflation" as he shared a video of his recent interaction with porters at the Anand Vihar railway station in Delhi during which they apprised him about their problems.
The former Congress chief shared a video on Wednesday of his interaction with the porters and said that even though they have no salary, no pension, no health insurance and no government facilities from the Railways, they have hope that "times will change".
ADVERTISEMENT
"Had met Rameshwar ji (a vegetable vendor) a few days ago. As soon as the news of this was received, some coolie brothers requested me to meet them. And as soon as I got a chance, I reached Anand Vihar Terminal in Delhi. I met them and interacted for long during which got to know their lives closely and understood their struggles," Gandhi was quoted as saying by a statement released by the party.
"Coolies are among the most hardworking people of India. From generation to generation, they spend their lives helping millions of travellers in their journey. That badge on the arm of many people is not just an identity, it is also a legacy they have received. There is a share of responsibility for them, but there is very little progress for themselves," Gandhi said.
"Today, lakhs of educated youth in India are trying to earn their livelihood by working as porters at railway stations. Reason? Record unemployment. The literate citizen of the country is struggling to earn two meals a day," he claimed.
Also read: 26-yr-old "mentally challenged" man tied to pole, lynched to death in Delhi
Gandhi said that they earn Rs 400-500 per day, which does not even cover household expenses and there is no question of savings.
"Reason? Backbreaking inflation. Food is expensive, accommodation is expensive, education is expensive, health is expensive - how can they survive? They are not paid employees of Indian Railways. There is no salary, no pension!" he said.
There is no benefit of any medical insurance or even basic facilities - the shoulders of those who bear the burden of India are today bowed due to compulsions, Gandhi added.
"But, still, their hopes remain the same as that of crores of Indians - times will change!" he said.
In a post in Hindi on X, Gandhi said, "Met the hardworking coolie brothers of India at Anand Vihar station in Delhi. Having a degree of engineering, but working as a porter, suffering from such unemployment."
"No salary, no pension, no health insurance and no government facilities from Railways! But they have hope, times will change, and I have full faith!" he said.
In the video, Gandhi is seen interacting with porters who apprise him of their problems such as lack of shelter facilities and pension.
Some of them say that they have engineering degrees but no jobs and therefore they have to work as porters, according to the video.
Gandhi also briefly dons the trademark red shirt of the porters and lifts luggage over his head. (With inputs from PTI)
"Exciting news! Mid-day is now on WhatsApp Channels

Subscribe today by clicking the link and stay updated with the latest news!"
Click here! Do you know like to try cocktails?