A group of women from Kyiv, who had travelled to Mysore in January for a yearly visit to a yoga centre, find themselves far away from their families after Russia invaded Ukraine late in February. As they seek visa extensions in India, money is running out and the uncertainties are growing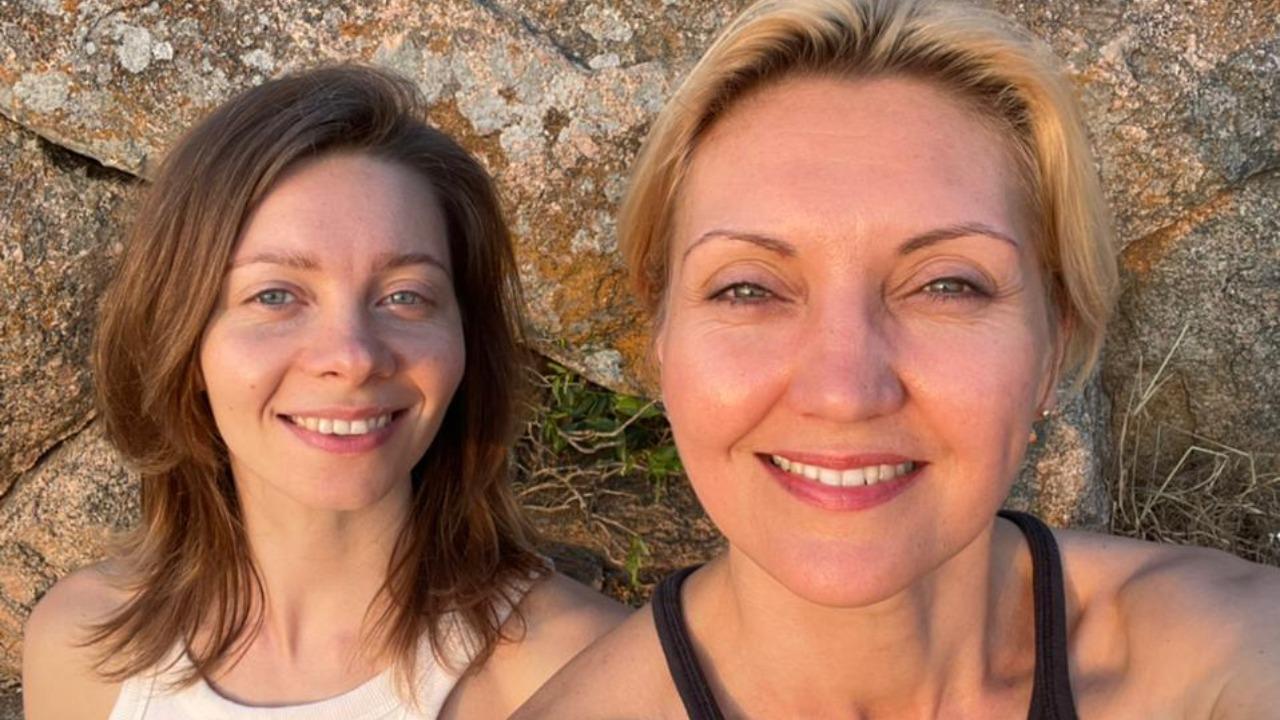 Tetiana Lymar (left) and Iryna Panarina are regular yoga tourists from Ukraine to India. They were ready to leave Mysore for Kyiv when the war broke out in their home country. Photo: Iryna Panarina
Iryna Panarina and her daughter Daria were ready to return to Kyiv after two peaceful months of practising yoga in Mysore, when the Russian military launched a full-scale invasion of Ukraine on February 24. Their plans — and lives — were altered overnight. The airline they were booked with cancelled flights, and the tourist visas they had for India expired on February 28. From back home, 49-year-old Panarina learnt that her husband was to join their native country's military as a civilian volunteer.
What happens when one's homeland becomes suddenly besieged while one is away on holiday? There was simply no warning, say the women who went from being tourists to refugees. "If someone had told me two weeks ago that there would be a war, I would have laughed it off," Panarina says, over the phone. "Our friends and family in Ukraine are underground, they are texting us saying 'please don't come back right now', 'it is very horrible'," adds her friend Tetiana Lymar.
Panarina and Lymar, 32, are both yoga instructors at the 'Ashtanga Yoga Shala Kyiv', who visit a yoga centre in Karnataka once every year or two to improve their practice of 'ashtanga', an athletic style of yoga. While they are stranded here, their thoughts are firmly with Ukraine. "Kyiv still has electricity and water but in some other regions, there is no food and no products, all the shops are empty," says Lymar.
If someone had told me two weeks ago that there would be a war, I would have laughed it off.
Of their group of eight women, who arrived here in January, one returned last week to Ukraine via Poland to be with her newborn, while another left for Poland. Three others proceeded per their pre-war plans to Sri Lanka, which is now providing free visa extensions to Ukrainian tourists, but that group is eager to come back to India as living expenses are relatively lower here.
Waiting on visas and funds
While Panarina was granted a one-month extension on her tourist visa until March 28, her 21-year-old daughter's application for the same was sent back with a message seeking additional documents. Lymar has been waiting to hear a decision on her application, made on February 26. Some countries, particularly those in the EU bloc, have waived visas and fees for incoming refugees from Ukraine as well as Ukrainian tourists who are currently on their land. India is not among them. Some 400 to 600 tourists hailing from the war-hit country were said to be stranded in Goa alone, according to news reports from early March. Over the last several years, yoga tourism has drawn many Ukrainians to India.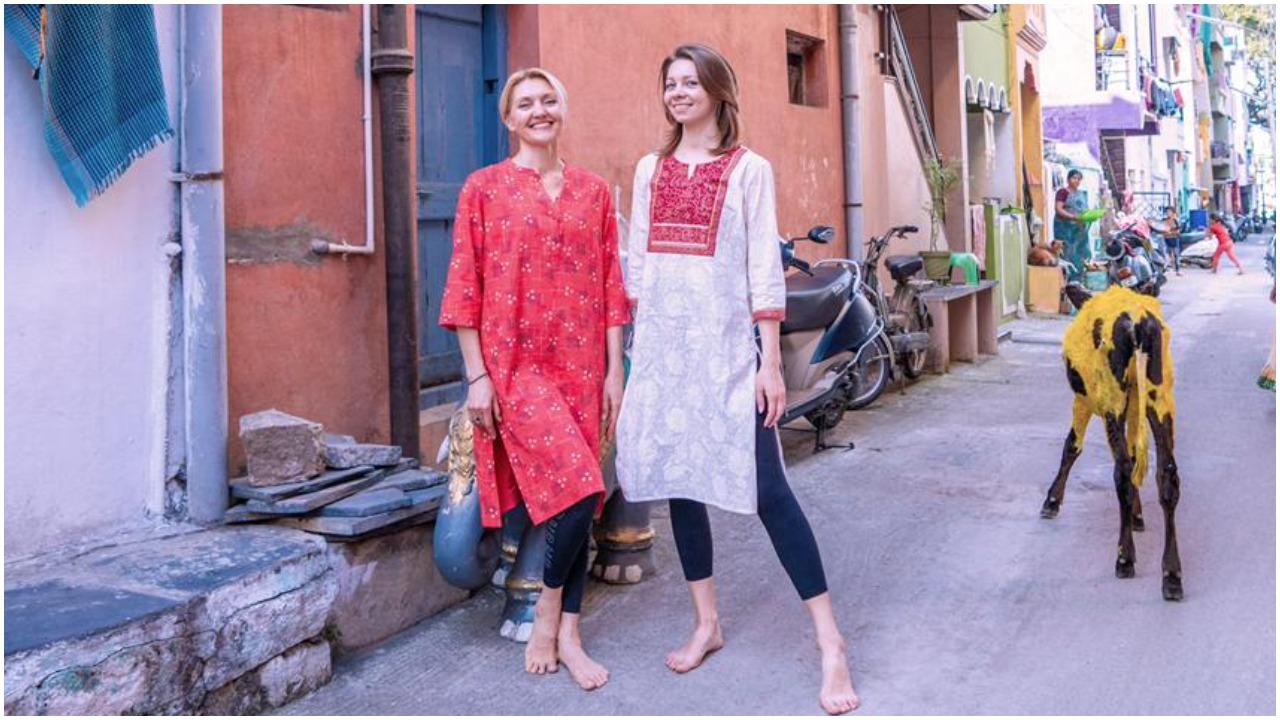 Panarina (left) and Lymar during their yoga tour in India. The duo are instructors at an ashtanga yoga studio in Kyiv. Photo courtesy: Iryna Panarina 
Each monthly extension of the Indian visa currently costs Ukrainians about Rs 8,000 here, even if they apply for it on humanitarian grounds citing war. "It is a huge (sum of) money. We don't know what the situation in Ukraine will be like tomorrow or after two weeks. Our studio in Kyiv is all closed and we don't have any possibility of working in India because it is prohibited," shares Panarina. "We cannot even buy a SIM card without a visa," Lymar says. The Ukrainian Embassy in India tells them it is in touch with the Ministry of Home Affairs. However, decisions are moving slowly.
Meanwhile, friends have been helping them navigate the nuances of visa rules, housing, and paperwork in India. "As foreigners who don't speak the local language, there is a risk of them being fleeced. They are worrying about their families in Ukraine and about themselves," says Mumbai-based Protima Rodrigues, founder of the yoga events company True Bay India. She extended her recent stay in Mysore to rally assistance, including accommodation and food, for the women. "There should be some humanitarian gesture from the Indian government like free visas for the Ukrainians stuck here." To cover various expenses for the women, a yoga community in the United States has launched a fundraiser.
Home is where the heart is
 My emotions are jumping all the time from angry to sad, from calm to nervous. 
The uncertainty is overwhelming, says Lymar, even if her own parents are in rural Ukraine which is relatively safe. "We are very emotional now but we are pushing ourselves all the time, because we need to think about what to do next, where to go and where to stay - about money, food, and our family. So many questions without an answer." Panarina has turned to meditation for some pause. "I can observe my emotions because all the time they jump from anger to crying, from calm to nervous…," she notes, breaking off.
Amidst working out their own living situation, the trio are volunteering to coordinate help. "We look for contacts for people trying to make their way from Ukraine into Poland and the EU. We also give free online classes to yoga students in Ukraine but only one or two of them join, mostly just to tell us they are safe. There is no space for yoga, people are trying to survive," Lymar shares.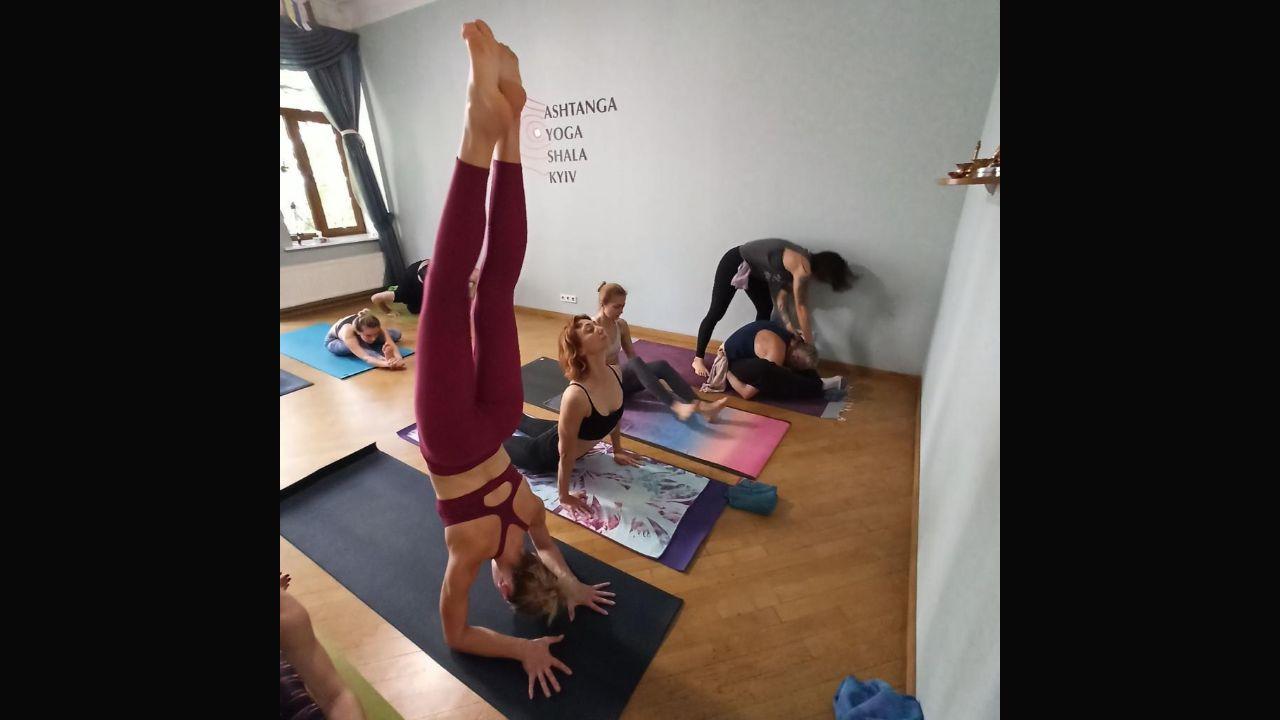 Yoga is very popular among Ukrainians. Studios such as Panarina and Lymar's Ashtanga Yoga Shala Kyiv (pictured above) have sprung up across the country in recent years. Photo courtesy: Iryna Panarina
While they are not sure about their next steps, they want to continue contributing for a sovereign Ukraine. "Oh, I want to go home," says Panarina. "I want to go home not only to feel okay psychologically but to help my country to build a new life, to rebuild the cities that were destroyed. Two million people are outside the country now and someone has to rebuild Ukraine." The Kyiv they left behind is a city well loved by foreigners, say the two. "They call it the new Berlin."
I want to go home not only to feel okay psychologically but to help my country to build a new life. 
Despite the aggression by the Russian state, the women express compassion for the neighbouring country's people. "We are proud of our Russian friends who still go on the field and still bravely talk about the war. Russia now has a law of up to 15 years in prison for talking about the war even on social media," notes Lymar. "The yoga community in Ukraine has so many connections with yoga friends in Russia. We cannot just stop talking to them. The world needs more understanding and humanity."