Telangana CM K Chandrashekar Rao, also known as KCR, will visit Wategaon on August 1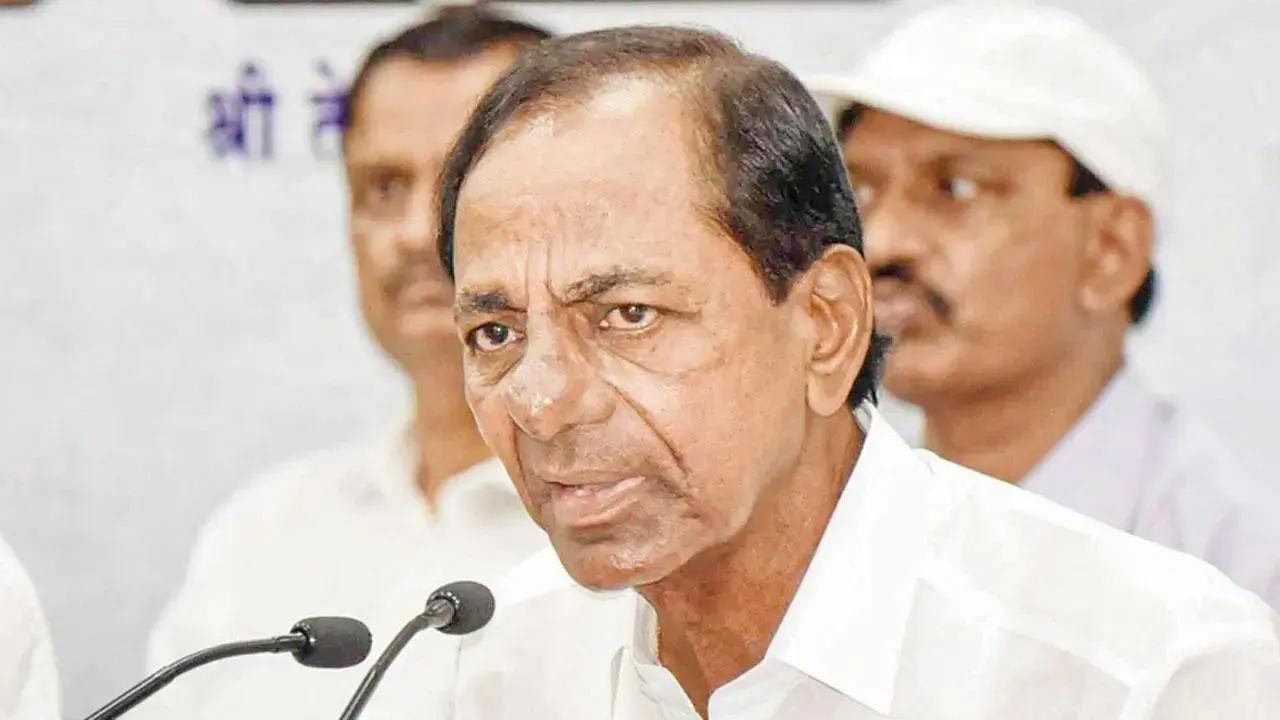 Telangana Chief Minister K Chandrashekar Rao. File Pic
Listen to this article
Telangana CM K Chandrashekar Rao to visit Maharashtra's Sangli on Aug 1
x
Telangana Chief Minister K Chandrashekar Rao will visit the birthplace of noted Marathi poet and social reformer Annabhau Sathe in Maharashtra's Sangli district on Tuesday, reported news agency PTI.
Noted Marathi poet and social reformer Annabhau Sathe was born at Wategaon in Sangli on August 1, 1920. He died on July 18, 1969.
ADVERTISEMENT
Telangana CM K Chandrashekar Rao, also known as KCR, will visit Wategaon on August 1, said a release issued by the Maharashtra-based Shetkari Sanghatana, a pro-farmer organisation, reported PTI.
A team of the farmers' organisation met Rao on Saturday over various issues pertaining to cultivators, it said.
Rao last month visited Maharashtra's Solapur and Osmanabad districts.
After renaming his Telangana Rashtra Samithi as Bharat Rashtra Samithi (BRS) in December last year, Rao has been making efforts to strengthen the party in neighbouring Maharashtra.
He has addressed public meetings at Nanded and other places in Maharashtra, highlighting his 'Telangana model' of development.
Addressing a rally in Sarkoli village, some 20 km from Pandharpur, Rao asserted that they are a team of farmers, marginalised communities, minorities and Dalits and wondered why there is a "hue and cry" over his party's efforts to expand its base in the neighbouring state.
About his Pandharpur visit, Rao said when they planned to offer prayers at the temple, they were advised to avoid doing politics.
"I refrained from discussing politics in Pandharpur. However, here I will talk about it. I fail to understand why there is such a hue and cry among the parties in Maharashtra about us. Why do they fear us, as no party is leaving any opportunity to criticise us, he asked.
Rao slammed what he called the tendency to label BRS as a B-team of other parties.
"Congress calls us the B-team of BJP, while BJP calls us the A-team of Congress. We are not anyone's team. We are a team of farmers, marginalised communities, minorities, and Dalits," he asserted.
He also emphasised that BRS is not just a regional party tied to Telangana, but is a national party with a mission to bring about a change in India.
Rao said that every major party in Maharashtra has had the opportunity to govern the state.
"The Congress ruled (Maharashtra) for 50 years. You gave chances to NCP, BJP, and Shiv Sena. If they genuinely wanted to work for the state's welfare, at least one of them could have done so," he said.
The BRS chief said that the schemes successfully rolled out in Telangana can be easily implemented in Maharashtra. He questioned why Maharashtra couldn't replicate the farmer-centric welfare programmes implemented by Telangana.
"If Telangana can implement such schemes for the welfare of farmers, why can't Maharashtra," he asked.
Rao said claims are being made that whatever is being shown in Telangana is a 'bhul bhulaiya' (maze) and if Maharashtra implements their schemes, the state will turn bankrupt ('diwala').
"I would like to assert here that yes, there is be diwala and it will be of political leaders. But there will be Diwali (prosperity) for the farmers," he said.
(With inputs from PTI)
"Exciting news! Mid-day is now on WhatsApp Channels

Subscribe today by clicking the link and stay updated with the latest news!"
Click here!