Hundreds of policemen were spotted without helmets or seat belts on visits to the Police Commissionerate; instead of being fined by the traffic cops, they were simply denied entry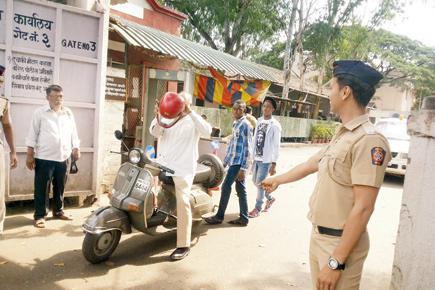 Helmet
Even as the traffic department is coming down hard on traffic rule violators in the city with drives and fines, it seems to be more lax when it comes to their brethren in the police force.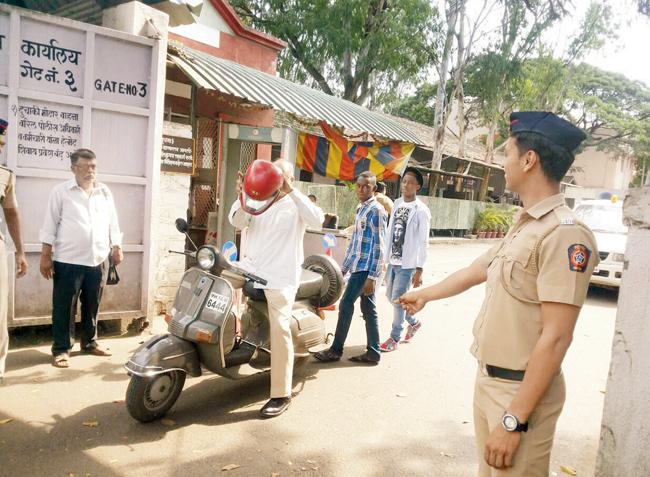 A policeman (in plainclothes) is made to put on his helmet at the gates of the Police Commissionerate compound
While more than 22,000 citizens have been penalised for riding helmet-less since January this year, the city police seemed untouched by the crackdown, as hundreds of cops were spotted riding motorbikes around and into the Police Commissionerate premises on Tuesday.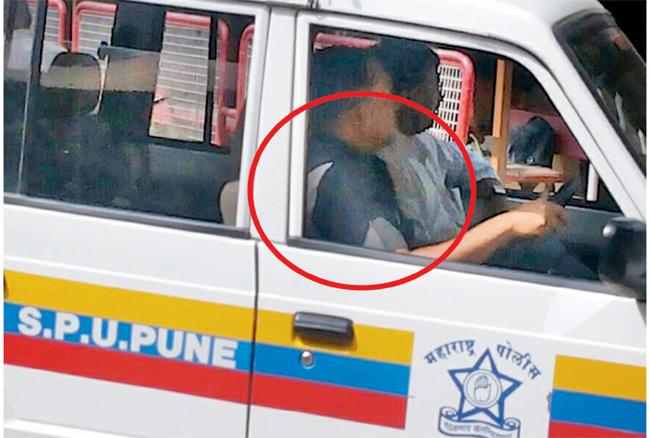 Neither the driver nor the passenger in the police van seem to be wearing seat belts

Around 3,000 police officials visit the commissionerate on Pune Station Road every day, and when mid-day paid a visit there yesterday, this reporter spotted several who had not bothered with either helmets or seat belts that the traffic police has deemed mandatory for those on two-wheelers or four-wheelers.

The traffic department has been conducting special drives to create awareness amongst citizens for using helmets, seat belts, etc.

Any person found violating these norms was penalised with a fine of Rs 100. Since January, 6.84 lakh cases have been recorded with various offences, and traffic cops have collected a whopping R7.67 crore in fines.

Above the law?
In fact, the traffic department had even broadcast a special message for all police officials on the wireless sets, mentioning that helmets were compulsory. Despite these advanced warnings, this reporter observed that nearly 300 policemen turned up at the commissionerate without helmets or seat belts. However, traffic cops did not fine them, but simply denied them entry inside the premises.

Policemen who sought to enter the compound without helmets, were asked to park their bikes outside the gates and walk inside.

However, this created a new problem. With a school and another government office located in the neighbourhood, the area is usually crowded with vehicles. And with hundreds of policemen told to park their bikes outside, instead of their designated slots in the compound, there was barely any space left for citizens to park their own vehicles.

Soon, the message had spread to other officials. But instead of simply following the rules, this reporter noted that several had found a way to bend them. Those who had helmets were made to wear them as they turned up at the gate. Others simply borrowed helmets from others just to pass the traffic cops.

In fact, some of the policemen kept a few common helmets at the gate itself, which were then recycled amongst
all those who needed to enter the commissionerate. The helmets were immediately removed once they were inside, and promptly sent back for other cops. Most officers visiting in four-wheelers, including official police vans, were also spotted not wearing seat belts.