Speaking to mid-day from Rameshwaram, Avul Shahul Hameed (42), nephew of India's former President, said, "The entire family is mourning the untimely demise of chhote chacha (APJ Abdul Kalam)."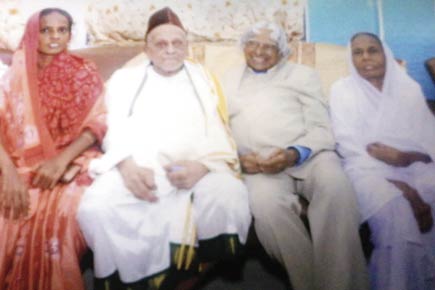 "I want to see my brother's face for one last time, do anything to get him here." These were the words of Mohammed Muthu Meera Lebbai Maraikayar (99), the bedridden elder brother of Dr APJ Abdul Kalam, who has been inconsolable since the news of Kalam's death was conveyed to him on Tuesday evening.
Also Read: Day before death, Kalam enquired about elder brother's health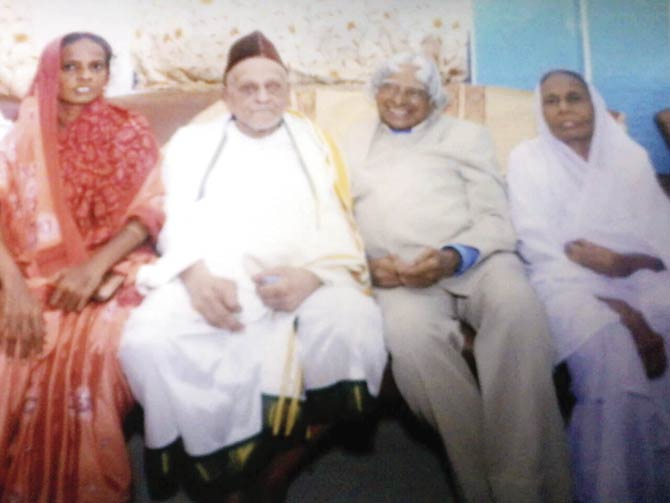 Dr Abdul Kalam with his family
Speaking to mid-day from Rameshwaram, Avul Shahul Hameed (42), nephew of APJ Kalam, said, "The entire family is mourning the untimely demise of chhote chacha (APJ Abdul Kalam). He never had any ailment; we all believed that he would be with us for another decade or more. My bade chacha (Muthu Meera Lebbai Maraikayar) is inconsolable and he is turning hysterical. He wants to see his younger brother's mortal remains."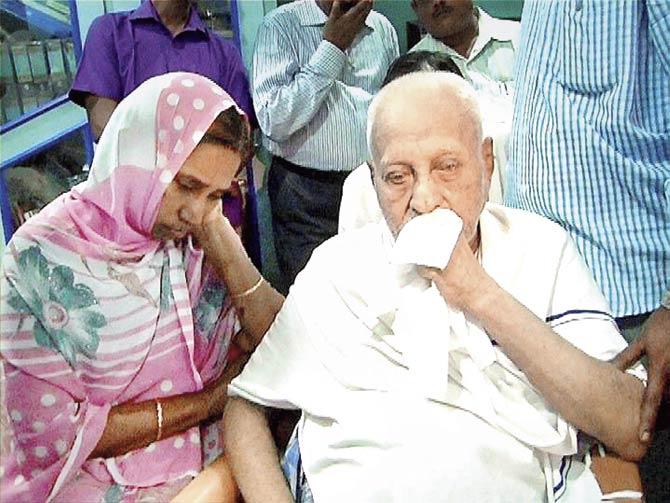 Mohammed Muthu Meera Lebbai Maraikayar, the 99-year-old elder brother of Dr Kalam, with relatives. PIc/PTI
Avul runs a mobile shop 100 metres from their home in Rameshwaram, and is the son of APJ Kalam's third sibling, the late Mustafa Kalam, who passed away 16 years ago. "Kalam sahib was the youngest of five siblings the eldest was a sister, the late Asim Zohra (who died 18 years ago), the second sibling Mohammed Muthu Meera Lebbai Maraikayar (99) (alive) followed by late Mustafa Kamal (passed away 16 years ago) and late APJ Kasim Mohammed (passed away 20 years ago) and then APJ Abdul Kalam," Avul said.
Kalam tribute: Sir never had a TV at home, recalls secretary of 24 years
He added, "The news of APJ Kalam's demise has not only shattered the family members, but the entire 25,000-plus population of Rameshwaram is mourning today. Chacha would always say that because of him no inconvenience should be caused to the public.
Hence, we have ensured that public inconvenience is not caused even during his funeral." Apart from the family members and local villagers, the mourners are visiting the ancestral home of Kalam, where Maraikayar is residing with his children and grandchildren.
"The town of Rameshwaram is slowly getting turned into a heavy security blanket, with both the Central and State security personnel including the Special Protection Group (SPG) reviewing the security arrangements before the arrival of VIPs including Prime Minister Narendra Modi, who will attend the funeral," Avul said.
According to him, "We have been informed that the casket carrying Kalam sahib's body will be brought to Rameshwaram from Delhi by Wednesday afternoon. The casket will be kept for public darshan at an open ground a few metres from the official residence of Kalam for paying their last homage.
A few hours later, by evening, the casket will be brought to the residence of Kalam, for the family members to pay their last respects." The funeral, according to Avul, instead of the local graveyard, will be held at a designated place that has been marked by the government, which will be in an open area, close to the house.
Nizamuddin Mustaffa Maraikayar (52), son-in-law of late APJ Kasim Mohammed, speaking to mid-day from Rameshwaram, said, "Kalamji had visited Rameshwaram in February this year. It was a small family event and he had visited us for three hours. We had never expected not to see him after that visit."
Nizamuddin is employed as a revenue assistant at the taluka office in Rameshwaram. According to Avul, "Over the years, the number of members in the APJ Kalam family is more than 60 people, of which nearly 20 are children in the age group of 1 to 10 years.
All these children have always been fond of APJ Kalam, and they aim to become like him one day." Avul recalled, "We in the family have always been thought to maintain a low profile and never use the name of APJ Kalam for seeking any benefits or privileges from any corner, including government offices.
We have always been advised to study hard and achieve our positions by merit and not by using our influence on anybody. We follow the same principles even today, and will continue to do that even in the future". When asked if APJ Kalam used to provide any monetary aid for the family, Avul replied in the affirmative, stating that everything that his family in Rameshwaram has got is only because of APJ Kalam.
Kalam has also opened a two-storey 'Mission of Life' gallery installed at the House of Kalam, which also has a museum of everything that he has been using since his childhood, to school and college days, and even till date.
Collector speak
K Nandakumar, the collector of Rameshwaram district, told mid-day, "We are anticipating approximately over 1 lakh people from all over to attend the funeral of APJ Kalam on July 30. We have ensured that the hotels and guesthouses are informed in advance to ensure the flow of people who will attend the event.
Read Story: Abdul Kalam's family's simplicity was heartwarming: R K Laxman's kin
While local residents will visit and leave, adequate arrangements are being done to ensure no inconvenience is caused to those visiting from other places." The Tamil Nadu government has decided two to three places for the funeral, of which one is Araankundu Changhi Madham, which is located hardly two kilometres from the house.
The place for the funeral, whichever is shortlisted, will be an area of one acre of land which will be used for burial. Later, a monument will be erected at the spot. "We have so far received confirmation from the Prime Minister's Office confirming his presence for the funeral, but are yet to receive any confirmation about the presence of Chief Minister of Tamil Nadu Jayalalithaa," added Nandakumar.
When asked about the arrangements made to preserve the body of the celebrated scientist for more than 24 hours at Rameshwaram, the collector said, "The entire casket is under the control of the Indian Army and they will do everything needful to ensure that the body is preserved until the time of the funeral." Interestingly, Nandakumar is also a Kalam admirer. He said, "I was always inspired by the great man."