Mamata Banerjee told delegates that her government's welfare programmes, including those on women empowerment, have been designed to push for digital and financial inclusion of the poorest sections of society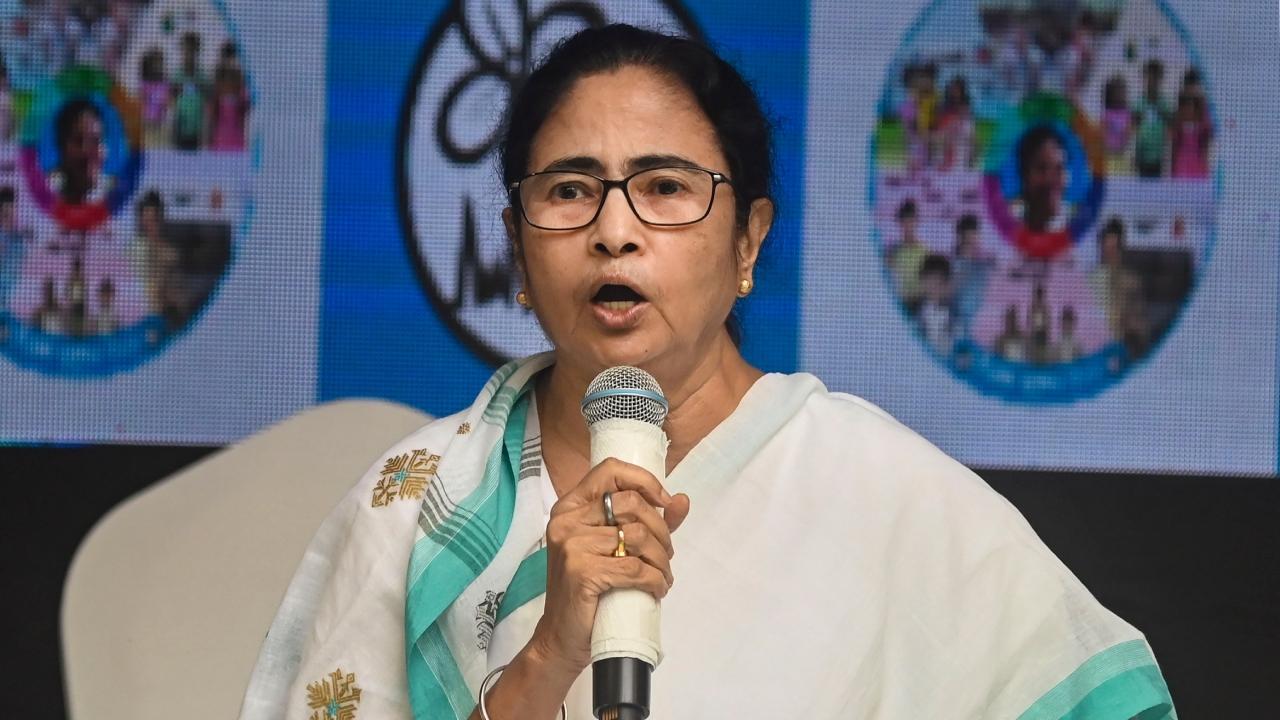 West Bengal Chief Minister Mamata Banerjee. Pic/PTI
Addressing a G20 meeting on financial inclusion, West Bengal Chief Minister Mamata Banerjee on Monday said her government works to usher in development with a humane face.
Banerjee told delegates that her government's welfare programmes, including those on women empowerment, have been designed to push for digital and financial inclusion of the poorest sections of society.
ADVERTISEMENT
"We believe in giving a humane face to development," said Banerjee, pointing out that her state's development programmes helped increase Bengal's GDP four-fold since she took over.
The chief minister, who won a third term last year, said that despite the economic turmoil caused by COVID-19 pandemic, the state managed to create 12 million jobs, mostly in the MSME sector.
"We managed to create jobs, grow our GDP four-fold, mainly because we empowered women, small industries, farmers and youth. We are fighting against hunger and have provided free food to the poor," she said.
Also Read: Vande Bharat Express pelted with stones in Bihar, not Bengal, claims Mamata Banerjee
Banerjee pointed out that her government had ensured financial inclusion of women and people of vulnerable sections through digital transfers.
"For women's empowerment, we give them money through digital transfers, some 1.5 billion USD have been spent on this programme," she pointed out, adding that self-help groups, comprising 1.2 million women, have been created in the state.
"We launched the 'government at your doorstep' (Duare Sarkar) programme to ensure that people get the benefits of our development initiatives. The programme won a national award," Banerjee said here at the first 'Global Partnership for Financial Inclusion' meeting of the G20.
The CM also said India has remained united, notwithstanding the differences in religion, caste and languages.
"We have many religions, castes, races, but we are united as one," Banerjee said.
The first day of the G20 event featured an exhibition on digital innovations for advancing financial inclusion, and sessions on the role of digital public infrastructure in financial inclusion and productivity gains, among others.
The three-day event will also focus on remittance costs and SME finance availability, officials said.
Twelve international speakers will be attending the G20 meeting, including senior officials from the World Bank, Monetary Authority of Singapore, France and Estonia.
Unique Identity Authority of India (UIDAI) CEO Saurabh Garg and National Payments Corporation of India (NPCI) MD and CEO Dilip Asbe are among those scheduled to address the sessions. 
This story has been sourced from a third party syndicated feed, agencies. Mid-day accepts no responsibility or liability for its dependability, trustworthiness, reliability and data of the text. Mid-day management/mid-day.com reserves the sole right to alter, delete or remove (without notice) the content in its absolute discretion for any reason whatsoever.