In Lok Sabha, Congress leader says the public raised the question during party's Bharat Jodo Yatra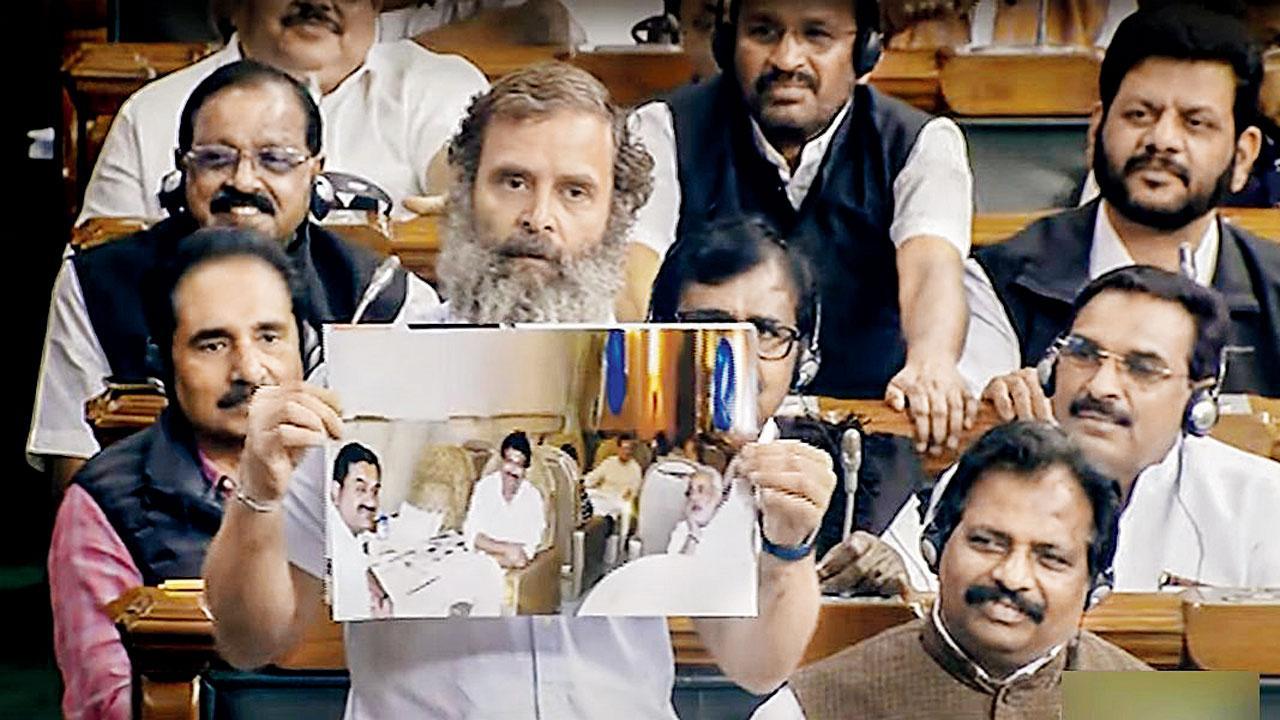 Congress MP Rahul Gandhi shows a picture of PM Narendra Modi with Gautam Adani in the business tycoon's plane, highlighting their alleged proximity, in the Lok Sabha, on Tuesday. Pics/PTI
Congress leader Rahul Gandhi on Tuesday linked the massive rise in the business fortunes and personal wealth of businessman Gautam Adani to the Modi government coming to power in 2014, as he launched a sharp attack on the BJP dispensation over the Adani issue.
Gandhi said he learnt a lot during his recently concluded Bharat Jodo Yatra and got the opportunity to listen to the inner voice of India. "During the yatra, people, including the youth, asked me how Adani attained such success in so many sectors; what is his relationship with PM," he added.
"Relationships began many years ago when Narendra Modi was Gujarat's chief minister...one man stood shoulder to shoulder with Modi; he was loyal to the PM and helped him construct the idea of a 'Resurgent Gujarat'. The real magic began when PM Modi reached the national capital in 2014," Rahul said in the Lok Sabha.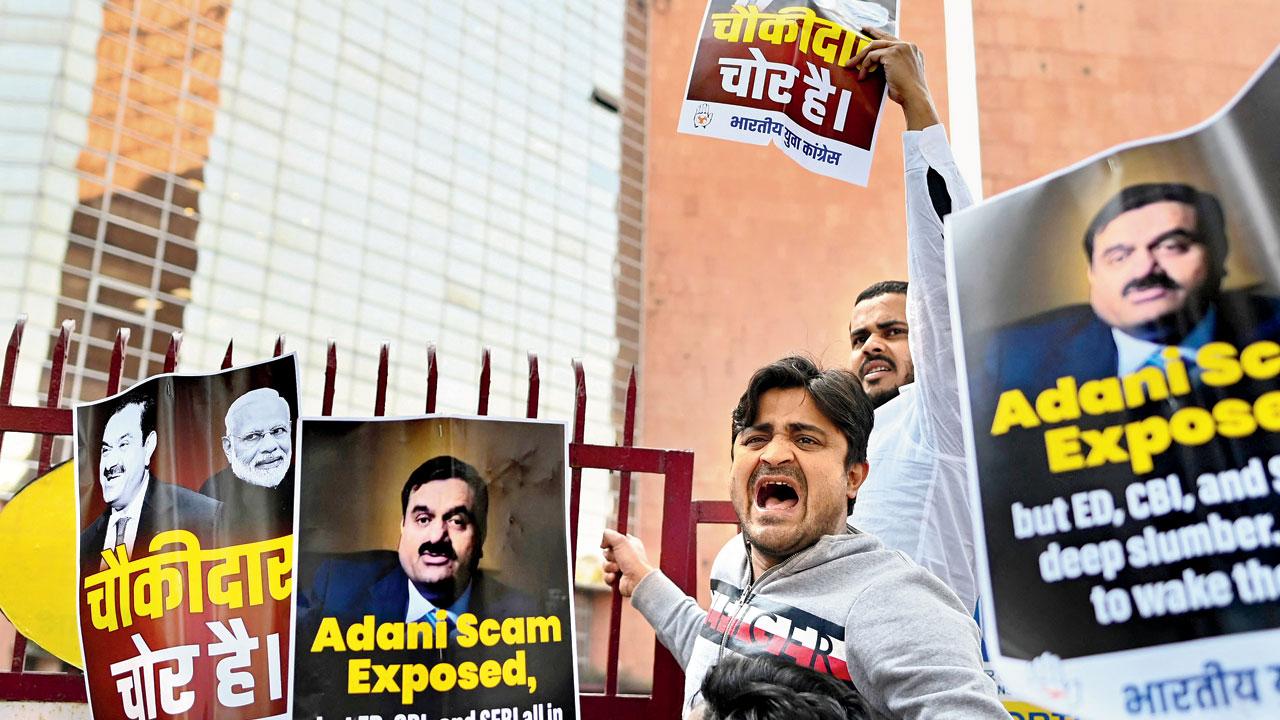 Indian Youth Congress activists protest outside the regional LIC HQ in Delhi
"There is a rule who does not have prior experience in airports can't be involved in the development of airports. This rule was changed by the Government of India and Adani was given six airports," he said further claiming that India's most profitable airport Mumbai Airport was "hijacked" from GVK Industries using the CBI and ED and was given to Adani by the Centre. His charges in Lok Sabha drew a sharp response from the treasury benches, with Law Minister Kiren Rijiju asking him to not level "wild allegations" and furnish proof of his claims.
Also read: Mumbai: How will Adani fiasco affect the Dharavi project?
'7 Adani stocks under regulatory lens since 2019'
Stock market data shows seven Adani group stocks triggered regulatory surveillance actions during various periods since 2019, because of both unusual price rise and fall and high promoter pledge. Six listed Adani scrips are under ASM (additional surveillance mechanism) as of February 3, 2023. BSE and NSE recently put three Adani group companies—Adani Enterprises, Adani Ports and Special Economic Zone and Ambuja Cements—under their short-term ASM, which is aimed at curbing speculation and short selling in these stocks. "These measures give a signal to the investors that such scrips are riskier and investors should consider the same while making their investment decisions," said a broker. Meanwhile, shares in Adani Group rallied on Tuesday after it announced plans to prepay some loans.