The film is currently running in theatres all India, including Bombay, Delhi, Chennai and Bangalore, see bookmyshow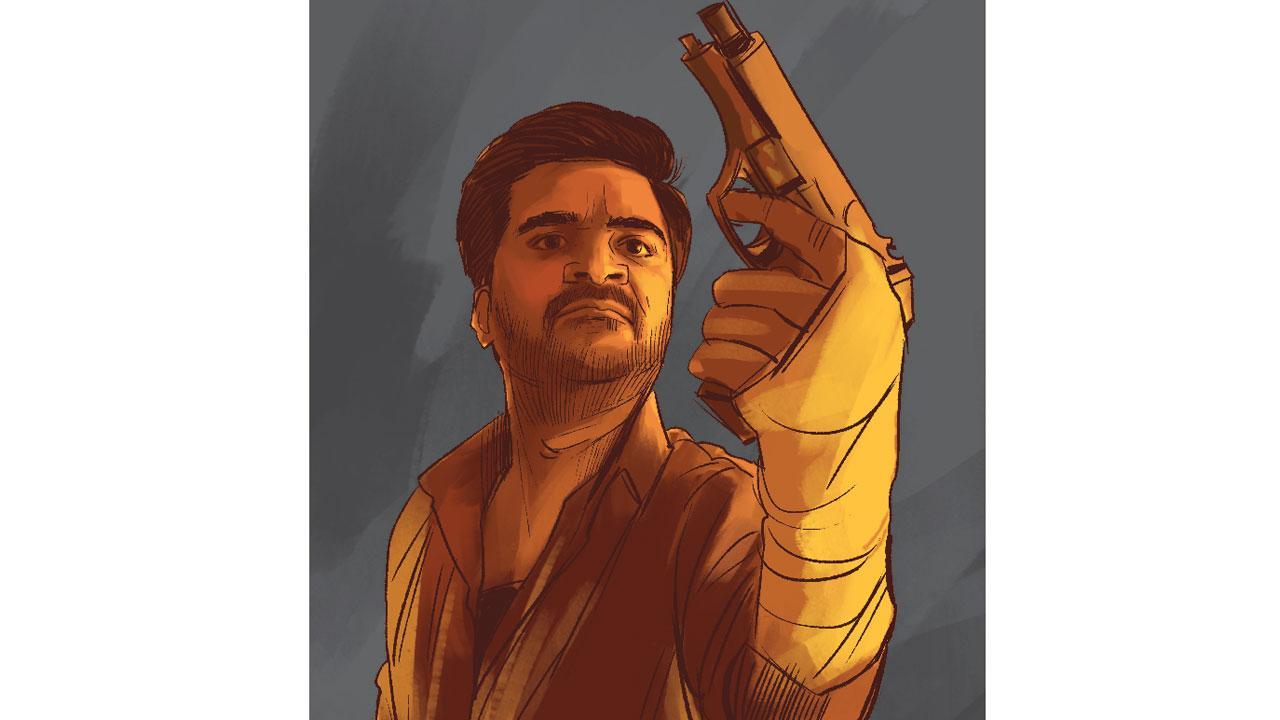 Illustration/Uday Mohite

Gautham Vasudev Menon's Vendhu Thanindhathu Kaadu (VTK, The Scorched Forest: Part 1 - The Kindling, Tamil) is a compelling film. Disclaimer: I really can't bear gangster films with violence, blood and gore, but here I couldn't take my eyes off the screen. Actually the title, apparently drawn from a Subramania Bharati poem, literally means, very poetically, 'the forest whose ashes have cooled'. The film is currently running in theatres all India, including Bombay, Delhi, Chennai and Bangalore, see bookmyshow.
The film is about Muthu (Silambarasan Rajendar aka STR, Simbu), who struggles to support his family in a small Tamil Nadu village, and eventually looks for a job in Bombay. Although he works in a parotta place, he unintentionally gets involved in gangland crime, and becomes a cog in a Tamil gang, whose rivals are a Malayali gang. Like many others, all he wants is to send his family money, and is keen to quit the horrific crime business—but can he? Silambarasan is brilliant, playing a convincing Muthu. There's also a side of romance—I didn't really buy into the woman—but Muthu's journey is fascinating because he remains so ordinary and un-heroic even as he rises in the hierarchy, without flashy choreographed fights, or demolishing 10 villains at a go. 
Menon has directed about 25 films and TV/web series episodes, including films in Tamil, Telugu and Hindi, in multiple genres, including romance —the enduring Vinnaithaandi Varuvaayaa, with STR and Trisha; family drama (Vaaranam Aayiram); and crime thrillers (Kaakha..Kaakha: The Police).
In VTK, Menon is in excellent form. Normally, mainstream films set up a conflict between a grand hero and a grand villain; but here the hero remains mostly a small cog in a larger crime syndicate, whose kingpins we never see: he kills because he is ordered to, he doesn't know why. The screenplay, by B Jeyamohan (Naan Kadavul, Mani Ratnam's co-writer on Ponniyin Selvan-1) and Menon, is superb, with crackling dialogues. We see his journey, evoked in meticulous detail, living in crowded, labourers' quarters in Bombay, with just a mat and a suitcase, his contradictory feelings of guilt and ambition to make money, and the parallel story of Sreedharan, from the Malayali gang, who also wants to drop out. The all-male, macho environment serves to steel his heart (though I did wonder, how did he become a sharpshooter that quick?). The film also raises questions of will versus fate, in Muthu's relation to the gun. There are marvellous scenes, such as when Muthu's boss asks him to shoot him point blank and tells him why he can't. Another is when a lonely worker's video call to his wife in the village, turns into Malli poo, a song and dance whose energy sweeps up all the workers. When Muthu gets married, we are terrified that Menon will give us a Paruthiveeran-style climax, but instead he gives us a twist that sets up the sequel, an all-India film: South Indian films are now increasingly eyeing the all-India box office. 
Silambarasan, who has acted in about 46 films, is very good as the reluctant protagonist. His body language and gait are always uncomfortable (as when he wears wet undies) with gestures like wiping his cheek with his collar, as if he can't believe he's doing what he does. Siddhi Idnani as his love interest has little to do, but there are some notable actors, including Malayali actors Siddique and Neeraj Madhav. Siddhartha Nuni's cinematography (Lucia, Brahman Naman) is first-rate, including many long, hand-held shots without cuts, even for fight scenes and love scenes, that pull us in. Likewise, Anthony's editing is taut: we never feel the 2h57minutes. Composer AR Rahman is in terrific form, with catchy songs and background score, including percussion, clarinet and ghatam, that greatly enrich the film, and evocative lyrics by Thamarai. The producers are Udhayanidhi Stalin and Ishari K Ganesh. The women's crew includes remarkable lyricist Thamarai, choreographer Brinda and costume designer Uthara Menon. Watch out for Part 2.
Meenakshi Shedde is India and South Asia Delegate to the Berlin International Film Festival, National Award-winning critic, curator to festivals worldwide and journalist. 
Reach her at meenakshi.shedde@mid-day.com