The Swiss tennis legend is not the first champion to shed tears in public. Others did it in dressing rooms and some like England's pace ace Fred Trueman, in the bathroom at The Oval in London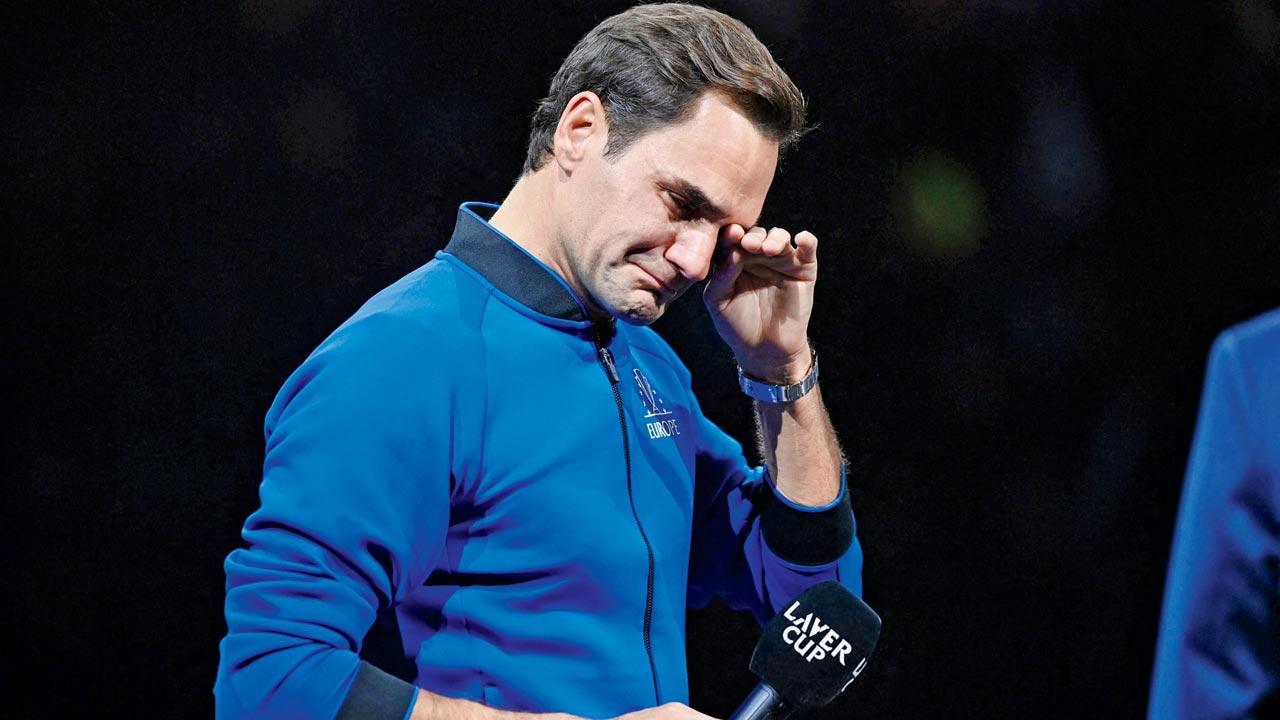 A highly emotional Roger Federer at the 2022 Laver Cup at the O2 Arena in London on Saturday. Pic/AFP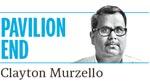 Roger Federer made the sporting world a wetter place last week through his emotional, farewell-to-tennis interview with American tennis great Jim Courier at the Laver Cup in London.
Federer was a master at holding serve against the best of opponents, but he struggled to hold back the tears on Friday especially when he spoke about the support he got from his wife Mirka, who he said could have stopped him from playing tennis a long time ago, but didn't.
The Swiss legend is not the first champion to shed tears in public and cause more than just a lump in the throat to spectators, fans and some in the media as well. After Indian cricket legend Sachin Tendulkar delivered his emotional, elaborate and eloquent retirement speech at the Wankhede Stadium in 2013, most of us in the press box, like those in the stands, were teary-eyed.
There are other sportspersons, who let the tears flow after walking off to their respective change rooms.
When England pace great Fred Trueman became the first man to claim 300 Test wickets (against Australia at The Oval in 1964), he went into a bathroom, bolted the door and cried away.
Trueman was proud of a lot of things—his dangerous pace, his ability to swing the ball both ways and not missing games due to injury—factors that made him arguably England's greatest ever fast bowler. But he also took great pride in the fact that no fast bowler could hit the 300-wicket mark in Test cricket till Dennis Lillee did more than 17 years later (against the West Indies at Melbourne in December 1981).
Talking of Lillee, the great Australian fast bowler decided that the Sydney Test, which brought the curtain down on the 1983-84 series against Pakistan, would be his last game for his country. His ex-captain Greg Chappell decided to end his Test career then too. Rod Marsh, who had made his debut in the same 1970-71 Ashes series as Chappell and Lillee, decided to hang his boots after the triangular ODI series featuring hosts Australia, West Indies and Pakistan. His two mates were in Melbourne for the second final, which would have been Marsh's farewell game had it not been for the tied result. The third final was held the following day (February 12, 1984) and Marsh came off the Melbourne Cricket Ground that night as a retired cricketer.
He touched upon the emotional aspect of it all in his book, Gloves, Sweat and Tears. While Jeffrey Dujon was guiding the West Indies to a comfortable six-wicket win, Marsh noticed the opposition wicketkeeper giving him a look, which didn't betray the sadness in his eyes. Like Nadal the other night, Dujon was gutted to think that it was the last time he would see a respected opponent on the field of play. This shouldn't come as a surprise to those who closely followed Dujon's decade-long international career because years later, when asked about his most memorable moment, he chose Allan Border's unbeaten 100 which prevented West Indies from winning the Trinidad Test match in March 1984. Next question to Dujon was about his most disappointing moment and he pointed to Border running out of partners and ending up with 98 not out in the previous innings of that Test. In fact, Dujon scored a hundred in that game to give his team a mighty first innings lead, but that didn't serve as a best memory.
Back to Marsh. The late wicketkeeper suspected teammate Geoff Lawson was welling up as he shook his hand while the Australians were heading to the pavilion end at the MCG on February 12, 1984. Marsh admitted to being close to tears as he got closer to that end. The climax to all that built-up emotion came in the form of a phone call, which Marsh took in the dressing room from his wife Roslyn in Perth. He wrote: "Bless Roslyn's heart, but that was probably the last thing I needed at that very moment. I broke up completely and cried unashamedly. I was spent. Physically and mentally exhausted. I needed a good old cry to let out all the emotion."
Another occasion on which Marsh felt tearful was on November 28, 1978 during the final season of World Series Cricket (WSC). It was the day when the breakaway faction's players paraded their skills under floodlights of a traditional cricket ground—the Sydney Cricket Ground—for the first time. Amidst a cricket war, it was an acceptance of sorts from the public that, in Ian Chappell's words, "they were 'the' Australian team." Marsh revealed in the Rookies, Rebels and Renaissance documentary that players who were not even playing the game had tears in their eyes.
Tears are shed mostly for sad moments. For Clive Lloyd's otherwise all conquering West Indies team of the 1980s, their darkest hour was certainly the 1983 World Cup final loss to India at Lord's. When I met former Winston Davis (now paralysed) at his UK home in 2011, we got talking about that loss. "I saw grown up men crying after we lost and I am not going to tell you who," he said.
Indeed, it doesn't only take bereavements for grown ups to cry. It takes an achievement, a historic moment, a crushing defeat. Or like in Federer's case, a goodbye to one's best-loved sport.
The sporting world is still mopping up.
mid-day's group sports editor Clayton Murzello is a purist with an open stance. He tweets @ClaytonMurzello
Send your feedback to mailbag@mid-day.com
The views expressed in this column are the individual's and don't represent those of the paper