What stories surround bells and stars in Bombay glinting well after Christmas?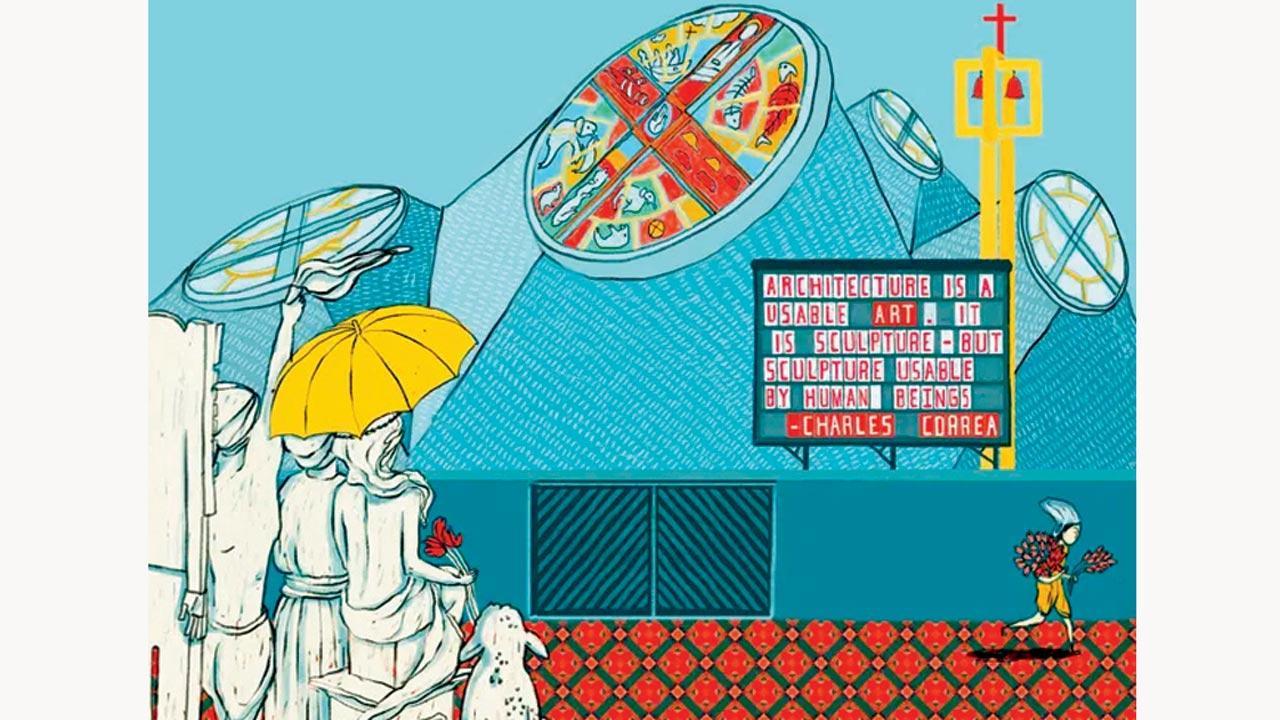 Garima Gupta's illustration of the twin bells at The Church of our Lady of Salvation, Dadar

Though they beam brightest tonight, the twinkling stars and gleaming bells across town, there are some nicely surprising twists to traditional tales of their sparkle and sheen. While neighbourhood stars shine strong and bells chime loud, fine examples of both glow yearlong and beyond Catholic communities.
To start with a few unusual church-related bells, including an impressive, much travelled one. In Dabul village of Chira Bazaar, from  the 150-year-old Saint Francis Xavier Church rings an intriguingly mismatched 344-year-old bell. Cast in 1674 by Hiram Tavarres Bocarro, this seventh bell of St Joseph's Church in Bassein (Vasai) fell silent with the Maratha siege in 1739.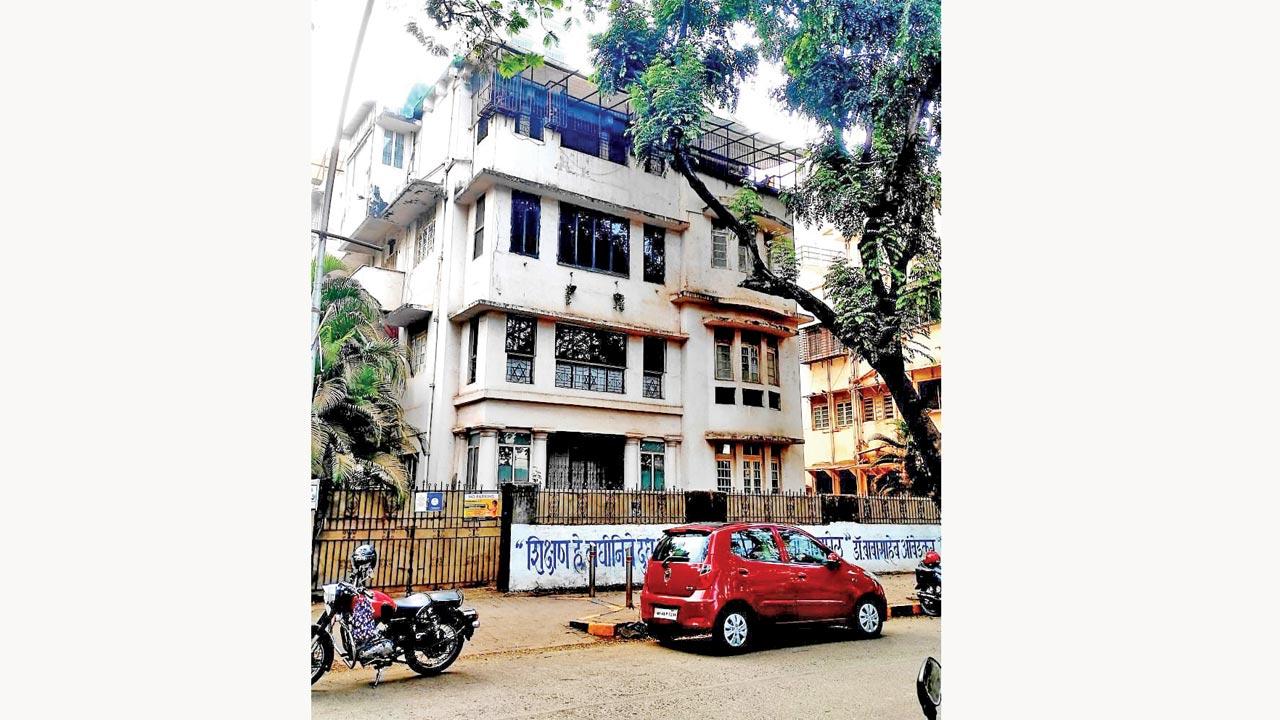 Sarah Lodge at Shivaji Park, with a view of the Star of David embedded in its compound and balcony grills
Instead of swinging within belfries, the other half-dozen now interestingly hang at Hindu temples dotting the interiors of Maharashtra. Taken as victory trophies by vanquishing armies, they announce warning of calamities like floods and earthquakes. Barring the cracks inevitably formed with age, the bells are maintained with the respect they were extended at their original site. 
When the British procured the Dabul bell from the subdued Portuguese, it tolled for over a century in St Thomas Cathedral. This sole war survivor adorning a city church was handed to the Bombay Arsenal in 1869. With full-circle luck, its long journey finally halted in 1883, with the Portuguese Vicar-General of the North bequeathing the bell to St Francis Xavier Church. "Even worshippers from the suburbs visit Dabul," says crossword ace Joe Albuquerque, in Hendre Building opposite, where he hears the bell peal daily, half-an-hour before every mass.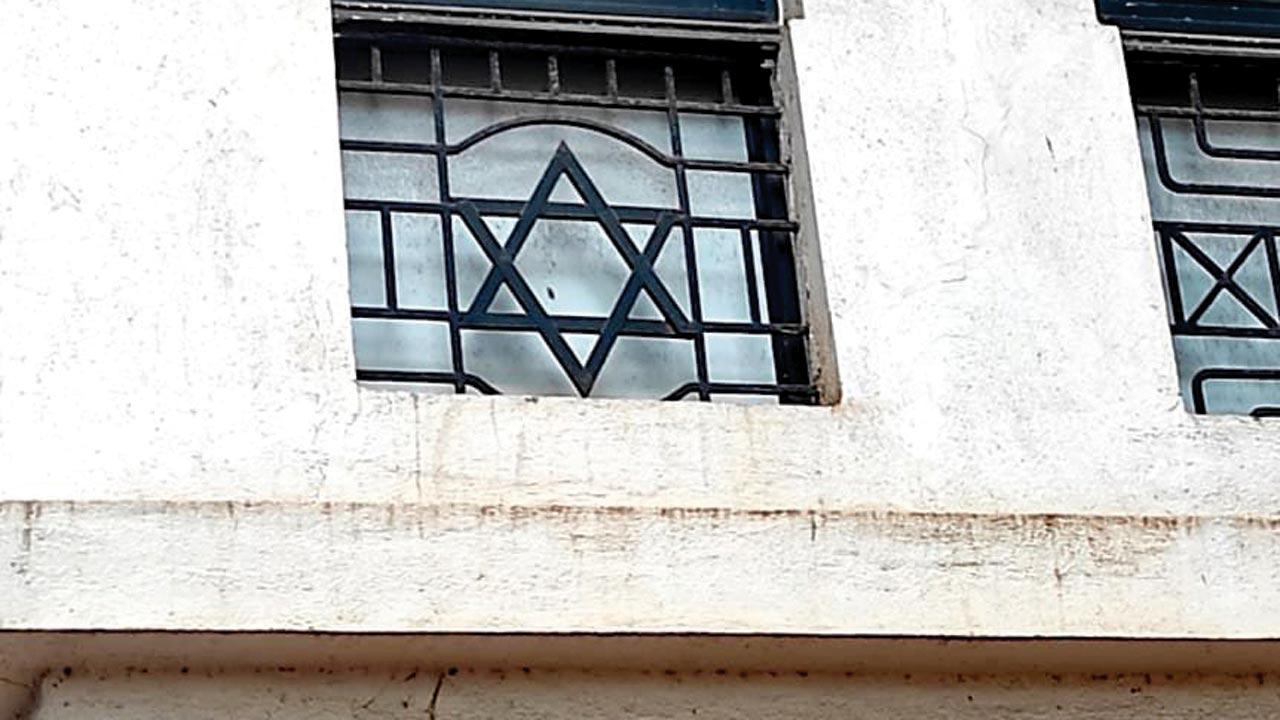 A Scots statesman reluctant to bridge the miles between Byculla and St Thomas' at Fort seems to have been responsible for melodic Sunday sounds of Christ Church bells pealing. Explaining the lovely lines of this Neo Classical-designed church, legend has it that in 1833, the Governor of Bombay, Mountstuart Elphinstone declared his shift from Fort to his "country home" in the then pastoral acres of Byculla-Parel. Fluted columned Christ Church was commissioned to supposedly save him the bother of attending mass all the way at the cathedral. 
Another remarkable set of bells are paired, tall twins in the courtyard of The Church of Our Lady of Salvation, popularly referred to as Portuguese Church. The Dadar church is one of the city's oldest, its sixteenth-century foundation laid by Portuguese Franciscans naming it Nossa Senhora da Salvacao. Its norm-breaker architect in the 1970s, Charles Correa reinterpreted it radically, with clean cuts and new angles, gifting the flat shell-roofed space a unique cross-shaped bell tower. His invitation to artists like MF Husain and Anjolie Ela Menon to paint Biblical episodes added luminosity.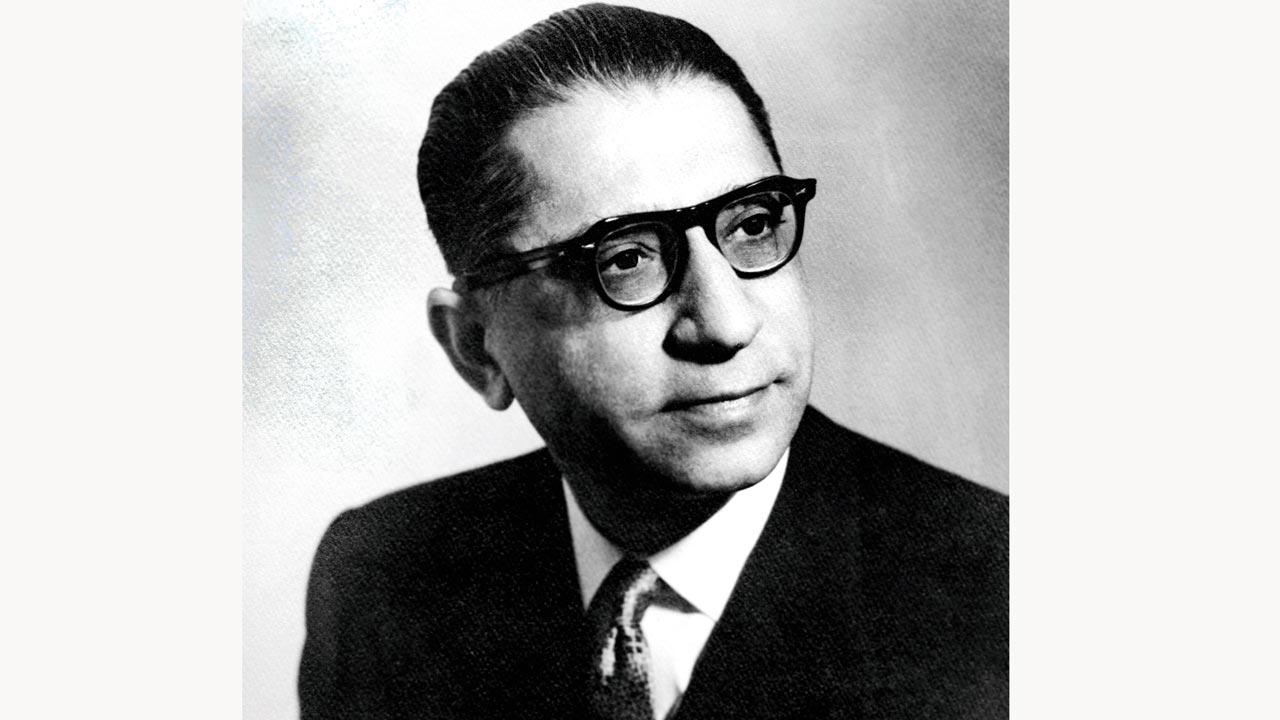 Company founder Mohan T Advani
South-flagging Afghan Church in Colaba was constructed as the principal memorial to casualties of the First Anglo-Afghan War fought from 1839 to 1842. Besides the striking beauty of stained-glass panels adorning this buff basalt and limestone gem, these were rare church bells, only in western India. Sir Charles Cayzer of Gartmore, a Colaba resident, donated them to commemorate his wedding, at a cost of Rs 8,000. They were expertly cast by John Taylor, from the foundry of his family, famous for studying acoustic fundamentals and innovations in bell tuning. 
Jump to a leafy Khar lane which boasts a multitude of bells packed so tight, not an inch of wall shows beneath. Hugging the Madhu Park periphery, the Ghanteshwar (Lord of the Bells) Temple from the 1950s is startlingly sheathed in thousands of metal specimens. Their favours asked, fulfilled, devotees return to tie bells in gratitude. New brass sparkles alongside counterparts crusted down decades.  The most fervent prayers must surely rise to the heavens from desperate men huddling in a little labour mandi nearby. Mornings see jobless strugglers huddle around the railway station chowk, identified by their workboxes and bags—painters' brushes peep from scruffy thelas, carpenters and plumbers proffer their toolkits.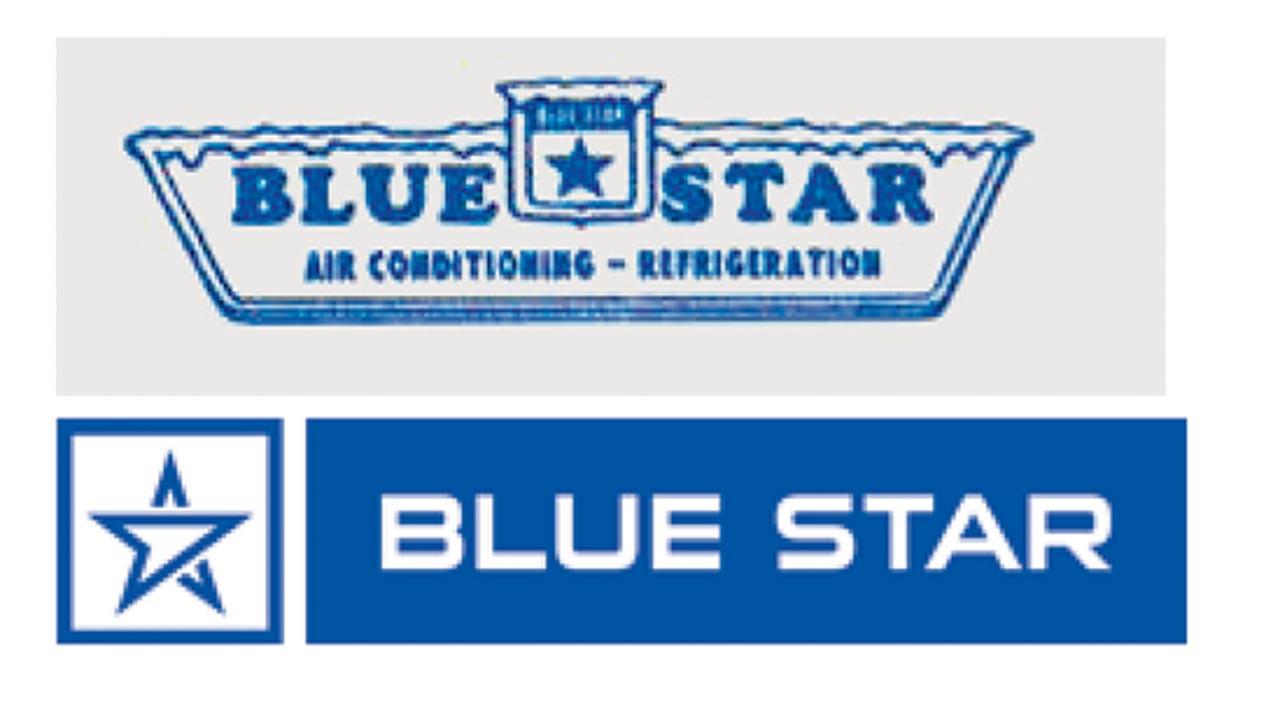 The 1943 and 2017 logos of Blue Star
Among several quiet architectural charms strewn around midtown French Bridge is the Malad stone-encased, 1928-built Blavatsky Lodge, belonging to the Theosophical Society of India. The seal on its facade blends a host of eclectic elements encircled by the Society motto: "There is no religion higher than truth". The Ouroboros symbol of a serpent biting its tail, is the Greek allusion to infinity. The Hexagram star typically interlaces two triangles, representing matter and spirit. At its core, the Crux Ansata from Egypt suggests resurrection, its six triangular points plus central Ankh "key of life" hieroglyph embracing seven principles. The Swastika-style, ringed whirling cross signifies expansive creative energies. "Om" tops the seal, as the Absolute, divine primal beginning. These diverse influences assert secularism essential to the brotherhood of man.
Sometimes a motif metamorphoses in pace with changing times. I fell in love with the Star of David winking on a decrepit verandah in stained glass on Sarah Lodge bordering Shivaji Park. It fronts the building's balconies and boundary wall in a metal current avatar. Sarah Lodge was once occupied by a Jewish family, the pride of post office employee Eliab Erulkar, his wife Sarah and five children carving careers in medicine and engineering.
The Hexagram star within the seal of The Theosophical Society of India, on the wall of Blavatsky Lodge
Arun Gadre, a grandson who is a surgeon in San Diego, remembers, "If that house could speak, it would tell tales of the Independence struggle, teargas dispensed, my grandmother under constant suspicion for keeping water buckets ready for freedom fighters, policemen firing at mobs, fiery speeches by political leaders. There was the mayflower tree whose flowers my grandfather counted, the Irish stew stirred over a slow 'badami' coal fire, bath water heated similarly in a large copper samovar. We learnt to ride bicycles, enjoyed cricket and football in the park, Lagori and Hu-tu-tu with cousins in our compound. Who plays those games anymore?"
Leisure hours were as well spent reading books, of course. Before Warden Book House was introduced as possibly Bombay's first circulating library, it served as a small community refuge hub. Ketan Shah, at the counter, reported to work as a 16-year-old on losing his father Mavjibhai. With roots in Beraja village of Kutch, Mavjibhai migrated to the city with four brothers, to run Five Star as a social arrangement of convenience. Like the Goan coors of Dhobi Talao, Five Star provided shelter and camaraderie for migrants seeking fresh futures. 
The Shahs gradually converted Five Star to a raddi outlet—"Eighty per cent of Kutchis took to this dhandha. We possessed nothing and this needs zero investment: a weighing scale and hundred-odd rupees," Shah says. Consular officers and royals of the princely states on the Breach Candy strip, looking to discard hardbound editions, also scouted for a place to both borrow and buy books. Voila, Warden Book House was born. 
Among beacons signalling a legacy of trust in the business world is Blue Star. The crisp 1943 logo Mohan T Advani chose for his air-conditioning and refrigeration company ensured the enterprise was not to be identified personally with him, but should radiate its own character. The label intended to brand into public consciousness with distinctive form and colour. Blazoned against the sky, it sought to be pithy and recognisable. After a process of elimination, Advani arrived at Blue Star. "Blue not for the icy coolness of his products but because it denotes aiming high, into the blue yonder," says the pioneer's daughter Suneeta Vaswani.
At least two generations fondly recall the silver Mercedes Benz star atop the Fulchand Niwas corner clock tower at Chowpatty. The three-point classic—to represent modern motorisation with luxury car engines dominating land, sea and air—was replaced in the 1980s by the Thums Up neon sign. 
Other star connotations offer more surprising histories. Few associate a thali eatery with Baha'i spiritualism. There they are, entwined at Golden Star on the Girgaum corner facing Charni Road. Hindus considered such plots inauspicious. Industrious Iranis spotted twice the trade at junctions. Gazing towards Mount Damavand in the land of their birth, brimming with hope they whispered, "Numo Khodu" (touch wood in their Dari dialect) and moved in to brew the cup that cheers. 
"Golden Star was a basic bun-maska and kheema-pao joint before serving thalis," recollects Zia Eshraghi. His father Aziz came as a 13-year-old from Yazd in 1934. Humbly waiting tables at this cafe, he worked his way up. The Eshraghis being Baha'i proprietors, the restaurant name alludes to the 9-pointed star symbolising tenets of universal amity the religion propagates. The whole number 9 being a perfect, culminating digit, each tip of the Baha'i star hails messiahs of nine different faiths walking the same path to peace and justice.
Author-publisher Meher Marfatia writes fortnightly on everything that makes her love Mumbai and adore Bombay. You can reach her at meher.marfatia@mid-day.com/www.meher marfatia.com