This one could be a classic example of "how pictures lie". We see the same cover photograph on Page 22, a gelatin silver print from Jawani ki Hawa, characters all set in deep pools of darkness, with light bouncing off their faces and clothes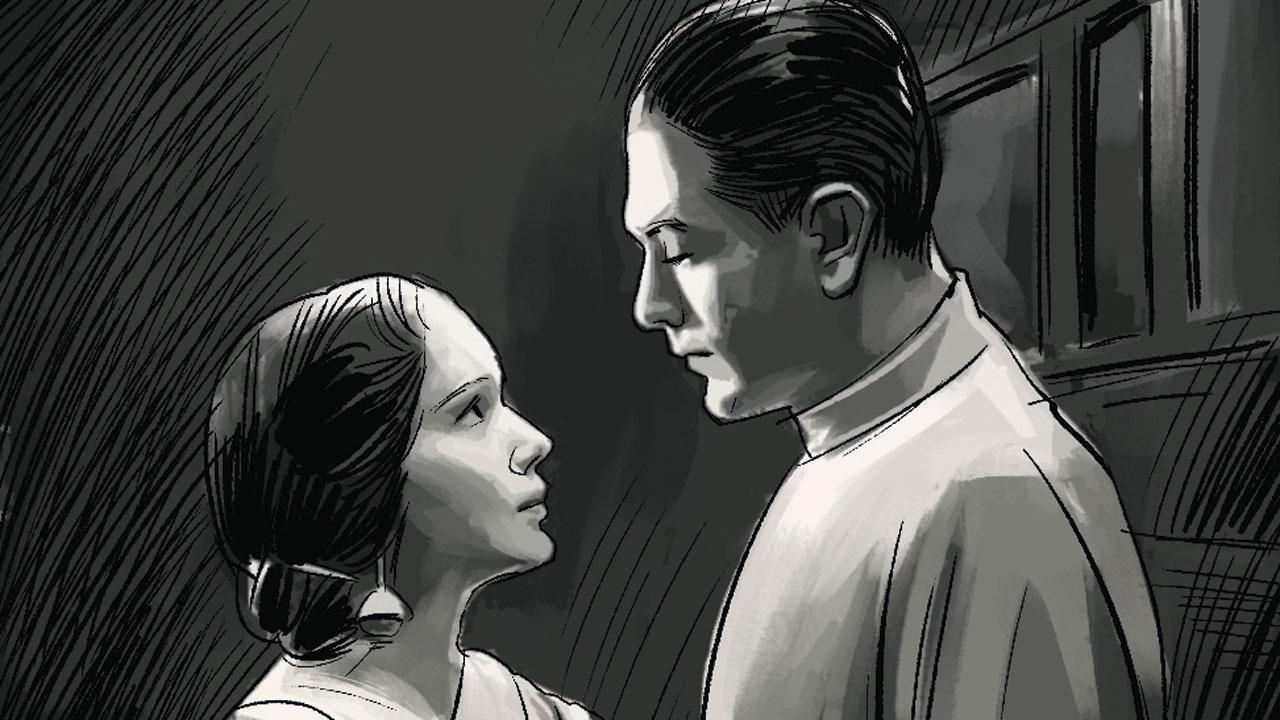 Illustration/Uday Mohite

Once upon a time, Bollywood was actually Gollywood, a term I coined for German Bollywood, when it grew Indo-German roots. There's that stunning black-and-white photograph of the time, of a very hot couple associated with Bombay Talkies, that many may recognise: The gorgeous Devika Rani, star and co-founder of Bombay Talkies, and the handsome hero Najmul Hussain (with whom she later eloped), standing very close to each other, looking deeply into each other's eyes—the frisson is electric. It graces the cover of the coffee table book,  Bombay Talkies: An Unseen History of Indian Cinema, edited by Debashree Mukherjee, that includes marvellous photographs from the Josef Wirsching Archive, lobby cards and letters, and essays by  noted film scholars. It is put together by the Alkazi Collection of Photography, in association with Mapin Publishing (Rs 2,780, hardcover).
This one could be a classic example of "how pictures lie". We see the same cover photograph on Page 22, a gelatin silver print from Jawani ki Hawa, characters all set in deep pools of darkness, with light bouncing off their faces and clothes. Here the camera has drawn back a little, and we see the complete picture: Devika Rani, relatively short compared to the strapping Hussain, is standing on a low stool covered with carpeting, presumably so her upturned face can be properly showered with kisses, Mills & Boon style. But the stool is so unromantic, I burst into laughter when I saw it, making for a disarming entry into this gorgeous book. Most of the 165 photographs are from the personal archive of the Bombay Talkies cinematographer Josef Wirsching, and taken in the 1930s and 1940s, both on sets and outdoor locations, and reveal a rich, complex world behind the Bombay Talkies stills. The essays are by film scholars and historians, including Debashree Mukherjee herself—Associate Professor of Film and Media, Columbia University in New York, Priya Jaikumar, Sudhir Mahadevan, Kaushik Bhaumik, the late Virchand Dharamsey and Eleanor Halsall.
ADVERTISEMENT
Bombay Talkies, founded in 1934 in Malad, a Bombay suburb, was one of India's most important pre-Independence studios, that brought an eclectic international influence to Indian stories and filmmaking, and because the crew was largely German and German-influenced, it left the powerful legacy of German Expressionism, and other artistic influences, on Indian cinema. In fact, I had explored this in Indian Expressionism, a season of films I had curated for the Toronto International Film Festival (TIFF) Cinematheque in 2012, that explored the influence of German Expressionism on 50 years of Indian cinema, that was very warmly received. In fact, I have also had the pleasure of meeting Josef Wirsching's son (the late) Peter Wirsching, his wife (the late) Rosamma, and their sons Georg and Josef, and seeing some of their photographic collection, at their home in Moira, Goa.
Also read: WATCH: Salman Khan sends love to fans in a new Instagram post as he completes 35 years in Bollywood
Bombay Talkies was headed by Himansu Rai and Devika Rani, the husband and wife team—they were earlier involved with the theatre in London, then both worked with the UFA studios in Germany. Rai persuaded the German production house, Emelka Studios (now Bavaria Films) to back him, and they made a remarkable trilogy of Indo-German co-production films that Franz Osten directed—Light of Asia (Prem Sanyas/Die Leuchte Asiens, 1925, on the life of Gautama Buddha), Shiraz (a fictionalised love story behind the building of the Taj Mahal) and A Throw of Dice (based on an episode in the Mahabharata), that were released internationally and did fairly well. But with the rise of the Nazis, the German studios were taken over for propaganda, forcing hundreds of German artistes to migrate/into political exile. That's how Rai and Rani set up Bombay Talkies in Bombay in 1934, and invited their German colleagues to join them. The German team at Bombay Talkies included director Franz Osten, cinematographer Josef Wirsching, assistant cameraman Willi Kiermeier, set designer Karl von Spreti, production and translation expert Bertl Schultes, lab in-charge Wilhelm Zolle and sound recordist Benjamin Hartley, the sole Englishman. Following their success, Osten directed 17 films in Hindi, a language he barely knew, but for which he had a wonderful instinct. My mother, 96, still sings songs from Achhut Kanya (1936), that he directed, including Main ban ke chidiya. Mukherjee rightly asks: "What is Indian about Indian cinema?" when discussing their cinema, seamlessly influenced by German Expressionism, Art Deco design, Bengal School portraiture and Hindustani classical music, that addressed class and caste social reform. We badly need a revival of modernity and social reform in an era where The Kashmir Files gets the National Award for National Integration.
Meenakshi Shedde is India and South Asia Delegate to the Berlin International Film Festival, National Award-winning critic, curator to festivals worldwide and journalist. 
Reach her at meenakshi.shedde@mid-day.com
"Exciting news! Mid-day is now on WhatsApp Channels

Subscribe today by clicking the link and stay updated with the latest news!"
Click here! Do you indulge in mindful activities for an improved mental health?