Mumbaikars from the city and the suburbs are waking up to an inexplicable technicolour takeover of its urbanscapes, from its public buildings, to its tree canopies and fountains, as well as its street architecture. Our sutradhaars are equally puzzled...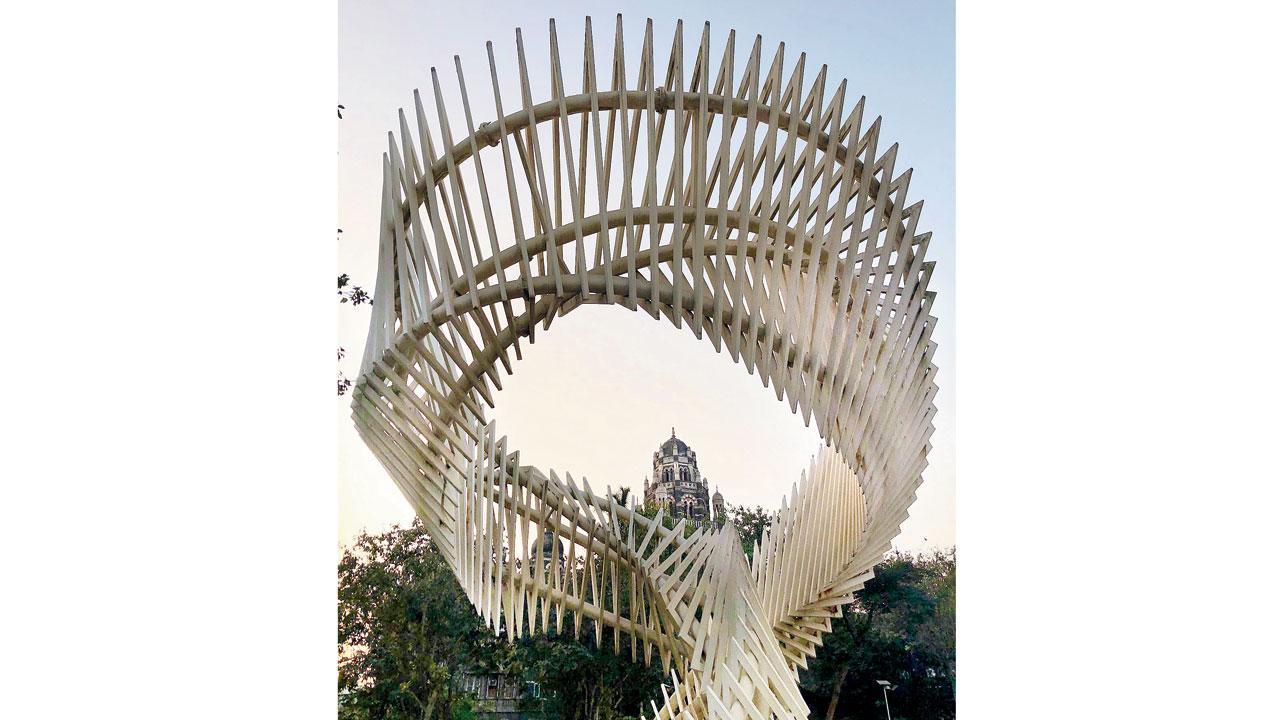 An art installation at Cross Maidan. Pic/Dr Rahul Baxi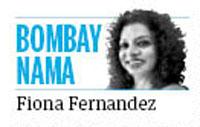 Pheroze, is that you? Gosh, you had me a tad worried there; I thought you were a vandal or a thug. What's with those coloured spectacles...my goodness that really is you?" Lady Flora was flummoxed at her companion, Sir PM's choice of eyewear as they exchanged pleasantries for their Sunday meeting at Horniman Circle Garden. Something big must have resulted in this look for her conservative friend, she thought.
 
"Clearly, you aren't a fan," Sir PM sighed. "I was hoping for some support. I am not very good with these kinds of choices," he continued. "Pheroze, how silly of you; all you had to do was ask. I would have gladly accompanied you to Lawrence & Mayo. It's just a hop away," remarked Lady Flora. "May I ask why this radical shift from your sedate bespectacled look? It doesn't suit your respectable personality, if you must know."
Sir PM promptly removed his shades and kept them safely in a case. "Well, it all began a while ago. The unpredictable lighting for VT wasn't helping my sinuses that flared up for the first time after 1933. And to compound matters my own former office decided to join in the jamboree so it worsened matters. But that wasn't all. About two months ago, when I was in Dadar for cousin Sohrab's birthday, I spotted these installations and other inexplicable street architecture that I felt didn't help citizens in any way. Besides, I noticed lights that were wrapped around tree trunks and in other places, I noticed lights were used to dress up the canopies –more of an eyesore and less of the festival vibe; what about the wastage of electricity that can be used for more vital needs?" Sir PM exclaimed.
ADVERTISEMENT
Lady Flora did an eye roll. "I get it now!" she exclaimed, "There is a thread to all of this. I noticed similar, though less garishly done decorations in and around South Bombay, all the way up to Worli as well. Specific places are sporting installations, presumably in the name of public art. And then, Percy offered another update where he mentioned these newly sprouted water fountains, with fancy lighting and whatnot," she shared with her friend. "Pheroze, coming to think of it, I've spotted and been hearing about this gradual 'technicolour-isation' with new installations, all in the name of public art across the city and suburbs. While it might invite attention, does it really add the aesthetics of a city like ours that still lacks basic facilities. Is there any method [read: thought] to this madness? It seems as if the city's façades, walls, footpaths and trees have become a large canvas where everybody wants to splash some colour on it," rued Lady Flora. Clearly upset at these developments, she went on to rattle off a list of observations, especially those where the 'art' installation had credited the local corporator with a huge mention plastered across the same pedestal.
"I am no expert in urban architecture but what I can safely comment on is that things seem to have gone out of hand. I am all for the beautification of the city, and in my time, I have seen and signed off plenty of projects as Bombay was growing from a port town to a progressive, commercial city, the big nerve centre. There were town planners, architects and inspectors who supervised and monitored such projects. Right now, I am wondering how far this adventure will go. In my humble opinion, I'd rather that the funds be used for actual citizen utilities in public spaces like better roads, potable water facilities, clean and well-maintained public urinals and usable footpaths. All this isn't the immediate need of the hour," he thundered. Lady Flora was happy to see her friend's vocal administrator mode come to life and secretly hoped that he'd nudge his former bosses to look into this rampant trend. Both wondered why a city that nurtures countless talented urban planners and architects couldn't avail of their resources and plans, and put their practical ideas to better use in their home city.
"So, do you get my point, finally…about the coloured glasses? I couldn't take the glare any longer and hence had to take necessary precautions because this visual frame seems to have taken over large parts of the city," Sir PM reminded his friend, bringing her back to the reason for her initial surprise at his choice of spectacles. "Indeed, Pheroze; I fully understand. I wonder if I too might have to resort to such measures going by the alarming rapidity with which this idea is taking over the city," she continued. Until, it's possible, let's walk around this precinct at least, so we can soak in the natural aesthete, with only the moonlight and soft street lighting to guide us. And no shades, please," she smiled.
Disclaimer: This columnist apologises to one of her favourite bands U2, for a straight lift of their song title but our sutradhaars felt it would be most apt for a headline to describe their state of mind that led to the crux of today's column.
mid-day's Features Editor Fiona Fernandez relishes the city's sights, sounds, smells and stones...wherever the ink and the inclination takes her. She tweets @bombayana
Send your feedback to mailbag@mid-day.com