There are very few aggressive batsmen like Warner who can keep an opposing captain awake at night with their ability to virtually win a match in one session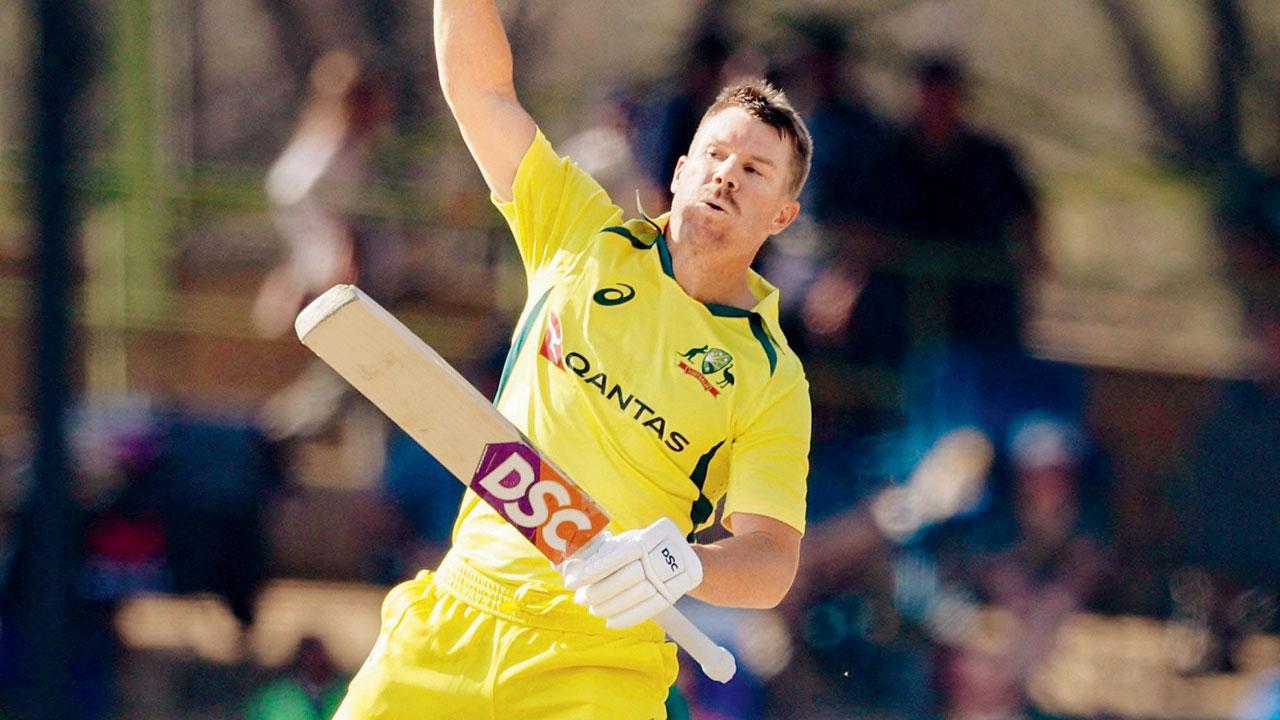 Australia's David Warner celebrates his match-winning century during the second ODI v South Africa in Bloemfontein on Saturday. Pic/AFP

The modern tendency is to favourably recall the last occurrence in a players's career. Consequently, Australia's opening master blaster David Warner will often be remembered as having a desire to finish his spluttering Test career at the Sydney Cricket Ground.
Barring injury, Warner's excellent form in Australia should allow him to achieve his ambition. 
ADVERTISEMENT
However, it's a mistake to only recall his overseas struggles as there's a lot more to Warner than those recent setbacks. 
Warner is definitely not a T20 hitter who happened to make it in the Test arena. He is foremost a batsman capable of performing well in any format.
Blasting away
I first saw Warner play against a strong South African attack which he blasted to all parts of the Melbourne Cricket Ground in his debut T20 international. 
My wife placed dinner on the table and I said, "Sit down and watch this kid, he can really play."
"What," replied Barbara-Ann, "all the fours and sixes?"
"Not just them," I answered, "the way he handles all deliveries—the excellent and the hittable ones."
Shortly afterwards, Warner carried his bat, making a scintillating Test century against a good New Zealand attack where the other Australian batsmen struggled on a tricky Bellerive pitch. That cemented Warner's place as a Test opener and it confirmed his all-round batting ability. 
It also heralded one of Warner's biggest attributes—the courage to play his own way. He had the guts to take on the pace bowlers with the new ball and this is no mean feat. It's something that the ebullient opener should be remembered for in retirement—not many have the courage to not only do it, but to maintain that approach throughout a lengthy career.
Also Read: Labuschagne, Warner hit tons; Zampa claims 4-48 as Australia thrash South Africa by 123 runs
A look at Warner's overall career strike rate in all formats confirms that trait. 
Not long after the explosive opener blasted an exquisite 165 not out in a 50-over match for NSW, a coach wanted Warner to bat at seven. He reasoned Warner could take advantage of the late innings five Powerplay overs that were then available to the fielding side. 
This was stupidity on two counts. As an opener, Warner had a guaranteed 10 Powerplay overs with another five likely. More importantly, it detracted from Warner's amazing ability to win a match in quick time with his belligerent stroke play against the new ball.
There are very few aggressive batsmen who keep an opposing captain awake at night with their ability to virtually win a match in one session. Warner is one of that rare breed.
He is also a smart, aggressive cricketer who would have made a tactically good skipper. A broken thumb in the 2015 tour against England forced him to do a short commentary stint for Channel 9 back in Australia.
It soon became apparent he knew a lot about batting and what bowlers were doing to try and claim his wicket. He was also well aware of how he could overcome their tactics.
Aggressive reputation
It would have been preferable if Warner had avoided the 'attack dog' reputation he gained for on-field verbal jousting in his prime. However, I often wonder how much of that reputation was gained at the behest of the hierarchy.Importantly, Warner hasn't forgotten his early days of stacking supermarket shelves. He's well aware of what his life calling could have been if he hadn't been a talented opener. When that batting talent earned him good money early in his career, he set about looking after his parents financially.
In another admirable example of his ability to learn from life, he's forged a very strong family life with helpful wife Candace and his beloved daughters. Sure Warner—like us all—has made some mistakes. The important thing is he's learned from them and is a better person for those experiences.
Fans will have their memory of Warner, both good and bad. However, they should always remember that Warner had the courage to be an aggressor against the new ball and was a rare match winner for his team.
"Exciting news! Mid-day is now on WhatsApp Channels

Subscribe today by clicking the link and stay updated with the latest news!"
Click here!