Even though the opening batsman is not the player he used to be, he's still good enough to succeed in Australia and should meet his preferred final destination at Sydney in Jan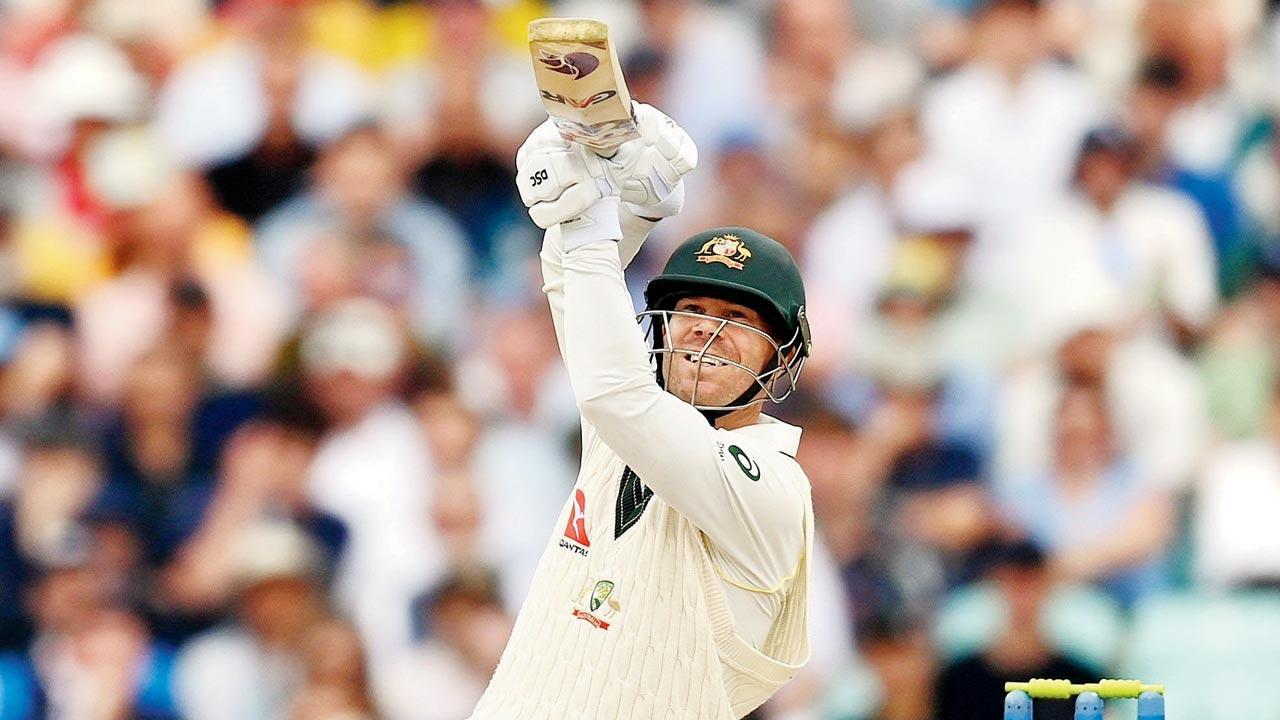 Australia's David Warner hits uppishly against England during the fifth Ashes Test at The Oval in London last month. Pic/Getty Images

David Warner's plight is currently a big discussion subject, but there are actually a number of Australian positions that will require serious attention as the Test team enter a period of evolution.
The cloud over Warner concerns whether he'll achieve his desired Test retirement at the  Sydney Cricket Ground in January 2024. 
ADVERTISEMENT
Warner set himself a challenge when he gamely announced the contest against Pakistan as his final Test appearance. Nevertheless, there are no other batsmen whose strike rate worries opposing captains like the current Australian opener. The three candidates to replace Warner are Marcus Harris, Matt Renshaw and Cameron Bancroft. 
None of them come close to Warner's ebullient style and whoever Australia chooses, it means taking a step back. Even though Warner is not the player he used to be, he's still good enough to succeed in Australia and he should meet his preferred final destination at the SCG.
No more a tough Shield 
Of the replacement candidates, Bancroft is receiving a lot of coverage for his success in Sheffield Shield cricket. The problem with Shield cricket is that it's no longer the competition great West Indies all-rounder Sir Garfield Sobers described in the sixties as, "the toughest in the world outside Test cricket."
Because international players now rarely compete in the Sheffield Shield it's not necessarily the best competition for judging future potential. Despite those deficiencies, the chosen player will have an opportunity to score runs against a struggling West Indies attack and this will be a cosy re-introduction to Test cricket. 
The tour of New Zealand in February 2024 will then provide the chosen player with a much tougher challenge.
 
Renshaw was harshly dealt with when he was previously dropped on poor first-class, rather than Test form. However, choosing Renshaw would still be a gamble as at age 28, he's the only opening candidate under 30.
Where are the openers?
That begs the question, "Where are the skilful young opening batsmen?" This is a major concern when the other opener Usman Khawaja, while extremely successful, will turn 37 during the summer.
The fast bowling trio of Pat Cummins, Mitchell Starc and Josh Hazlewood have mighty records, but the latter pair are now entrenched in their thirties and replacements will soon be required.
So when the Australian fast bowling stocks were decimated last season, why wasn't genuine paceman Lance Morris tested against the West Indies at the Adelaide Oval? It's one thing for Morris to challenge Shield players with sheer pace, but the selectors needed to find out if he could cause a similar reaction at Test level. 
If chosen this summer, Morris would be age 26. Age is important when you consider what the fine former West Indies pace bowler Andy Roberts once said: "You've got to pick fast bowlers while they are still really quick."
Also Read: The name is Broad, rest is pace legacy, my friend!
A fast bowler only has so many years where he's genuinely quick.
Then there is the case of the highly successful Test off-spinner Nathan Lyon. Lyon just suffered a serious injury and he's also bowled a mountain of overs, so his future is clouded. Todd Murphy is an adequate replacement, but he'll need to expand his repertoire to fill Lyon's big shoes. 
The other player whose position was debated in the UK was captain Pat Cummins. Cummins is a good captain but a leader's position is often questioned, especially when the team have a bad day. 
That debate raises the question, "If you demote Cummins who is the next captain?" Former skipper Steve Smith is available, but at age 34 he isn't a choice for the future. The other options are Travis Head, Alex Carey and perhaps Mitchell Marsh, who will all be age 30 or over.
A captain has to be appointed while he still has some peak years remaining so he can provide playing inspiration.
If fast bowler Cummins is injured or unavailable, Australia need to appoint a captain who can eventually do the job in the future. In the meantime, Cummins is by far the most inspirational player in the Australian side and the best man to captain the Test team.
"Exciting news! Mid-day is now on WhatsApp Channels

Subscribe today by clicking the link and stay updated with the latest news!"
Click here!