Simultaneously exuberant and moody, he was made up almost entirely of style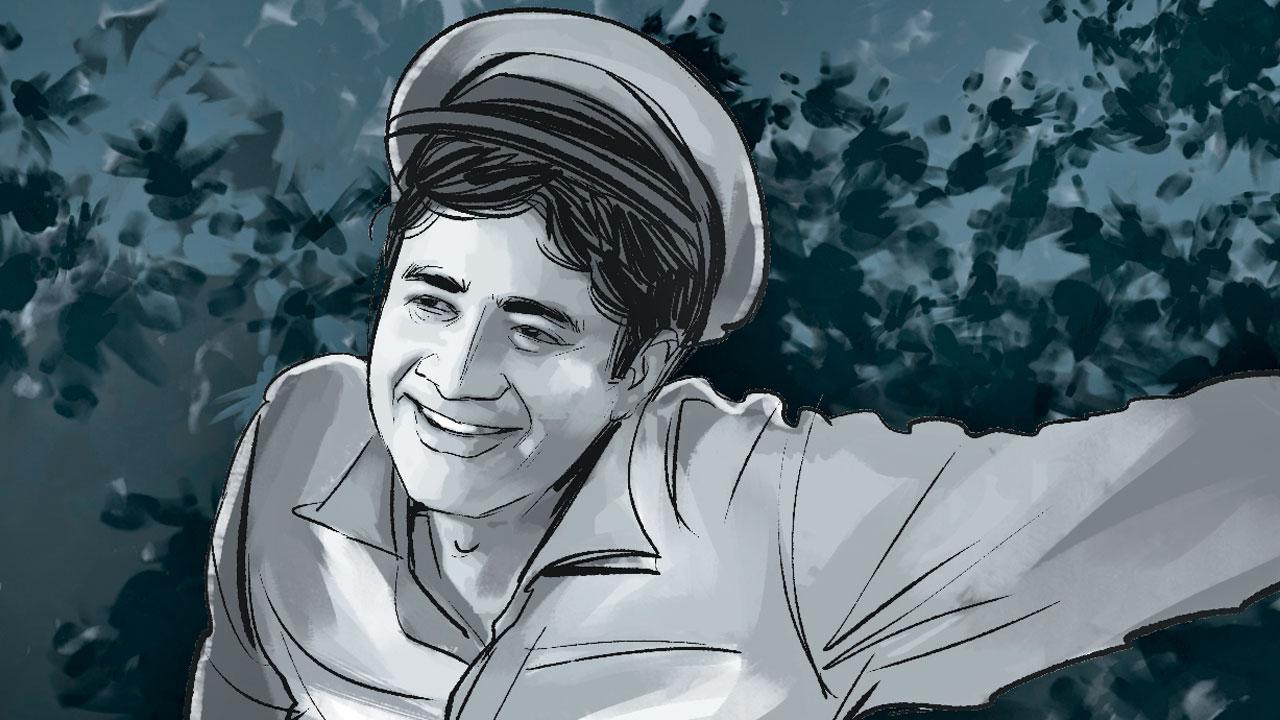 Illustration/Uday Mohite
Listen to this article
Dev Anand's dreamy modernity
x
Dev Anand dreamt himself up, a dream of modernity, quintessentially queer
"I must have looked in the mirror," he replies with only a hint of self-deprecation
As Muzaffar Ali recently wrote of Asha Bhosle, always ready to fall in love with himself

How did you think you could become a movie star, asks Simi Garewal in her wonderful interview with Dev Anand. "I must have looked in the mirror," he replies with only a hint of self-deprecation. 
September 26 marks Dev Anand's centenary and what is it a century of? Dev Anand dreamt himself up, a dream of modernity, quintessentially queer. I don't use the word queer to mean sexual orientation, or even refer to the camp that grew to sometimes dismaying fullness in his declining years. I use it rather, to indicate his slightly ungraspable quality. Simultaneously exuberant and moody, he was made up almost entirely of style. The famous puff of hair, the gangling, dangling walk and dropped wrists, the ruched up jacket sleeves, the gap-toothed smile, the peculiarly declamatory lilt, the quizzical look all added up to urbane heart-throb. 
ADVERTISEMENT
Often asked how he devised this stylised persona, he responded with: that was me, that was how I was. "I'm a city-bred man and I'm not ashamed of it. Sophisticated, liberal. I was full of dreams. I was always excited. I never bothered. I'm a man belonging to the world. I am a detached man. Intelligent, sharp but quiet, a loner and liking it." As Muzaffar Ali recently wrote of Asha Bhosle, always ready to fall in love with himself. So, able to, maybe needing to be alone. 
In a time where the Hindi film hero represented self-sacrifice and nobility in service of nation and family, Dev Anand provided a very different masculinity: urbane, individualistic, romantic, uncategorised. He played a series of essentially itinerant characters, never settling in place, often on the edge of legality and respectability—black marketers, pickpockets, impersonators—but also, taxi drivers, men on the run, cops with flexible morals, paying guests and funtooshes. People interested in money, desire, coolness and the world who had not much use for shame and propriety.
Although famed as a romantic heart-throb, it's my observation that Dev Anand fans were primarily young men—my father certainly was and the fathers of most of my friends. Their reason was simple: style. He gave them a vocabulary of style with which to dream up a different contemporary self, outside of what convention might propose; a poetic self, outside the prosaic ordained destinies and schemas of identity. 
Although acknowledged as significant, Dev Anand often becomes a subject of nostalgia or, is celebrated by a gents-variety cinephile for his part in creating Bombay Noir, which, well, he did. But it is his poetic urbanity which made his persona so influential. It is a cinematic persona, composed of style, rhythm, ambiguity and ambivalence (so elusive in the somewhat blunt cinema of our times) which exists in concentrated form in the songs he himself considered central to his cinema. The romantic ambivalence of "likha hai teri ankhon mein" ('kaise na ho meri har baat adhuri, abhi hoon aadha deewana'), the balletic top-angle walk-dance among sleeping street-dwellers in 'duniya ki gadi ka pahiya, paison ka raja rupaiya', the sexual yearning in Shokhiyon mein ghola jaye's line "har dam kare jo intezar, woh pyaar hai" are filmscapes and dreamscapes composed by many gifted artistes (the directors, lyricists, composers), but rendered into form by the figure of Dev Anand. We revisit them—as he insisted a song should ask us to do—to rediscover ourselves. Our deflatingly literal times, need some of this poetic modernity.
Paromita Vohra is an award-winning Mumbai-based filmmaker, writer and curator working with fiction and non-fiction. Reach her at paromita.vohra@mid-day.com
"Exciting news! Mid-day is now on WhatsApp Channels

Subscribe today by clicking the link and stay updated with the latest news!"
Click here!