How many of us can pull a life-giving plug on a loved one and watch him or her die? Many of us are asked to take that tough decision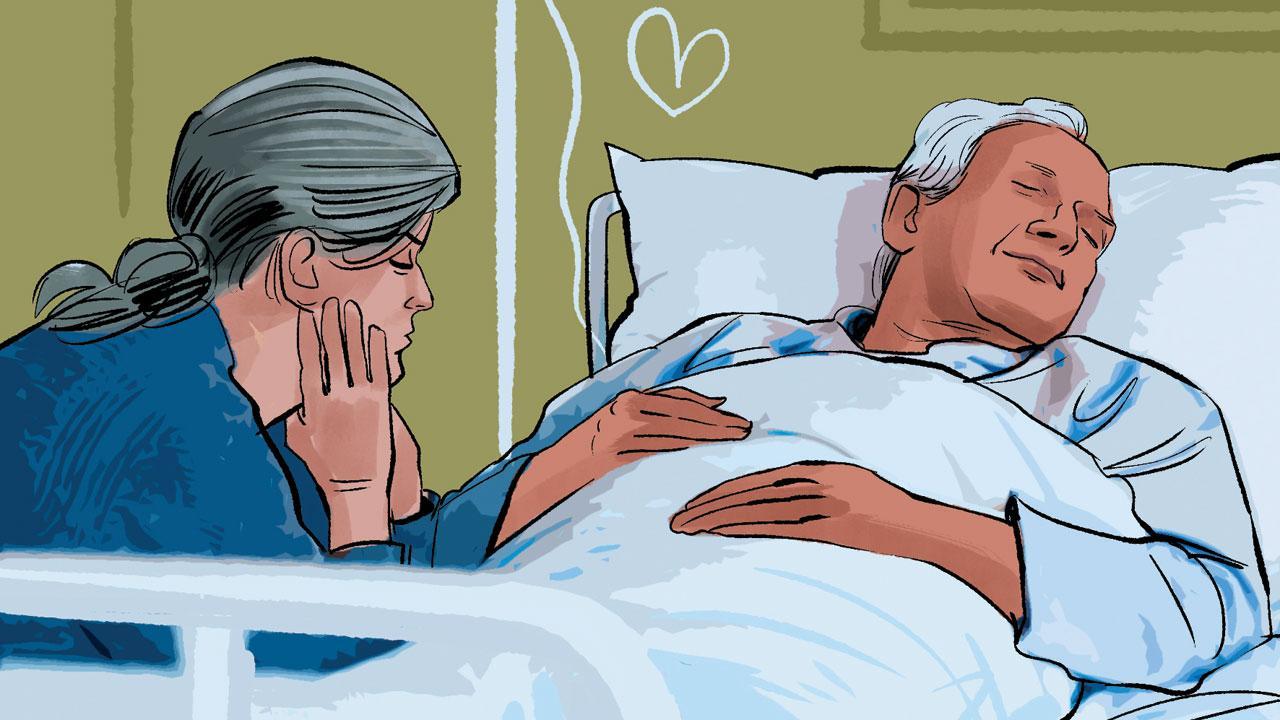 Illustration/Uday Mohite
How many of us can pull a life-giving plug on a loved one and watch him or her die? Many of us are asked to take that tough decision. Mostly, we cannot, and leave it to doctors to decide—it takes away the burden of our guilt. Farida Pacha's documentary film Watch Over Me (92 minutes), is a most deeply moving account of a palliative care team in New Delhi, that visits the homes of terminally ill cancer patients, and tenderly holds the hands of dying patients and helps them cross peacefully to the other world. They primarily help manage symptoms such as pain, psycho-social distress, and grief. In helping terminally ill patients, as well as their families, come to terms with the inevitability of death, the film becomes tremendously life affirming. You understand why such trained care teams are angels of mercy, and why we desperately need many more of them. This film is all the more relevant in the time of COVID-19, when millions worldwide have come closer to death.
"In the end, being there is all that matters," is the tag-line of the film. Maniamma R, Sini Kuriakose and Dr Reena Sharma are a wonderful team of counsellor, nurse and doctor, working for the NGO CanSupport, a palliative care organisation in Delhi. They do regular home visits, providing medical and emotional support to the patients and families, here Meherchand, Munni Devi and Hanif. They ease the grief of families when loved ones quietly become photo frames on the wall.
The documentary, a Switzerland-Germany-India co-production, is in black and white, and in Hindi and Malayalam. The film screened at the Solothurn Film Festival, Switzerland, and will play at the Berlin Critics' Week next month. It was officially selected at the Mumbai Film Festival's India Gold in 2020, though the festival did not take place because of COVID-19.
Mumbai-born, Milan-based Farida Pacha, who studied filmmaking in the US, is an accomplished documentary filmmaker. Her previous work includes the wonderful My Name is Salt (on workers who extract salt from the Rann of Kutch desert, Gujarati, 2013), The Women in Blue Berets (on an Indian, all-women police contingent of the UN peacekeeping operations in Liberia, West Africa, English, 2012), and The Seedkeepers (on Dalit women's collectives practising sustainable farming in Andhra Pradesh, Telugu, 2005).
Watch Over Me also helps you understand the meaning of life—of existence itself—differently. Can the patient whisper to you? Can he swallow a spoon of water? Can she get sleep? Such are the minutiae that mean everything at the border of life and death, when there is little to do but wait. In India, we avoid uttering the C-word (cancer) or D-word (death) before the patient. Dr Sharma tells Meherchand with quiet firmness, that he has cancer, and not long to live, but they will care for him at home, so he is more comfortable. Later, the son gratefully tells the doctor, "Papa had been restless until you told him. After that he was very calm." When a daughter begs for her mother's life to be prolonged, she is advised, "She will live maximum a week longer, but that's just for you, not for her; it's only agony for her body." Very few are lucky: Hanif recovers well, and even goes back to work. In most cases, the families are grateful for the team's intervention: "She went easily, without pain… ahsan hi hai (we are grateful)."
Pacha's direction is absolutely assured and unobtrusive.
Lutz Konermann's cinematography is discreetly intimate, by the side of the dying and the medic team, witnessing heart-breaking decisions. As a black-and-white film, it pares all distractions and focuses on essentials. Pacha's screenplay and Katharina Fiedler's editing are spare and effective. Pratik Biswas' location sound is superb, and composers Dürbeck and Dohmen gently, musically hold our hands too. The film is produced by Leafbird Film, Ventana-Film and Video Without Borders. Don't miss this film whenever it's released. Jana toh hai, as a character says: go we must.
Meenakshi Shedde is India and South Asia Delegate to the Berlin International Film Festival, National Award-winning critic, curator to festivals worldwide and journalist.
Reach her at meenakshi.shedde@mid-day.com