Bharat Floorings and Tiles celebrates its centenary with an exhibition that comprehensively traces an iconic timeline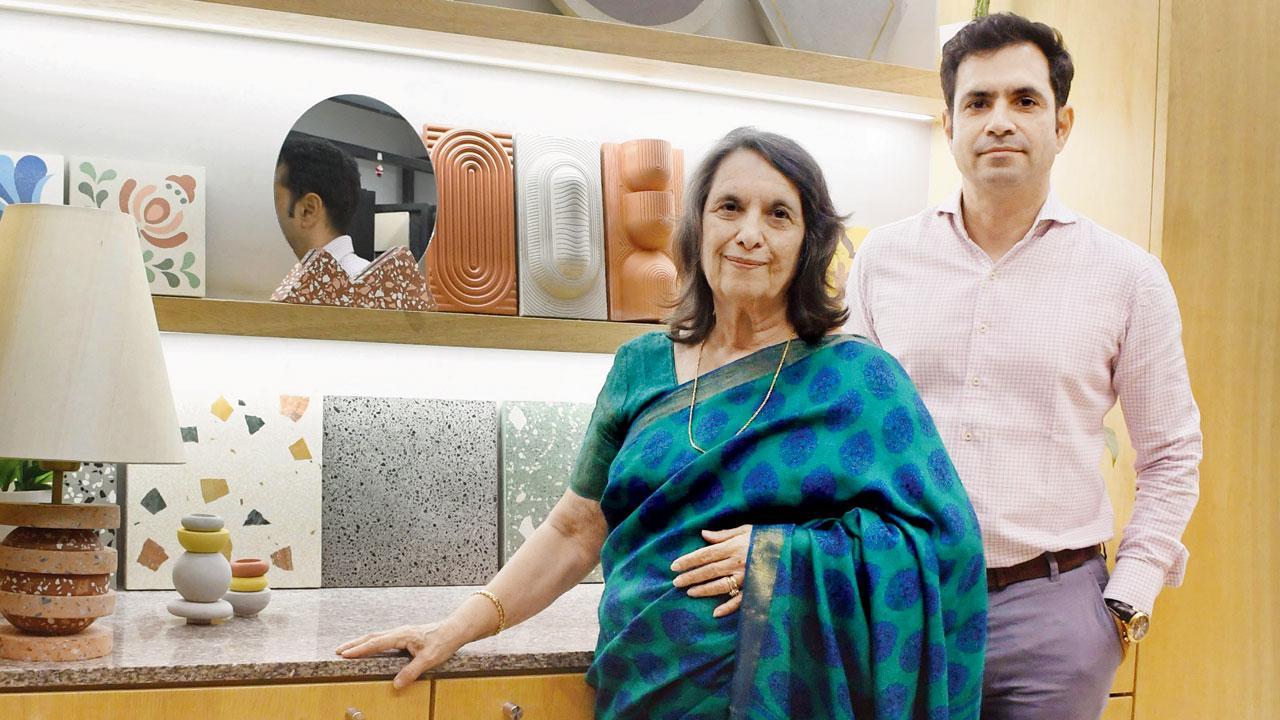 Dilnavaz Variava and her son Firdaus at the Bharat Floorings and Tiles office, Fort. Pic/Ashish Raje

Their floors last for as long as the buildings in which they are laid. When that kind of staying power spans a century, it spurs justifiable pride. Dilnavaz Variava and her son Firdaus radiate this in their office at Fort, from where he steers the Bharat Floorings and Tiles enterprise, established by Dilnavaz's father Pherozesha Sidhwa and his nephew Rustom Sidhwa.
In the sleepy beach village of Suvali near Surat, Pherozesha was the fifth of six sons born to Hormusji Fakirji, who worked in a distillery on the Mora coast of Uran. Boats would sail in carrying Bombay picnickers looking forward to the revelry afforded by liquor from local mogras, roses and oranges. The British shutting such breweries to promote their own in 1918 left those factory sheds vacant and fisherfolk without incomes.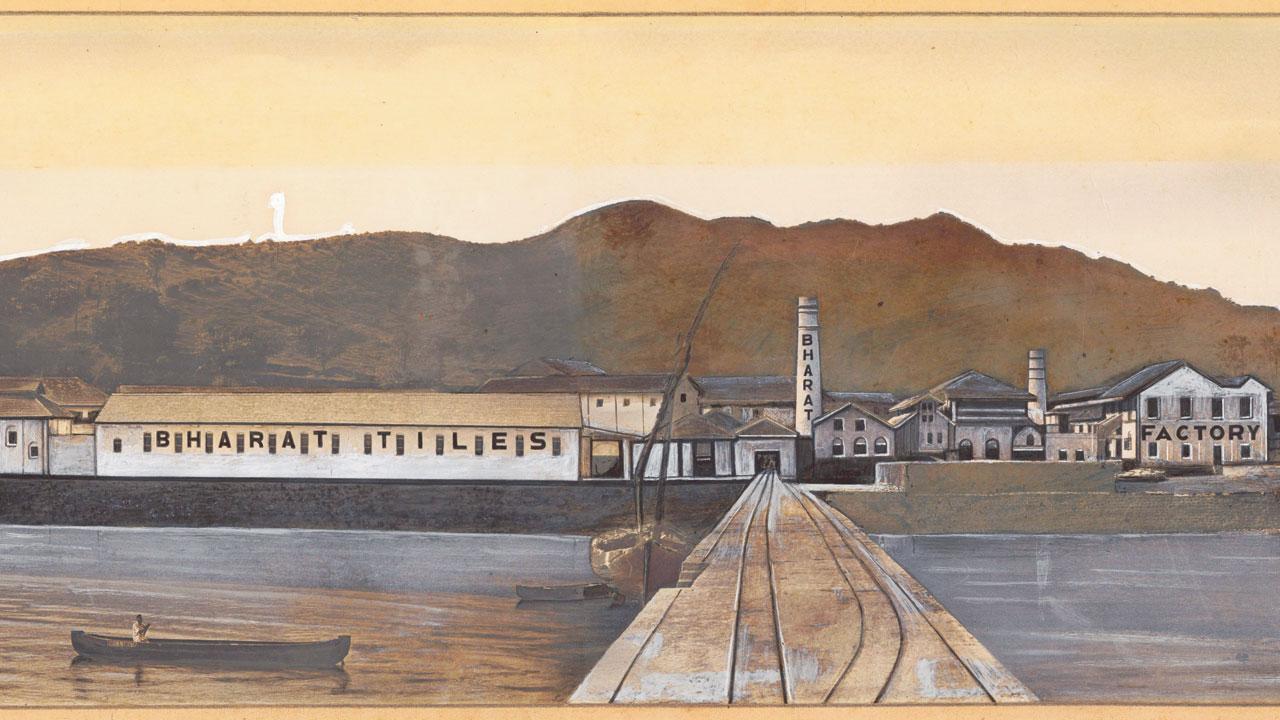 Uran factory sketch
The stage was set for a strong entrepreneurial flair to spark in Pherozesha, then carving a sedate law career. While the eldest brother Dhunjisha ran liquor shops in Bombay, Dinsha the architect brother went to Karachi. Visiting Dinsha there, Pherozesha met the port town's prominent businessman and staunch nationalist Jamshed Nusserwanji Mehta, who soon mentored him. 
Pherozesha was urged by Jamshed to work for India's economic independence from the British. As a solicitor, he reasoned, Pherozesha would employ about a dozen jobbers. A business helped hundreds. At 26, Pherozesha chucked chances of a thriving legal practice to instead partner Dhunjisha's son Rustom at work he knew next to nothing about, but was determined to learn quickly by experience.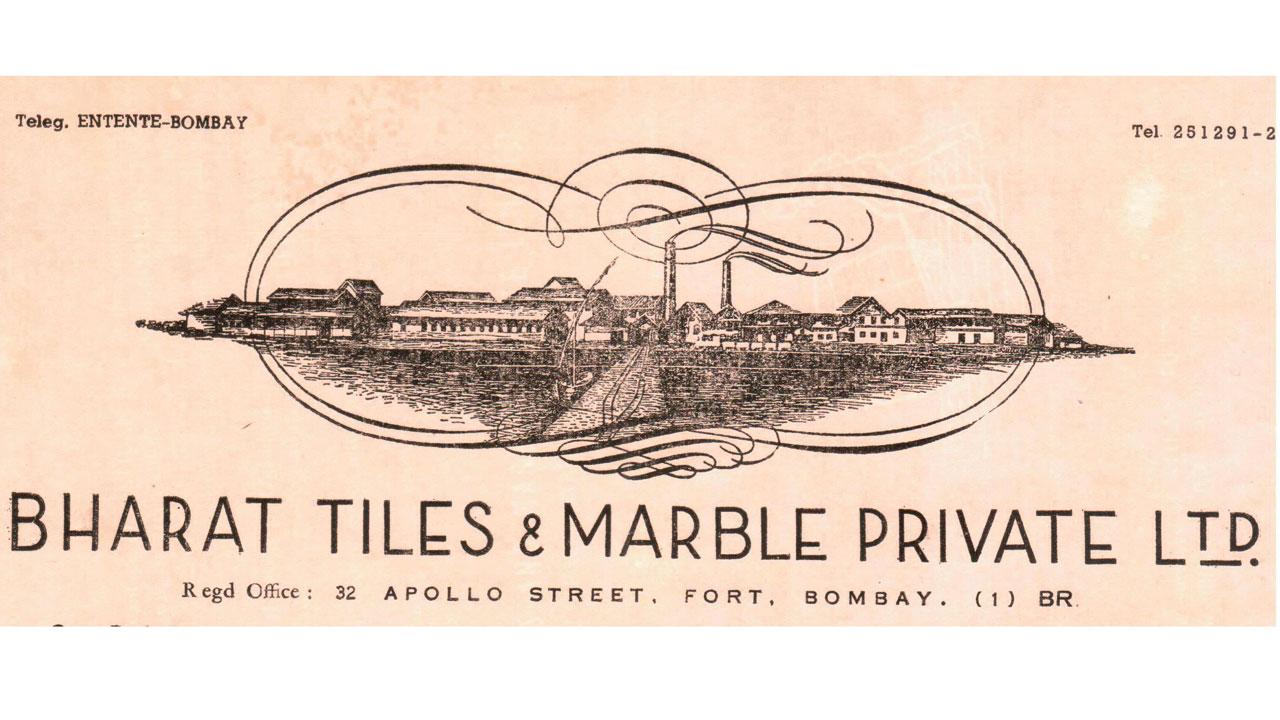 Logo with the firm's earlier name
"Almost the same age, with aid from their partner Jamshed's small-scale Nusserwanji Tiles factory in Karachi, uncle and nephew commenced operations in Bombay in 1922," recalls Dilnavaz. "They began with a pair of basic Italian weight presses at the little shed in the Uran wilderness, because nearby Bombay monopolised foreign tiles imports, a situation draining the country. Contributing to the freedom struggle, they replaced Minton tiles with their coloured cement ones, patriotically imprinting the map of India [Bharat] on the reverse of each."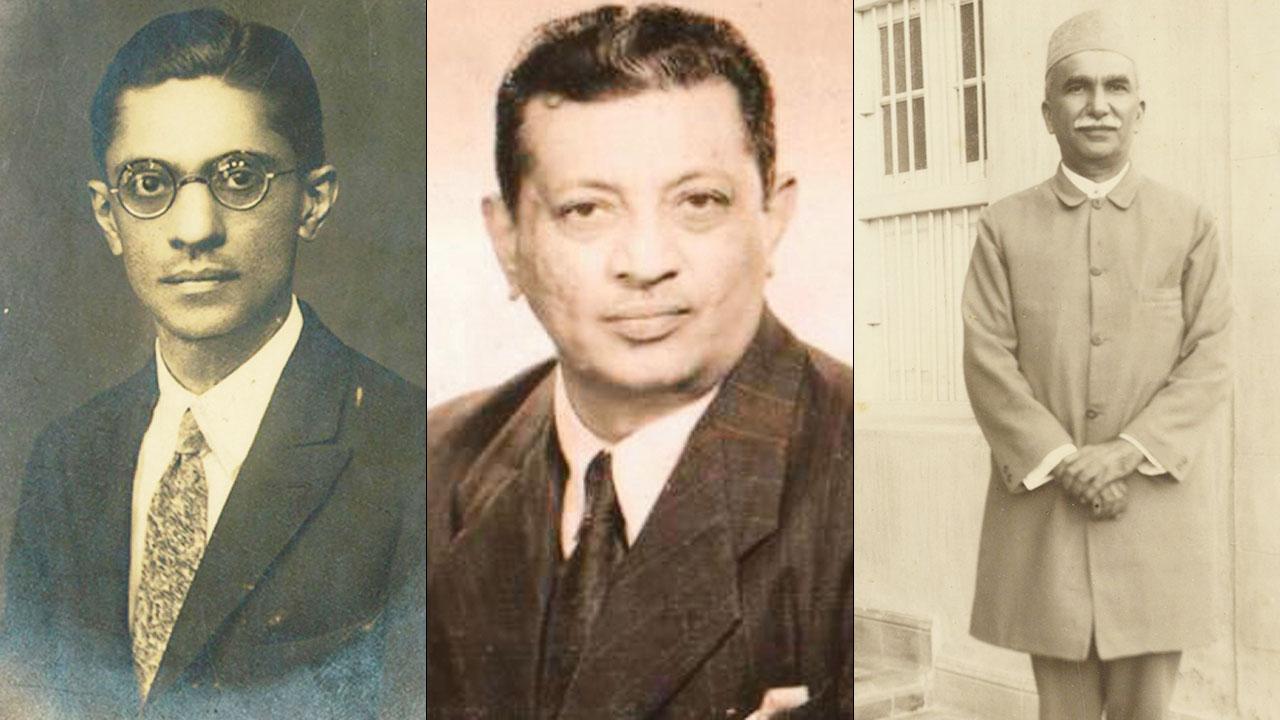 Pherozesha Sidhwa, his partner Rustom Sidhwa and mentor Jamshed Mehta
Unprecedented sales snags dogged their progress, including the difficult overnight surrender of every last cement bag for British defence purposes. Minton clay tiles, shaped as tiny squares, triangles and hexagons, were challenging to lay and could not be polished when the initial glaze succumbed to wear and tear. Hell-bent on discouraging diehard purchasers of overseas products, Bharat Tiles persevered, putting on the market Minton-type tiles in carpet patterns at half the cost of the international. "Ironically, even the British rulers bought these Swadeshi tiles," Dilnavaz shares. "Though importing merchants panicked, Bharat's directors worried that their tiles might need replacement after 25 years."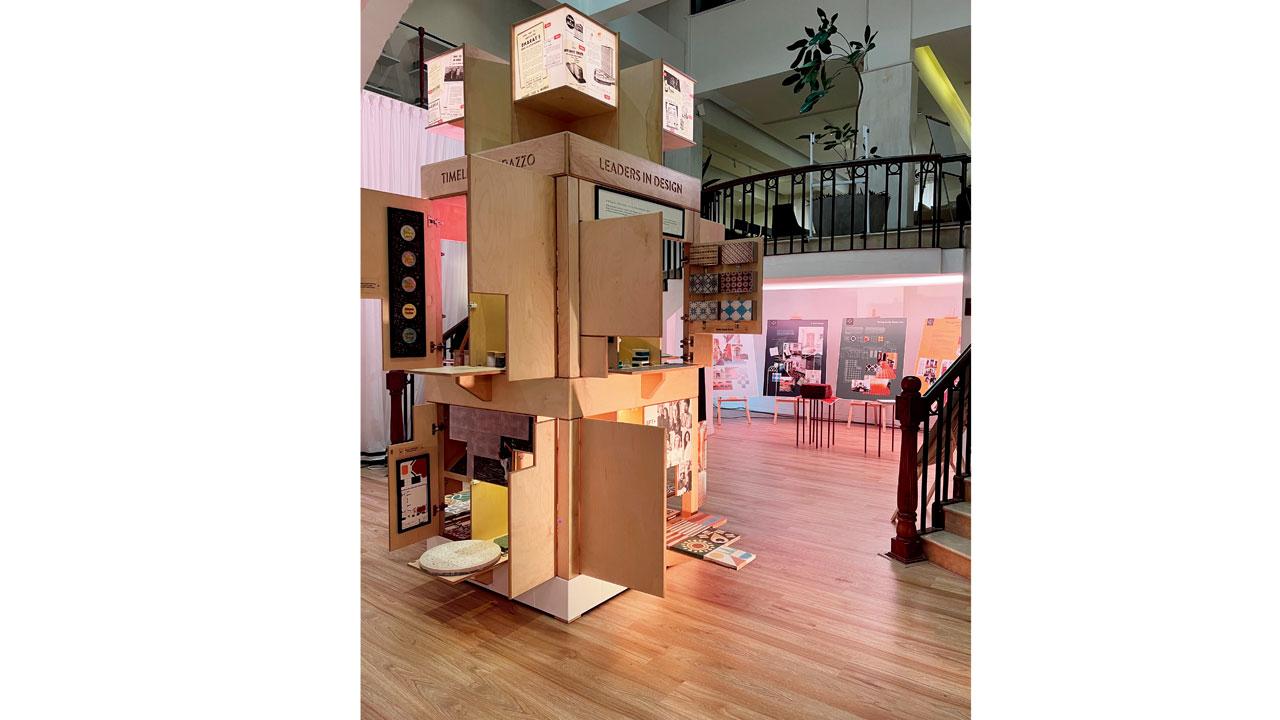 The Cabinet of Curiosities exhibit tracing Bharat Tiles' history through artefacts. Designed by The Busride Design Studio
Discarding, with typical integrity, a huge stock amounting to Rs 57,000 (a colossal loss for the times), the company despatched two representatives to tour Europe and America. They returned after a detailed study of impeccable global standards in finish and durability. Updated with the latest German and Italian technology enabling effective moulding, compressing and hydrolysis, they struck ideal results with a homespun formula that adapted existing wet, dry and semi-dry cement mixing procedures. Test-approved from Italy, Bharat Tiles confidently and with authenticity claimed the selling line "Equal to the world's best". Another honest assurance was "Dream floors that endure".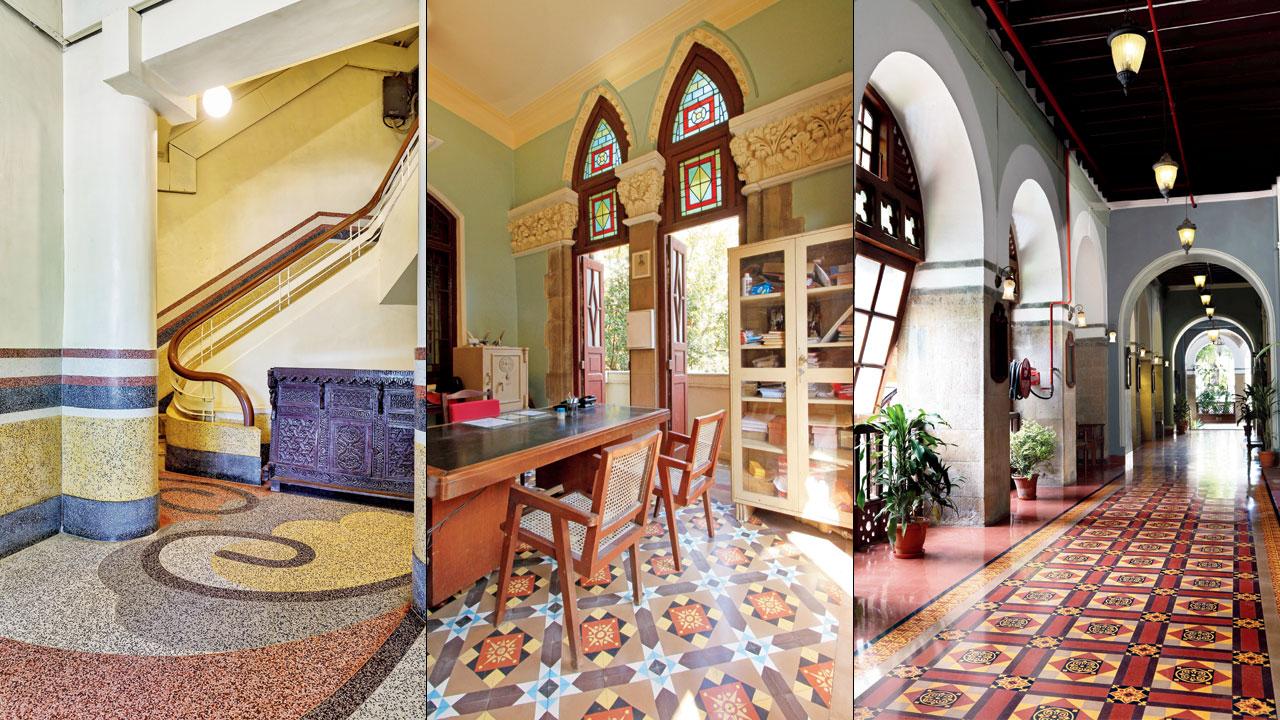 The still striking in situ terrazzo lobby of a 1930s bungalow. (left) The JN Petit Library at Fort (right) Entrance passage of Royal Bombay Yacht Club, with flooring intended to replicate the original Minton. Pic/Pulkit Sehgal, Allan Fernandes and Hashim Badani
The Trade and Technical edition of Indian & Eastern Engineering, dated September 1925, observed: "India has imported annually from Europe flooring tiles of baked clay worth considerable sums of money. Of these, Italian and red Marseilles are principally made for export. Two years back, Bharat Flooring Tiles of 20 Apollo Street, Fort, started manufacturing cement tiles in attractive designs. Within short time the management of the Company has placed their industry on a sound footing by unceasing efforts to improve their quality. Bharat Tiles, both on account of weight and composition, do not bulge once fixed, a complaint levelled against clay tiles, particularly in reinforced concrete buildings. The greatest advantage is that they much improve in polish with use, to acquire a sort of glaze thereon."
Elegant structures countrywide bore the Bharat stamp—clubs, palaces, museums, temples, cinemas, universities, stadia, banks and airports to fine private residences. The city has had the privilege of flooring at Ballard Pier, Victoria Terminus (CST) and Bombay Central stations, the Watson's Hotel, the Ritz and Taj Mahal's Crystal Room, the High Court, Reserve Bank of India, Raj Bhavan, JN Petit and Bombay University libraries, the Regal, Metro, Roxy and New Excelsior cinemas, Old Stock Exchange, East India Cotton Exchange, Indian Express and Air India buildings.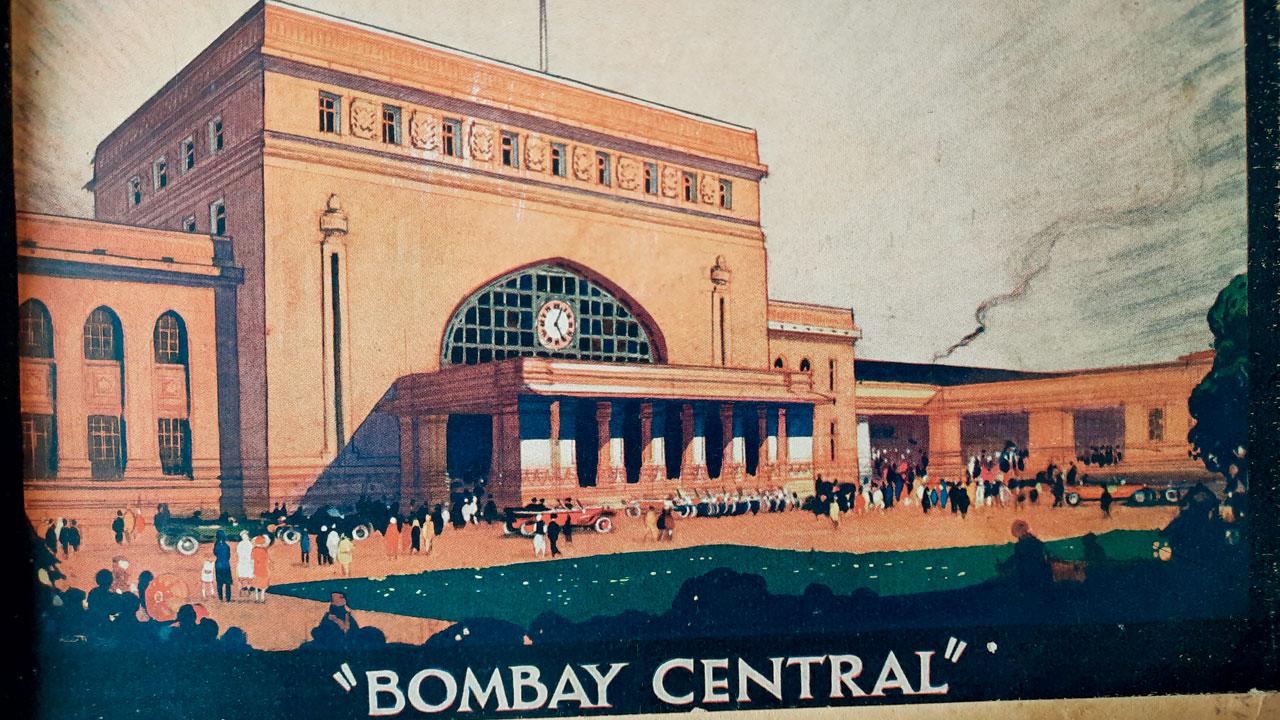 BB&CI Railway souvenir announcing Bombay Central Station opening highlights that the marble mosaic flooring was supplied by Bharat Tiles Co
To a layman's eye, all floorings appear similar. Yet, the perfection of ingredients of the "topping" layer (comprising cement, marble or dolomite powder, colour and mosaic or marble chips) remains as vital as the expert care and control with which the tiles are manufactured, installed and polished. Saluting Bharat Tiles' far-reaching services, Claude Batley, during his presidentship of the Indian Institute of Architects, declared them industry pioneers, credited with strenuous efforts at bravely foraying into a competitive field.  
A souvenir the BB&CI Railway published when Bombay Central Station opened on December 18, 1930, by the governor Sir Frederick Hugh Sykes, reads: "The flooring throughout the building, with the exception of the Concourse Hall surfaced with asphalt, has been carried out in marble mosaic supplied by Messrs Bharat Tiles Co."
Covering the occasion, The Times of India lauded the indigenous achievement in a report titled Flooring Tiles: An Indian Industry. "Nearly the whole building, admeasuring 70,000 sq ft, is paved by The Bharat Tiles Co., in different colours and artistic designs, which have deservedly earned a very high reputation. Their factory is the oldest in India, equipped with most modern machinery, run by experts who have recently been to the Continent and America to study latest improvements in tiles best suited to Indian climatic conditions. Their marble mosaic terrazzo tiles, especially in the 1st and 2nd class waiting rooms, staircase, main hall staircase dado in situ lounge, buffet room and counters are made from high-class Italian marble chips. The checkered tiles used for heavy traffic are especially suited for porches, platforms, etc."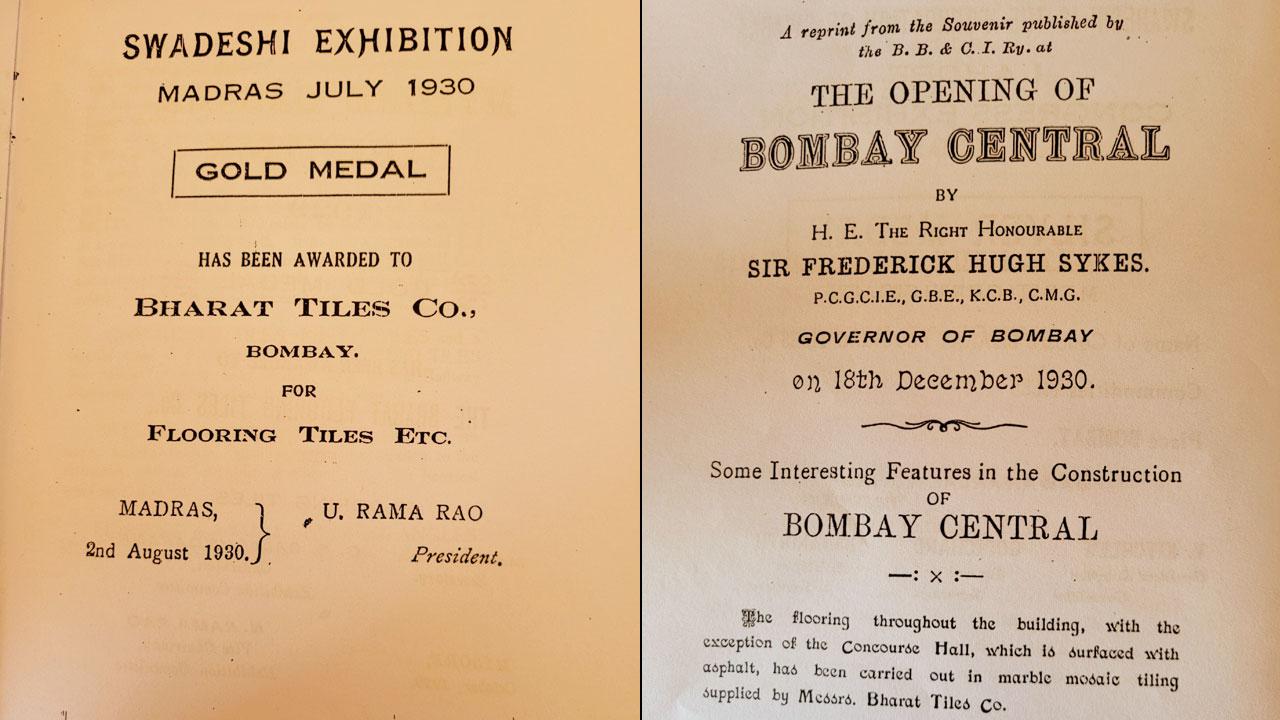 Certificate of merit awarded to the company at the 1930 Swadeshi Exhibition, Madras station. Image courtesy/Asiatic Society of Mumbai
Maintenance was a key issue the firm addressed as well, advertising "Bharat Cleaner—non-poisonous and free from acids" to impart an enduring sheen. Adhering to stringent standards of excellence could not fend off setbacks dictated by changing trends. The 1930s Art Deco movement marked a shift from handcrafted to marble mosaic tiles. Bungalows gave way to apartment blocks, builders inevitably cut corners. Sound practicality saw the launch of a fresh product, unmatched for durability. Bharat developed the heavy-duty Stilan tile, with an ingredient next to diamond in hardness. Its non-slip utility value was adopted at leading factories such as Godrej, and at the Breach Candy Club pool and CST Station where it has withstood lakhs of footfalls over decades.
The tide turned again fortuitously in 1999. The Kala Ghoda Arts Festival, introduced that year, concertedly bid to revitalise the precinct's cultural legacy. The company was invited to restore its Italian moulds for reviving the tradition of floor art. While there were less than 10 vibrant, jewel-like colours in a 1920s catalogue, the supplementary collection of 28 mutedly glowing shades was intended to fit contemporary lifestyles. Never seen before on cement tiles, these pleased interior decorators and considerably expanded the client base. 
The idea to recapture the handmade patterned range for an exclusive exhibition outlining the history of flooring in India, succeeded. "If the elite selected richly patterned tiles, the desire for a unique designer floor was met for all clients. For many people to enjoy a Bharat floor, we tailor the choice of heritage and plain tiles to keep costs within their budgets," says Dilnavaz.  
Lightly engraved tiles were retrieved from a treasure trove of original stencils forming the Royal Engravings line, named for delicate engraved surfaces once installed in palaces and churches across the country. The smooth sheen of Bharat tiles, unlike the hard shining finish in ceramic floors, grew steadily popular at innumerable domestic and corporate spaces. 
To honour its 100th year, the current display extends from Bharat Tiles' archival finds to new products and avant-garde experiments, besides unveiling the Centenary Collection of Tiles. "We understand every home is custom-designed according to its owner's personality," says Firdaus, explaining the availability, applications, permutations and combinations of designs and materials such as micro cement and Turkish-inspired wall claddings that literally stand out as examples of "soft Brutalism"—tweaking a capsule-shaped architectural design for Indian interiors.  
The possibilities are endless, the results cherished by multiple generations. Firdaus adds, "Bharat Floorings creates the future, with one eye on its illustrious past at this exhibition. We want to showcase the history, but also the fact that we are not trapped in our past when we create a future for the company."
Author-publisher Meher Marfatia writes fortnightly on everything that makes her love Mumbai and adore Bombay. You can reach her at meher.marfatia@mid-day.com/www.meher marfatia.com