This paper visited the spot one evening to see at least 30 people, including minors, consuming alcohol. The crowd gradually increased with every passing hour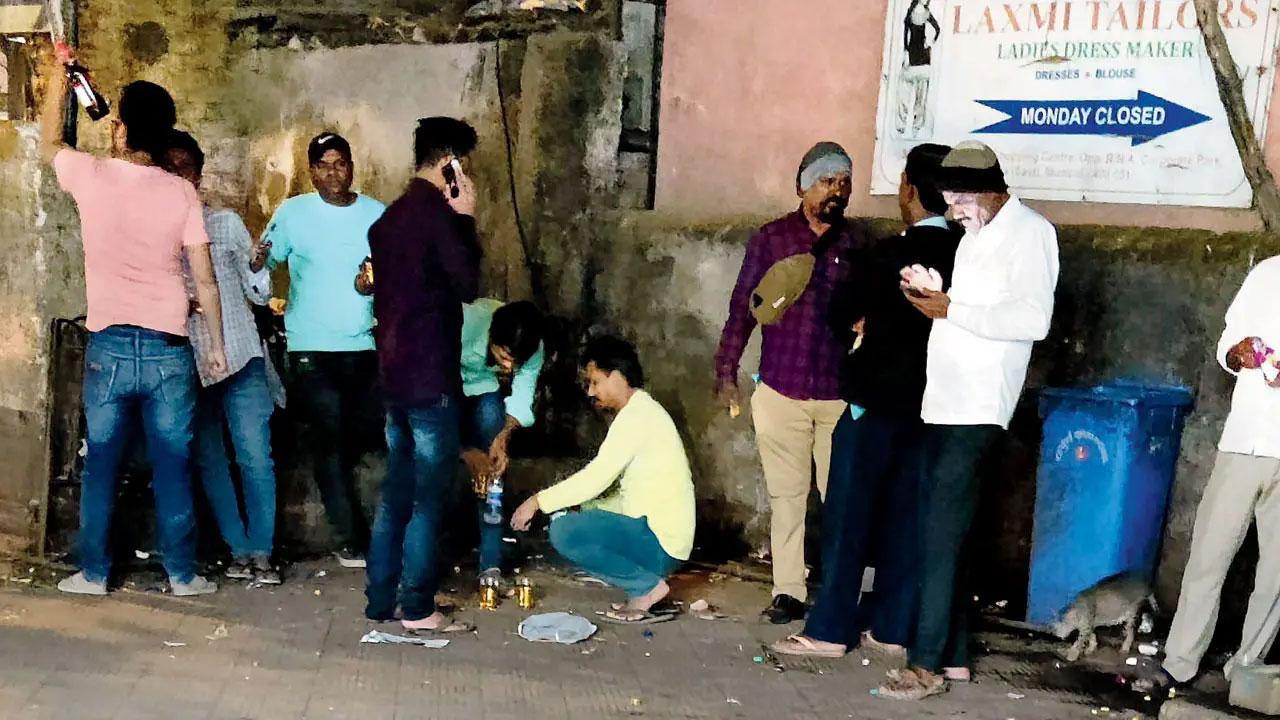 People drink liquor openly near the collector's office at Kala Nagar in Bandra East on Sunday. Pics/Nimesh Dave
A footpath outside the oldest department store in the city transforms into an open bar every evening—according to a front-page report in this paper—with large groups drinking in the open till late night. Fried snacks and boiled eggs are being hawked as accompaniments.
This paper visited the spot one evening to see at least 30 people, including minors, consuming alcohol. The crowd gradually increased with every passing hour. It seemed like a party, with some people shaking a leg with those drinking. Small shops acted as ancillaries by selling snacks and glasses to the tipplers. There was a hawker who even hilariously claimed that people preferred eating boiled eggs with drinks as they are considered healthy. Yet, the fact that liquor is unhealthy did not seem to occur to this person or the people who seem to be consuming eggs for health reasons.
A visit to a spot in Bandra after sunset revealed a similar scenario. 
We need authorities to clamp down on the menace as there are chances of fights, dangerous driving and disorderly conduct occurring after drinking.
The bigger story here is the takeover of our spaces. Here, it is about open bars. Sometimes, footpaths have been transformed into full-fledged eateries. Tables and chairs block the entire space with the patrons having their fill while the cooking happens on one side and servers bring dishes to the table.
Shops spring up at corners—from one shop it becomes two, and then three. And soon, we have a footpath shopping centre.
Some footpaths have also become storage spaces with boxes, bags and other paraphernalia chained to posts and stored there.
Structures jut out in public spaces. Drinking, though serious, is part of a larger problem: the notion that the footpath is free for all to conduct any business or ply any trade.