The OG supermodel Mehr Jesia, and new kid on the runway block Myra Rampal, celebrate friend Surily Goel's 20-year design journey with the renewed vow to travel stylish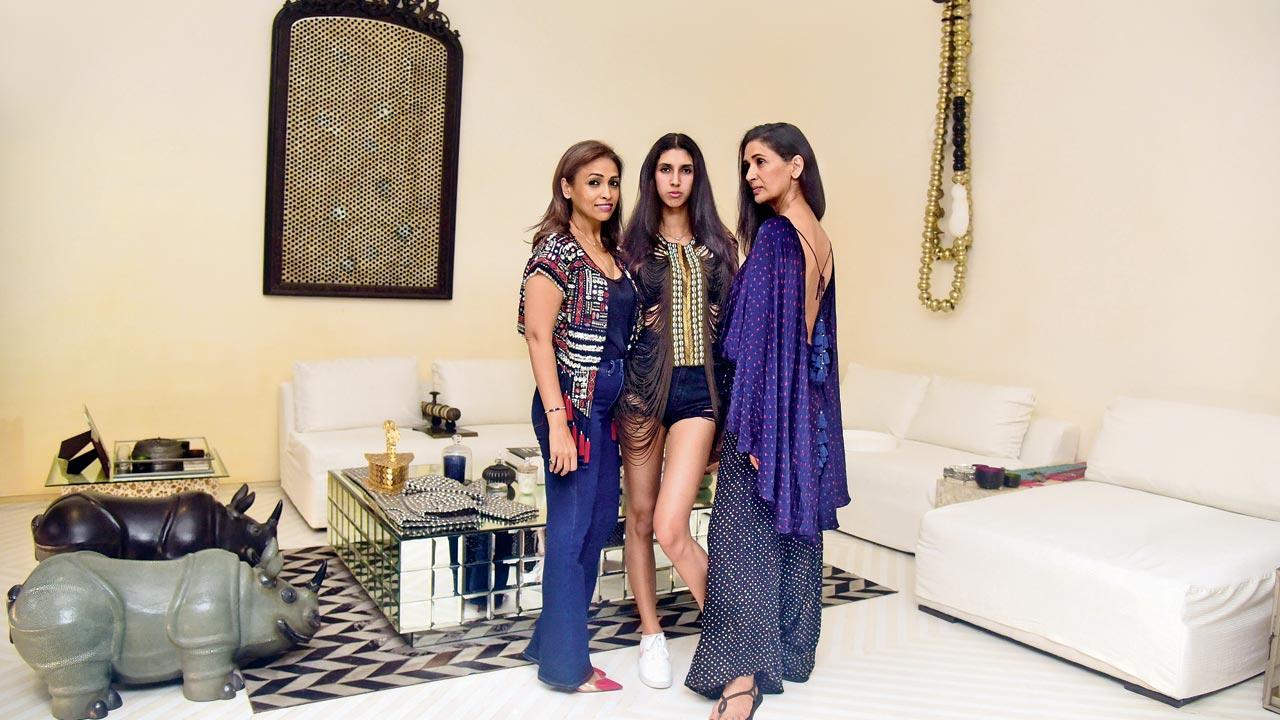 Designer Surily Goel with India's original supermodel Mehr Jesia and her daughter and model Myra Rampal at the former's Bandra residence. Pic/Shadab Khan

Not everybody has a supermodel as their BFF. Surily Goel, the designer of the namesake boho-luxe label who chose to take a sabbatical in 2014, simply could not dodge a request from Mehr Jesia to make an outfit. "I had switched off from fashion to focus on my health and was exploring other creative avenues. I told Mehr that I had lost confidence and could not go back to designing. I didn't even have a tailor," Goel recalls.
But Jesia was in no mood to relent. One dress turned into a capsule collection, with Jesia setting up a meeting with Tina Tahiliani Parikh of multi-designer boutique 
Ensemble. "That's how I returned to fashion in 2016." For her, Jesia is the sum of multiple adjectives, ranked thus: family, BFF, muse.
ADVERTISEMENT
It is just another Saturday at Goel's Bandra residence, but every corner looks ultra-glam. Both Jesia and ex-husband Arjun Rampal's 18-year-old daughter Myra are dressed in Goel's designs. "What I am wearing is one of my favourite Surily pieces. She made it 12 years ago; it is timeless," says Jesia, before drawing attention to the backless tie-dye blouse and hakama trousers she's carrying off. Myra's outfit offers a flash of delicate drama with long swoops of cord fringe, mirrorwork and cowrie shells. "I am partial towards comfort wear and prefer solid, clean lines over sparkly clothes. I am like mom," Myra smiles. "But it is fun to dress up too and step outside my comfort zone."    
Designer Surily Goel regards India's original supermodel Mehr Jesia and her daughters Mahikaa and Myra Rampal (in the frame) her family. "They are my safe place." Pic/Shadab Khan
We are meeting to chat about Goel's resort label celebrating its 20th anniversary. Of this, Jesia has been part of it for 18 years. A social media campaign is being planned to celebrate the platinum milestone. Photographed by Rohan Shrestha and styled by Anaita Adajania Shroff, it stars Neetu Kapoor, Mallaika Arora, Preity Zinta, Sussanne Khan, Bhavana Pandey, Mozez Singh and Jesia with daughters Myra and Mahikaa. "The idea was to encapsulate the brand's journey, its past, present and future. My work gave me a community, my friends, and this campaign is an ode to them," Goel declares.
She had her first brush with all-things glam when she worked with the designer to Bollywood stars, Manish Malhotra. She launched her own label in 2003 and quickly gained fans and customers, showing her resort collections at fashion weeks.
Also read: Outside the textbook
She flirted briefly with Bollywood when she styled actor Preity Zinta in Salaam Namaste, Jaan-E-Mann and The Last Lear. "I remember Su [Surily] as someone who started her design career with films, and those experiences intuitively seeped into her earliest collections," Jesia observes. "We both love beach holidays. Travel experiences inspired her to very quickly and successfully move from designing with a Bollywood mindset to designing clothes that have a free spirit and are made for travel or a party, and not as fitted as ghagra cholis. She stayed focused until she found her own voice."    
Surily Goel and Myra Rampal
"I fell in love with sartorial wanderlust and the idea of freedom and fabric. I am a gypset; a gypsy who likes to travel well," adds Goel. Here, she hops a beat to credit Malhotra for encouraging her to pursue resort wear. The ever-blooming destination wedding market also brings in steady business. "[But] I am never the bride, or the family. I am the friend of the bride; the fun friend who wants to stand out," laughs Goel.  
Play clothes and evening dresses, the backbone of holiday wardrobes, have become an important segment for most businesses. "When I started, resort wear was a niche. It is mainstream now," says Goel. Led by the late Wendell Rodricks, the resort crew in India included Monisha Jaising, Malini Ramani, Saviojon Fernandes and Goel. "Malini and I routinely got paired for shows since we shared a great synergy." For nearly 20 years, Ramani became the go-to designer for those who craved a vitamin-C boost of the Woodstock-meets-Pushkar fair-meets-Goa flea market vibe. In 2020, she announced her retirement from designing.   
Historically, Chanel was the first designer to introduce resort collections in 1919. It was a mid-seasonal course of loose-fitting kaftan and tunic silhouettes and scandalously unsheathed dresses by Coco Chanel for the society brunch. Later in 1949, Emilio Pucci would open his standalone boutique in Capri, Italy. He is credited as one of the first designers to create kaleidoscopic colour prints that became an instant hit with the jet set.
Resort wear is suddenly everyone's business as the concept of holiday dressing began merging with everyday dressing. While a decided loosening of the silhouette set the pace, it was actor Sonam Kapoor Ahuja who was possibly responsible for bringing a directional change in the resort narrative with the ultimate holiday mascot, kaftan. "When Sonam wore a kaftan for her wedding after-party, everybody rushed to embrace the garment for special events. I sell kaftans for Eid, and I would happily dress in one for a Ganapati puja," says Goel.   
That Instagram-savvy consumers are seeking out outfits for travelling and Portia's Gen Z vacation wardrobe in The White Lotus (HBO) have colluded to create a year-round opportunity for designers and retailers. "Social media has changed the game for fashion," says the designer. Goel displays nonchalance when asked if she is feeling back-to-school nerves. "Funnily, no! Because I am a part of this younger generation, mentally. I don't mind saying that I like women who prioritise fitness. They are motivated to look good for themselves. I love making sexy clothes for them; that is my language, my thought-process. Why fix something that isn't broken?"    
Jesia gets the last word: "Surily brings a dash of masti by not taking fashion too seriously."
In her own words
Myra Rampal on modelling, mother and movies
Who is your fashion role model?
"Italian model, Vittoria Ceretti. I love her style because she makes sure she is comfortable in whatever she is wearing, which is one of the key drivers for me."
Do you turn to your supermodel mother for tips?
"She is my mum, first. I don't see her as a supermodel. She retired before I was born. Having said that, when I walked my first runway for the recent Dior show, she offered a few tips. I said okay, chalo, let's do this. But when I got the casting call, they told me to unlearn everything I had learned."
Any plans to join Bollywood?
"I am only 18, and my headspace is invested in runway modelling. I want to stick with the ramp and hopefully move abroad to pursue it because I feel models are taken more seriously there. I am not getting into acting; that is my sister's [Mahikaa] dream. Ramp is exciting. I love the adrenaline rush before getting on the runway; it's akin to a rollercoaster ride." 
"Exciting news! Mid-day is now on WhatsApp Channels

Subscribe today by clicking the link and stay updated with the latest news!"
Click here! Are you thinking of getting a cosmetic surgery done?