Then, recently, aisich, I signed up for a Mahakali Caves walk organised by Go Hallu Hallu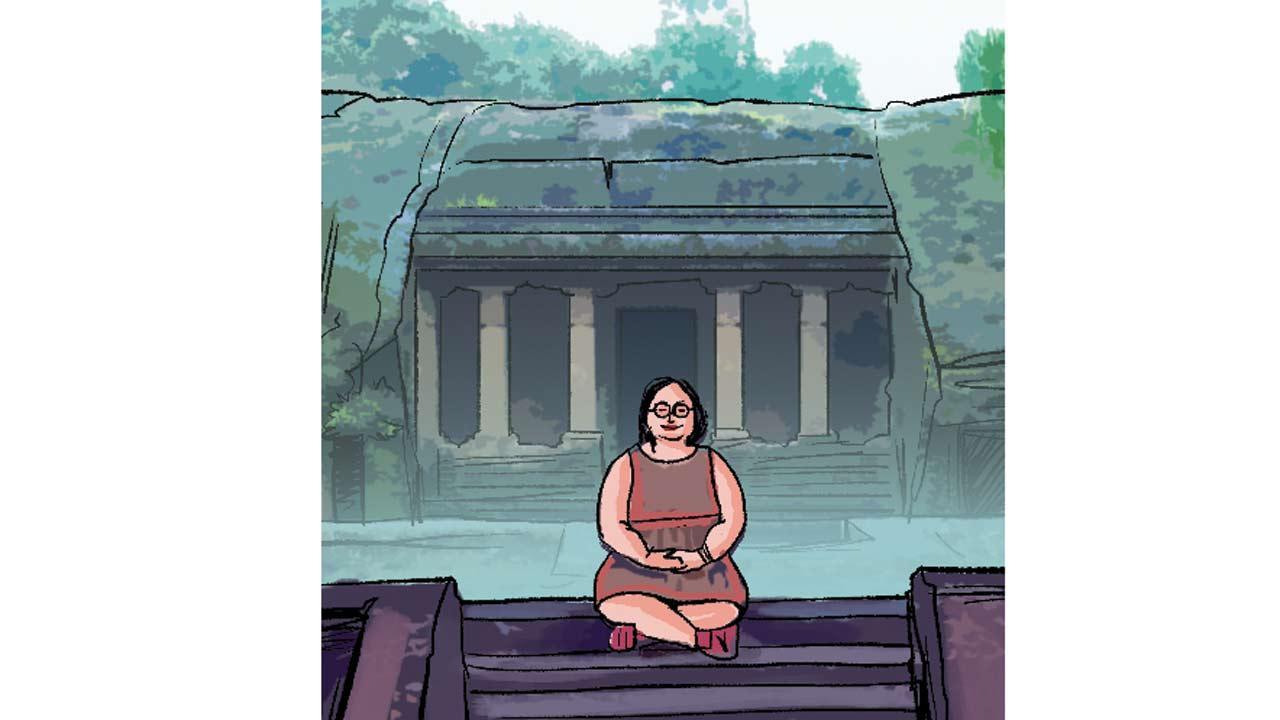 Illustration/Uday Mohite

This summer, I complete 30 years of living near the Mahakali Caves. I visited them once, when I first moved, and found them smelly and dull with neglect. But, over the years I've loved passing by the mystery and the poetry of the 3,000-year-old Buddhist Kondivita Caves holding millenia in their mouths, sitting alongside modern bastis and auto rickshaws.
Then, recently, aisich, I signed up for a Mahakali Caves walk organised by Go Hallu Hallu. I was enchanted to discover the caves restored, signs, pebbled paths, a garden and in it, thanks be, the mandatory romantic couple–what's a heat wave when you burn with love and don't have own-place?
On the hazy horizon, framed by the cave entrances, the road was a sluggish snake with too much traffic in its belly. The cave's belly teemed with a different modernity, from the era when this was on an important trading route, including Nala Sopara and Marol. We learned the scooped holes in the wall once held the pegs of carved wooden panels, the significance of the serpent carved into a column, and gazed at the embellished S-shaped waists of ancient gents, who had long ago lost their sculpted heads.
One cave held a stupa-like structure behind latticed windows. The inscription identified it as donated by a local Brahmin (hence, Hindu) family. "It was quite common those days for different members of one family to follow different faiths," our guide said. Perhaps the way people venerate Ajmer Sharif or St Michael's church novena, across religions today. A knowledgeable group member talked about how the idea of temples with enclosures and congregational spaces possibly entered other faiths via Buddhist communities.
The story of how the Kondivita caves became Mahakali Caves was just as multiple choice. Version one: a stupa like dome above the caves had fallen off long ago. A piece of it still sits outside the caves. But another piece tumbled to the bottom of the hill like Shammi Kapoor in Jungli. Over time the community in the once-forest, now-Seepz area began to worship the rock. It grew into a devi temple, and lent its name with the caves it came from. Version two: the caves might have been called Mahakal, from Mahayana Buddhism. As the surrounding habitations changed, from commerce communities who worshipped masculine gods, to agricultural communities who worshipped feminine deities, Mahakal may have become Mahakali.
I admit that at first, made impatient from Instagram reels, I thought, "this narration can have more drama!" But as I submitted to the flow of attention, my being gentled, I became open. "Walking, observing and engaging is our way to destroy walls, real and imaginary," says the website of Go Hallu Hallu, an endeavour with a mighty heart, about the many walks they do in Koliwadas, caves and family homes. Why become vexed with suspicion, digging under historic places, when, as the website also says, we can "discover things that hide in plain sight and meet people, birds, rivers, ponds, animals and plants that restore your faith in humanity." As Shah Rukh might sing in a Dakkani Rab Ne Bana Di Jodi, "Tu sabr to kar mere yaar, zara saans to le dildaar.. Hallu Hallu ho jayega pyaar." A savoury love for my neighbourhood, and our beautiful guided journey, suffused me. I left feeling at home in the world, Parodevi of Mahakali Caves.
Paromita Vohra is an award-winning Mumbai-based filmmaker, writer and curator working with fiction and non-fiction. Reach her at paromita.vohra@mid-day.com